Microsoft (NASDAQ:MSFT) might never be as sexy as Apple (NASDAQ:AAPL) and its sleek consumer products, but - as this analysis will illustrate - it has a network of products and a market position that can be leveraged into some serious money-making if viewed on a few years' time horizon. Never mind the Surface, let's talk Microsoft essentials - Office and Windows.
First, let's have some context. Microsoft has looked very pale over the last 5 years (red line is the Nasdaq).

Market cap has been essentially flat which I believe is not "fair love" from the market (being Apple's nerdy brother during its cult years probably didn't help). However, Microsoft is extremely well-positioned to capitalize on a) its current position and b) the recent market trends during the next 5 years. This is based on the following hypothesis:
Microsoft has a unique opportunity to leverage:
a) its existing market dominance with Windows and Office, and
b) new user behavior and technology (smartphones, collaboration, connectedness), to build an unrivalled enterprise ecosystem.
Part a) of the hypothesis is a well-known truth and will not be discussed in detail in this article. Instead, we'll focus on Microsoft's new products and how they align with modern user behavior and play together to form an enterprise ecosystem.
The enterprise ecosystem
The same way we see Apple and Facebook (NASDAQ:FB) creating much hyped ecosystems which will lock in consumers on their platforms and create additional value by leveraging system synergies, Microsoft has the very same opportunity with enterprises and professionals. The main difference being that there is (1) an actual need for a unified platform (for efficient work and IT management) and (2) there are direct monetization possibilities (companies are willing to pay for increased efficiency).
Microsoft's ecosystem products
Imagine life without your Bloomberg terminal. This is what life is like in most companies - and Microsoft is directly addressing this with some very specific products. Mobility, collaboration and connectedness are becoming standard features that users expect. Microsoft, given its position with the Office suite (especially Outlook), is uniquely well positioned to provide this to users while at the same time adding value by integrating with all the tools that professionals already use every day. Of course, by offering integrated full-service solutions it's also a very strong pitch to IT departments, whose juggling of systems is rarely considered core business.
Some of the products that directly address the new usage trends and will enable the enterprise ecosystem are the following:
Lync - instant messaging in the Office suite, videoconferencing (integrated with Skype for unmatched reach), live PowerPoint presentations (we've all tried going through a PowerPoint over phone and that experience alone illustrates the huge potential to improve collaboration efficiency with easy-access video conferencing). In a December survey, only 23% of IT departments surveyed claimed to have no interest in Lync (and 27% were already using it).
SkyDrive - cloud storage for "anywhere, anytime" availability (nothing revolutionary in this day and age, but a strong selling-point as an integrated feature to a company's IT department).
Office suite - new business model offering Office as a service, online sharing and presentations and generally promising product development trajectory.
Windows Phone - imagine your desktop including all the above in your phone, fully integrated, always available, then imagine you are an IT department who will choose between getting all this in one solution from one provider (Microsoft) or assembling it with three different suppliers - Microsoft has a strong pitch.
In blue chip workplaces this might not be revolutionary, but for most companies products such as Lync, SkyDrive and full mobile integration are not standard tools.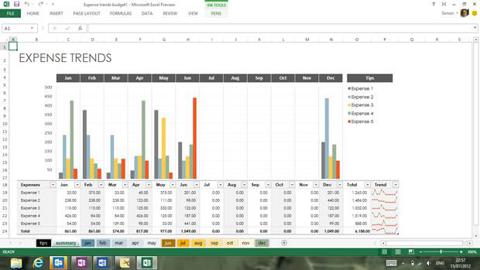 Microsoft Excel 2013
Sales channel access
Microsoft obviously already has many large accounts with CIO offices in most companies and thus has excellent low-friction ability to upsell these accounts as long as they can invent products that the customers want to buy.
An iPass report (Mobile Enterprise Report, Q1 2013) suggests that 45% of IT departments currently plan to support Windows Phone (compare that to 34% for BlackBerry 10).
To IT departments: Do you plan to support BlackBerry 10/Windows Phone 8?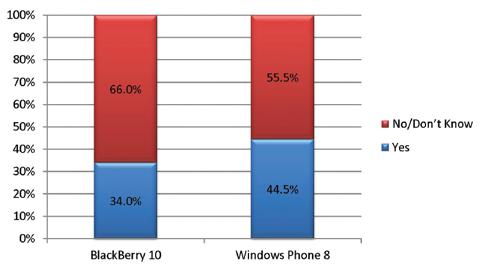 Eco system effect
The ecosystem will give Microsoft the following long term benefits:
Lock-in effect of profitable enterprise clients - driving both account retention and price increase opportunities.
Opportunity to upsell with additional products and services over time.
Unique value and competitive advantage to fend of substitutes and entrants.
This will translate to profitable growth on the income statement during the next 5 years and a very strong position going forward beyond that. If anything, there's a lack of competitors who can challenge Microsoft's position - apart from the competition authorities that is.
Enterprise segment value
Perhaps the most telling piece of data to the segment's value is the table below. In Microsoft's FY 2012, 58% of operating profits came from the "business" segment (what I'm referring to as enterprise). A rather good looking growth trend adds to the positive narrative.

The segment makes up more than half of Microsoft's operating profit and, as the next graph will show, is already the largest revenue source with already solid growth rate - and there will be more of that when the ecosystem effects kick in.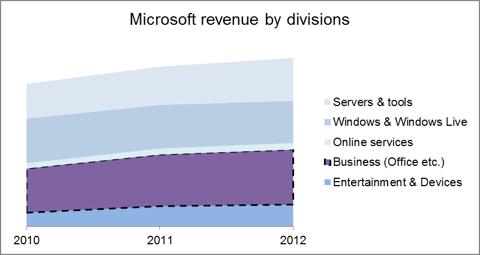 Summary
Microsoft can establish an unrivaled ecosystem within the enterprise segment for professional tools such as Office, based on
a) current dominant position with Office and Windows
b) mobility and collaboration trends that drive demand for new and more integrated products.
The enterprise product segment makes up more than half of Microsoft's current operating profits.
The ecosystem and recent usage trends will drive significant growth through product benefits (volume and revenue per account) - and this growth will be highly profitable judging from current operating margin.
Once established, the ecosystem will be a solid foundation of future growth and cash flow for Microsoft.
Disclosure: I am long MSFT. I wrote this article myself, and it expresses my own opinions. I am not receiving compensation for it (other than from Seeking Alpha). I have no business relationship with any company whose stock is mentioned in this article.