Just when one thinks the market cannot continue its upward movement, we see every major U.S. market strengthen or hold their own since last week. Such is the message based on Bullish Percent Indicators (BPI). Every sectors with exception of Materials showed more stocks were bullish compared to the BPI values from last week. With all the good news, how can there be any cause for concern? Check the tables below.
BPI of Indexes: Every major index showed an increase in the percentage of stocks with a bullish trend. Of the seven indexes, the NYSE is of prime importance due to its breath of coverage. Only the NASDAQ 100 and DJTA are not in the hands of the offensive team.
Caution is in order as six of the seven indexes are currently operating in over-bought territory. Over-bought is defined as any BPI above the 70% value line. Probability arguments favor a correction at some point. When this will occur is unknown and as one can see, six of the indexes have been in the over-bought zone for a number of weeks.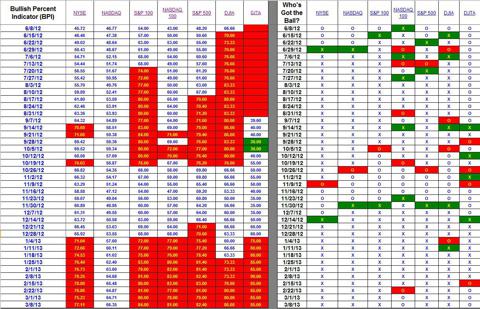 Click to enlarge
BPI of Sectors: As with the major indexes, sectors of the larger market also experienced an increase in the number of stocks moving to a bullish position compared to last week. Every sector except Materials improved, and that lone sector held even. Of particular significance is the fact that Discretionary, Staples, and Telecom switched from defense to offense. The percentage of stocks within these sectors moved from bearish to bullish was sufficient to shift from O's to X's as shown in the lower right-hand section of the following table.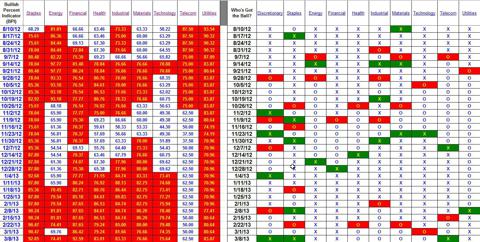 Click to enlarge
Why is there any cause for concern or caution in such a strong market? While all the bullish indicators in the above two tables reflect what we know intuitively, it is the over-bought (above 70%) condition that gives investors pause. One needs to go back to August of 2011 to find these same Bullish Percent Indicators in an over-sold condition.
There is one buying opportunity within the sector market, particularly for those investors who use momentum analysis. That sector is Vanguard's Financial ETF, VFH. Below is a data table showing the rankings of sectors. The real estate ETF, VNQ, is not part of this analysis as it is treated separately.
In the following table there are three ranking sections. The first 40% is applied or weighted in favor of the top performing sectors over the last three months. The second 40% weight is tied to performance over the last six months, and the final 20% focuses on volatility. Lower volatile ETFs are ranked higher. Based on this analysis, VFH is currently the number one sector.

Click to enlarge
The above momentum analysis is confirmed by something I call the "Delta Factor" (DF). To learn more about this analysis, check out this link. For many months, the Delta Factor for VFH has been flashing a buy. DF is an early indicator, sometimes several months early.
While the Bullish Percent Indicators are very strong, caution is in order due to the significant number of over-bought values showing up in both the broad markets and individual sectors.
Disclosure: I am long VFH. I wrote this article myself, and it expresses my own opinions. I am not receiving compensation for it (other than from Seeking Alpha). I have no business relationship with any company whose stock is mentioned in this article.