United Healthcare Group: The healthiest in the Industry
With the Dow at historic highs and the S&P not far away from setting its own record it's time to begin to think about sector rotation. Equities in sectors that have traditionally yielded high returns in bull markets will begin to lose ground as investors seek to get in front of the next wave.
Sectors that usually benefit from the transition out of smokestack stocks include consumer goods, utilities and healthcare. Lack of geopolitical risk, political tailwinds and valuations position the healthcare sector well for the inevitable flow of capital out of financials, basic materials, services and technology.
The healthcare sector has seen its P/E multiple rise above consumer goods and utilities as can be seen in the table below, but the Healthcare Plans industry has maintained valuations well below all three sectors and the S&P, which is 18.
| | |
| --- | --- |
| Sector | P/E |
| Consumer Goods | 19.4 |
| Utilities | 14.7 |
| Healthcare | 28 |
United Healthcare Group is a great defensive play in an industry that is set to grow. United operates in two main categories; UnitedHealthcare, which provides healthcare coverage and benefit services and Optum, an information and technology enabled service. Its coverage and benefit service revenues come from risk-based health insurance arrangements from which it accepts premiums, usually fixed at an annual rate. Revenues are also generated through providing services for those that self-insure their employees and their dependents. Service revenues are also collected for products sold by the pharmacy benefit management business. Interest is earned through debt securities and investments from premiums paid but not paid as benefits.
The valuations below illustrate that United is undervalued against its peers. Although Wellpoint and Humana have trailing P/E multiples that are somewhat less than United, next year's projected growth rate is double Wellpoint's and 50% higher than Humana. Five year projected growth rates are all similar to each other with the exception of Express Scripts whose trailing multiple is double United's.

The payout ratio for United is stronger than that of the higher yield of Wellpoint. This higher yield is financed through debt. Wellpoint has a debt/equity ratio of .63 versus .54 for United.

United enjoys a stronger return on equity and a lower beta than any of its peers. While Cigna does command higher gross and profit margins, its small dividend, higher Beta and weaker earnings growth estimates rank it lower than United.

United's shares have been trading below 50 and 200 moving averages, which is not a strong signal for the stock but may offer an opportunity to buy at a depressed price. Analyst price targets for United range from $60 to $72 with the mean estimate at $66; 17 analysts covering the stock give it a mean recommendation of 1.6 (1 = buy, 5 = sell).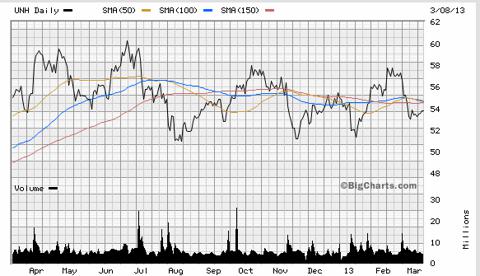 Whether the market has run its course and we're at a top or there's room to grow with the improving economy, it's not too soon to start to reallocate capital to preserve and grow your portfolio. UnitedHealth Group Inc. is well positioned to produce positive returns and offer peace of mind in a growing industry.
Disclosure: I have no positions in any stocks mentioned, and no plans to initiate any positions within the next 72 hours. I wrote this article myself, and it expresses my own opinions. I am not receiving compensation for it (other than from Seeking Alpha). I have no business relationship with any company whose stock is mentioned in this article.