As a value investor, when I analyze a stock and make a determination of whether to buy a company or not I always require a significant margin of safety. This margin of safety increases the probability of a successful investment as it allows for risks such as forecasting error as well as allowing for a margin of error associated with potential unforeseeable events.
To determine whether a company has a sufficient margin of safety, I evaluate 4 key criteria:
The company's cash flow returns
The source of a company's cash flow returns
The sustainability of cash flow returns
The market expectations about future cash flow returns (reverse engineering of a DCF)
The following article is a case study on TSMC and whether there is sufficient margin of safety to invest in the company.
Taiwan Semiconductor Manufacturing Corporation
Taiwan Semiconductor Manufacturing Corporation (NYSE:TSM) is the largest IC Foundry with roughly a 44% market share in 2012 as illustrated in the table below.

An IC Foundry, such as TSMC, is a manufacturer of semiconductor chips for IC Design companies. IC Design companies design semiconductor chips for Smartphones, Tablets, PCs and many other electronic devices. IC Design companies focus solely on the design of chips as the cost of a semiconductor fabrication plant (FAB) has increased exponentially over time, making the cost of building a fab [approx. $5bn for 32 nanometers (nm)] prohibitive for all but the largest semiconductor companies. This creates a market for IC Foundry companies (independent semiconductor manufacturers) such as TSMC.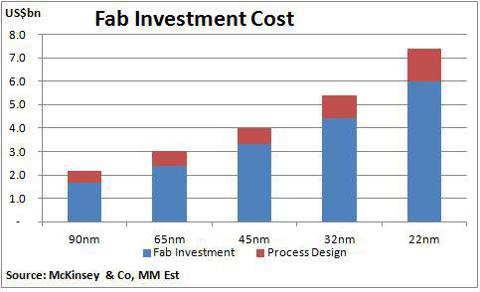 The Source of TSMC's Cash Flow Returns
TSMC has historical generated cash flow returns above their cost of capital while its foundry competitors United Microelectronics (NYSE:UMC) and Semiconductor Manufacturing International (NYSE:SMI) have continually struggled to generate their cost of capital.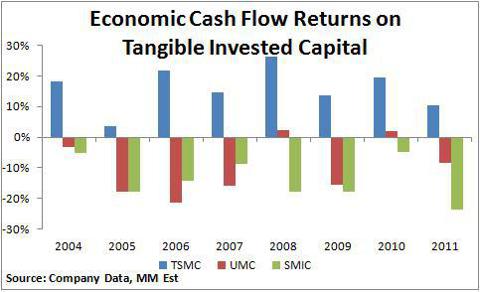 TSMC has been able to extract economic rents for a number of reasons including:
Independence (IDMs)
Extremely High Investment Costs
Technological Expertise
Customer Reliance
Economies of Scale
Independence
TSMC being an independent foundry is a very important. TSMC customers are a variety of IC Design firms. Due to high upfront investment costs, IC Design firms chose not to have manufacturing capabilities. The lack of manufacturing capabilities also allows IC Design firms to focus on their core competency of producing the best possible semiconductor chip.
When IC Design companies outsource their manufacturing they have two options; either source manufacturing capacity from an IDM or an IC Foundry. An IDM uses their manufacturing capacity to produce their own semiconductor chips and may allocate unused capacity produce chips for IC Design firms. This creates a conflict of interest as IDM's main source of income is their own products while IC Design manufacturing is an auxiliary revenue source when they have spare capacity. This conflict of interest could lead to a very one sided relationship where any potential for economic profits is garnered by IDMs. The alternative option of sourcing manufacturing capacity from IC Foundries is far more attractive to IC Design companies. A foundry's main source of revenue is production for IC Design companies. An IC Foundry is more of a partner with interests aligned with IC Design companies. This independence and aligned interest creates a huge advantage over IDMs within the IC Design supply chain.
High Cost of Investment
The high cost of investing in semiconductor fabs creates a large barrier to entry. As illustrated in the first chart of this article, the cost of a leading edge fab has increased substantially since the 90nm process was introduced by Intel (NASDAQ:INTC) in 2004. The current leading edge fab which foundries are spending capex on is 22/20nm which costs over $7bn. The chart below illustrates the decreasing number of IDMs building leading edge fabs as the investment cost becomes prohibitive.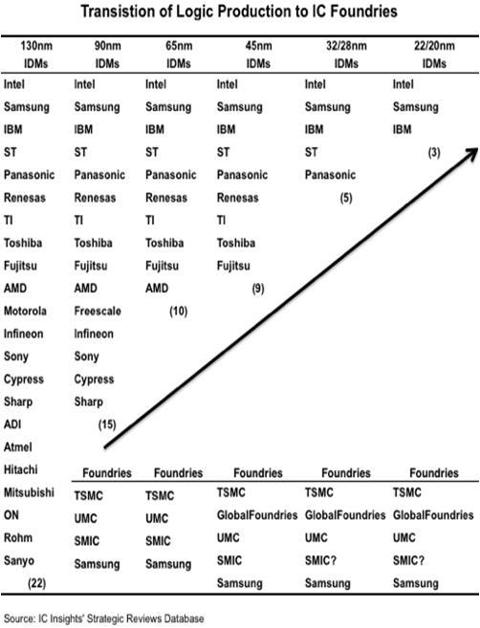 The decreasing number of IDMs making investment at leading edge fabs is decreasing competition and increasing the number of potential customers. TSMC's independence allows them to partner with IC Design companies at the outset of the investment, decreasing the initial investment risk while also spreading the risk of the massive investment over a larger number of companies (although smaller in size).
According to my estimates, the average node generates $30-$40bn in Foundry revenues. With the investment in leading edge 22/20nm costing $7.4bn and assuming TSMC maintains 40% market share, then at the top end each node will generate $24bn in revenues for all other participants. If we assume the remaining revenues are split between GlobalFoundries and Samsung (OTC:SSNLF), if they are able to generate a Operating Cash Flow margin which is half of TSMC's, they will generate total operating cash flow of $8bn - just barely sufficient to generate a payback on their investment. This is even before taking into account maintenance capex. Each step in the technology migration process increases investment costs and decreases the probability of payback on the investment.
Technological Expertise
As the chart below shows, TSMC is consistently ahead of competitors with regards to process.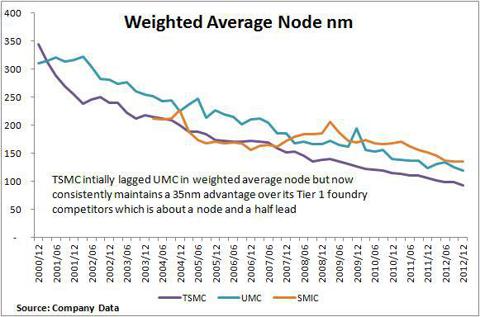 TSMC generates this advantage from the ability to execute and improve yields at the most advanced nodes. This yield advantage and ability to execute comes from working with 100s of partners on various technologies processes over the past 15 years. We are seeing this play out right now at 28nm. TSMC owns 28nm and has close to 100% market share, which TSMC's CEO Morris Chang stated in their Q4 2012 conference call. GlobalFoundries and Samsung are also operating at 28nm but are having difficulty with yields. At 28nm; TSMC, GlobalFoundries and Samsung all started with "Gate First" technology. TSMC quickly saw the difficulties in the manufacturing process and changed to "Gate Last".
Customer Reliance
IC Design companies' revenues and profitability is determined by the quality of their product. Their product quality is driven by not only their internal designs but also by their manufacturing partner. This makes customers extremely reliant on IC Foundries, particularly IC Foundries who can execute. This reliance is illustrated by Qualcomm (NASDAQ:QCOM) and Apple (NASDAQ:AAPL) trying to make an investment over $1bn in TSMC to secure supply.
TSMC's strength with leading edge technology, execution and customer reliance on quality leads to TSMC consistently garnering higher ASPs than UMC and SMIC.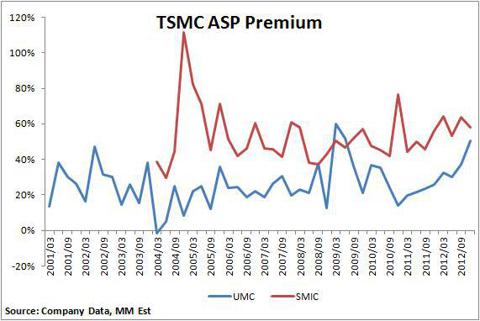 Economies of Scale
TSMC has a large capacity advantage over it main competitors UMC and SMIC, illustrated in the following chart.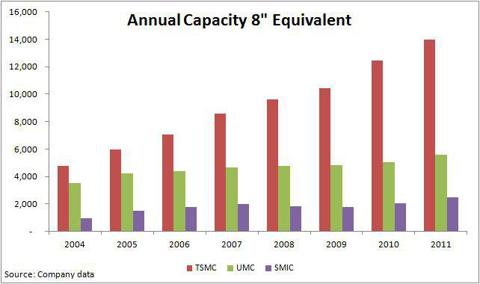 TMSC's size and ability to execute creates an economies of scale competitive advantage for TSMC. This size advantage is illustrated by an increasing gap in the cost per chip. As the table below illustrates, TSMC's cost per chip has decreased at a rate of 4% compared to flat costs for UMC and costs increasing at a 5% rate at SMIC.

TSMC has created significant competitive advantages over UMC and SMIC due to independence (IDMs), extremely high investment costs, technological expertise, customer reliance and economies of scale.
The Sustainability of TSMC's Cash Flow Returns
After a period of rather benign competition from UMC, SMIC and Chartered (now combined with AMD fabs to create GlobalFoundries), competition from within the foundry segment and outside of the foundry sector may start to increase.
The threats to TSMC cash flow returns include:
Competition from Intel
Competition from Samsung Electronics
Competition from GlobalFoundries
Competition from Intel
Intel is the largest player in the semiconductor industry. It creates chips for all types of industries under its own brand. It has huge share in the PC industry, creating the brains of the PC. It is looking to enter the Mobile Device industry as well by creating application processors for smartphones and tablets. It has huge resources and is always at least a node ahead of the foundry sector. It will have six 14nm fabs by the end of 2013 with 3 being used for PC applications and 3 that need to be filled.
Intel's big problem is Samsung and Apple dominate the smartphone segment, making 90% of the smartphones. Apple currently has their application processor made by Samsung but will be switching to another provider and Samsung makes their own application processor. This will be a very tough market to crack. They have been partnering with their old PC friend Microsoft (NASDAQ:MSFT). Unfortunately for Intel and Microsoft, Microsoft's products are not being received favorably by the market with 2.2% average market share over the last 12 months. Additionally, Microsoft is very unlikely to generate significant market share within the smartphone space. Microsoft has been partnering with Nokia (NYSE:NOK) and this has been a well documented failure with their combined market share falling from 59.1% in Q1 2009 to 4.2% in Q4 2012. Additionally, the key to smartphone is carrier relationships as carriers are the gatekeeper to the distribution network and their subsidies allow your product to be affordable. Microsoft's purchase of Skype, a disruptive technology for carriers' voice revenue, has fractured their relationship with carriers. Nokia CEO Stephen Elop stated as much during Nokia's 2012 annual shareholders meeting. Microsoft Mobile Operating System is also seeing handset makers defect from producing products.
Intel's biggest hope on the smartphone is the Tizen OS. Tizen OS is a collaboration between Samsung and Intel. It is essentially a relaunch of the Meego project, which was a collaboration between Nokia and Intel and produced two handsets, the N9 and the N950. Both of these phones were very well received. Tizen also has support from carriers with NTT DoCoMo, Orange, Sprint, Vodafone, Korea Telecom and SK Telecom all on board. With Samsung involved, Tizen has the strongest carrier relationships in the industry. Tizen also has support from handset makers with Samsung (the largest smartphone producer), Huawei (third largest smartphone producer), Fujitsu and Panasonic.
Additionally, Intel products are premium products with premium pricing. This is due to constantly being a year or two ahead of all competition on their technology process. Unfortunately, the smartphone market is moving towards the lower end products as the premium smartphone market in the west is saturated and developing markets can't afford the premium product.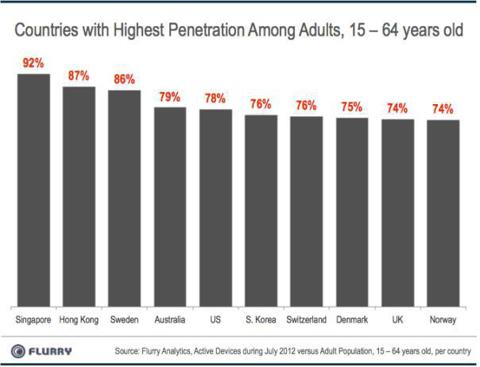 There have been rumors Intel may want to fill some of its capacity with foundry orders. Intel has repeatedly stated they are not interested in the foundry business as it would require far more openness from Intel. Their ability to innovate and their process are keys to Intel's strategy of producing leading edge premium products. Being more open would dent that edge. Margins within the foundry business are below Intel's margins. Intel is focused on Intel's chips. It is still living in a regime where it controlled the PC infrastructure and it is the 800lb gorilla. Although TSMC is the 800lb gorilla in the foundry industry, it still has to take a back seat to customers and their needs. At this point in time, Intel would probably not be able to do this.
With the exception of Tizen, which could potentially garner 10% market share by the end of 2016, Intel would have to do something radical to break into the mobile device markets or radically change their specs on their chips. Intel will most likely not be significant competition with TSMC's main markets.
Competition from Samsung
Samsung poses a true threat to TSMC going forward. Samsung is the largest electronics/IT company in the world and its semiconductor revenues are the second largest in the world. When Samsung enters a market it always has a goal of being #1. This is illustrated by market share in each sector. Samsung understands how to compete in a very capital intensive industry as it has been competing on capex in the DRAM, NAND and LCD Display markets.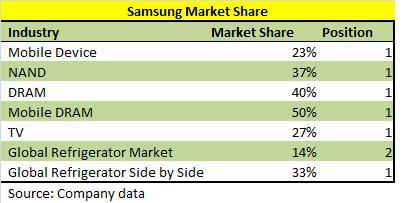 To compete in the foundry sector you need:
1. Leading Edge Technologies
2. Resources
3. Technological Expertise
4. An Ecosystem
5. Independence
Within the foundry industry, any economic profit is made at the leading edge technology before second source chip producers (UMC & SMIC) enter and commoditize the market. These second source producers only enter when all the bugs to the process are worked out to decrease the risk of their investment. Samsung is currently producing chips at 28nm which is in-line with both TSMC and GlobalFoundries. Second source producers have yet to enter. Samsung will continue to be at the leading edge ahead of second source producers.
As illustrated above, resources are vital to the foundry industry as the cost of a leading edge technology is slowly reaching US$10bn. If we look at 22nm fab, the total investment cost is US$7.4bn. Typically, an investment in the leading edge is made every 2 years. To be competitive you need to stay on the leading edge of technology and these investments must be made every two years.
Technological Expertise is significant as producing semiconductor chips are a very complicated process. There are constantly yield issues at leading edge nodes and the faster you work out these yield issues the more economic profits you will earn. Samsung has been producing logic chips as an IDM for many years. Samsung has also been a low cost, market share leader in DRAM and NAND for many years. These processes require significant technological expertise.
An ecosystem is crucial to competing within the foundry industry, as fabless companies, design companies, services companies and many others need to collaborate to ensure the process is running smoothly and their desired output is met. By joining the Common Platform with IBM (NYSE:IBM) and GlobalFoundries, Samsung has instantly created an ecosystem with many strong, committed partners.
Samsung is not completely independent as it produces ARM based chips for themselves. This creates a bit of a conflict of interest, but given they produce these chips mainly for themselves and they do not sell it on the market, it is not a significant issue. As long as foundry customers get good prices, dedicated capacity, and reliability and Samsung does not directly compete it should not be an issue.
Samsung clearly can compete in the foundry industry and has the intention to compete with TSMC. This is also illustrated by the size of their recent capital expenditures, which will continue until Samsung's capacity is close to TSMC's. Samsung Capex to Sales Ratio is well above 300% compared to TSMC at 40-55%. This clearly illustrates their intention to gain the top spot.

Samsung is a clear threat to TSMC's cash flow returns. As Samsung brings on more capacity, it will need to fill this capacity which will lead to a potential price war and margins will be affected, decreasing TSMC's cash flow returns. Given it takes at least a year if not more for major foundry customers to switch producers it most likely take some time for this threat to materialize. Additionally, TSMC has 28nm figured out using "Gate-Last" while Samsung and GlobalFoundries used "Gate-First" which lead to some manufacturing difficulties creating a significant gap on the 28nm node (Morris Chang recently stated TSMC has close to 100% market share at 28nm). On the 20nm node, everyone will be using "Gate-Last"; this should decrease the yield gap.
Competition from GlobalFoundries
GlobalFoundries was created in 2009 when AMD's (NYSE:AMD) manufacturing arm and Chartered Semiconductor were combined. It has had a goal of being a leading foundry player with GlobalFoundries stating it wants 30% of the made-to-order chip market within three years.
Looking at the factors required to compete as a foundry:
1. Leading Edge Technologies
2. Resources
3. Technological Expertise
4. An Ecosystem
5. Independence
GlobalFoundries competes with Samsung and TSMC at the Leading Edge Technologies. It like Samsung and TSMC is at the 28nm process. It expects to start production on 20nm fab in 2013 ahead of both Samsung and TSMC.
GlobalFoundries is backed by oil money in Abu Dhabi and has significant resources at their disposal.
GlobalFoundries being an offshoot of AMD as well as part of the Common Platform with IBM and Samsung has technological expertise - unfortunately, not to the extent of Samsung and TSMC. This expertise can be gained but it takes time.
GlobalFoundries has a strong ecosystem being part of the Common Platform with IBM and Samsung. This ecosystem continues to strengthen with the ambitions of both Samsung and GlobalFoundries as well as IBM ability to innovate.
GlobalFoundries is a truly independent entity with no conflicts of interests with clients.
Like Samsung, GlobalFoundries has ambitions to be a leader within the foundry sector. Unfortunately, GlobalFoundries chose to partner with Samsung. This means it will be directly competing with Samsung to win customers. Samsung is the largest electronics company in the world. It has far more resources than GlobalFoundries. It has a much longer history of working with complex technological processes. I fear GlobalFoundries will be a second source provider similar to the relationship between UMC to TSMC.
TSMC faces competitive threats going forward.
The Market Expectations for TSMC
To determine market expectations, I am reverse engineering a 10 year DCF with a 5 forecast period and a 5 year fade. The following table illustrates key assumptions in the past and in the future. If we use these assumptions and look at the current share price (03/07/2013 close = $18.05), the 2013 target price of $16.52 = 4% upside. The 2015 target price of $20.55 provides 14% upside.

This tells us the market is currently expecting a continuation of the current competitive environment, where TSMC dominates with no competitive threats as illustrated by continued strength in capacity growth, capacity utilization, gross margins and ECF ROTIC. The market is expecting Intel, Samsung, GlobalFoundries, UMC and SMIC will not be able to make any competitive inroads nor will there be a slow down to Moore's Law leading to commoditization of foundries. The market is expecting TSMC to continue unabated, generating superior profits with barely a dent in their cash flow returns over the next 10 years.
TSMC is a great company, has a strong competitive advantage and may continue to beat estimates as they continue to dominate 28nm, which could be the largest node ever; but competitive threats exist, particularly with Samsung's entry into the foundry business. Given the risks the market is not providing a sufficient margin of safety to compensate for these risks.
If I could get TSMC for below $15 then potential competitive threats would be well compensated for. The chart below illustrates the Intrinsic Value progression of TSMC with the forecasts above.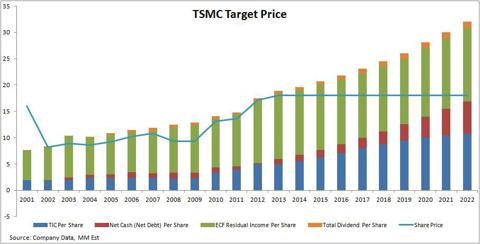 Key Points to Watch
1. Strength of reception of Tizen as it would increase Intel's market share.
2. Intel's ability to create chips with better power consumption to compete against ARM (NASDAQ:ARMH) in the mobile space.
3. The strength of Samsung and GlobalFoundries at 20nm
4. UMC's 20nm offering, if there is one. UMC uses a similar process to TSMC. They simply follow TSMC usually about a 1-1.5 years after TSMC enters a new node. This leads to a second source supplier for customers and commoditizes returns within a node. If UMC is unable to provide a 20nm product due to the sheer cost of 20nm then TMSC may not have a second source supplier in their process. This leads to increased design cost at customers if they want to go to GlobalFoundries or Samsung as a second source supplier as both GlobalFoundries and Samsung use IBM's process. Will the cost of design lead IC Design customers to go straight to GlobalFoundries and Samsung as they have an automatic second source supplier and get favorable pricing?
5. Limits to Moore's Law- the cost of technology scaling as illustrated in the first chart is extremely onerous. Does there come a point over the next few years where technology scaling no longer is economical? If so what happens to returns on the latest nodes? Will we then see all economic profits in the sector eliminated?
Disclosure: I have no positions in any stocks mentioned, and no plans to initiate any positions within the next 72 hours. I wrote this article myself, and it expresses my own opinions. I am not receiving compensation for it (other than from Seeking Alpha). I have no business relationship with any company whose stock is mentioned in this article.