Remember my article about Apple (NASDAQ:AAPL), and why Apple needs a cheaper handset? Well, it's not only Apple who needs a lower priced handset device, BlackBerry (NASDAQ:BBRY) needs one also. In fact, BlackBerry probably needs several cheaper devices and fast.
It's no secret why BlackBerry launched the Z10 first in England and in many developing countries as opposed to the U.S.. BlackBerry has a very strong following in many countries around the word, especially emerging markets. Like said in a previous article, about 50% of all smartphones sold in Indonesia in 2012 were BlackBerry phones.
In fact, Indonesia is considered to be a BlackBerry nation! Take a look at the video below, where someone walks into a cafe, and out of the 52 phones on the tables, 42 are BlackBerry handsets.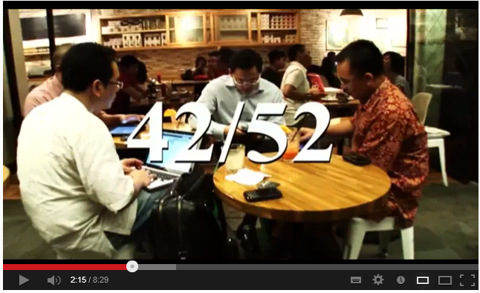 However with the popularity of the Google (NASDAQ:GOOG) Android platform over the years, consumers in Indonesia have been buying cheaper Android alternatives - remember even older generation BlackBerry phones are not that cheap. Also, the main reason for the popularity of BlackBerry phones has been diluted to some extent.
How so you say? Well, with the emergence of smartphones and apps like WhatsApp, people can bypass the BBM service on their BlackBerry and they don't need a BlackBerry phone to text and message each other for free anymore. And Indonesia -- as well as many other emerging markets -- are very price sensitive. So people buy a much cheaper Android or Nokia (NYSE:NOK) phone, and with WhatsApp, they can do the same thing like they did with the BlackBerry BBM service.
And just to give you an idea of the how much BlackBerry's market share is eroding in Indonesia, according to Canalys (via the WSJ), BlackBerry's market share in Indonesia fell to 42% in 2012 from 67% in 2011, while Samsung's share more than doubled to 48% from 23%, in terms of new handsets sold.
So what must BlackBerry do? It must bring to production lower-priced BB10 devices and fast. The longer it waits, the more market share Android and Nokia will take, that a have much wider array of lower priced handsets than BlackBerry.
One additional reason why more and more people might be inclined to buy an Android device over a BlackBerry phone, is the fact that people don't want to buy an old phone that runs on an old operating system. While even older BlackBerry models run WhatsApp, people want to new thing. And the new thing is the BB10 operating system. So BlackBerry needs to put into production lower priced BB10 models and fast.
Hasting Singh, Managing Director of BlackBerry Southeast Asia seems to be confident that BlackBerry will keep its current market share and increase it with the introduction of the Z10.
I agree that the Z10 will stall Android's advancement in Indonesia and get people excited about the BlackBerry platform once again, but in order for BlackBerry to return to its glory days in Indonesia, a cheaper more affordable line of new BB10 devices is needed and fast.
Disclosure: I have no positions in any stocks mentioned, and no plans to initiate any positions within the next 72 hours. I wrote this article myself, and it expresses my own opinions. I am not receiving compensation for it (other than from Seeking Alpha). I have no business relationship with any company whose stock is mentioned in this article.