The Obama Administration is sowing the seeds for the next major bullish move to $150+ oil and overall higher energy prices by imposing an excise tax on US gas and oil companies. Placing a chokehold on US domestic suppliers of energy will only increase the import of foreign energy eventually. This proposed excise tax will discourage US production and pull funds from the companies that are trying to reduce our reliance on foreign oil. And for what? Some wind farms and fancy solar panels? The money used for these alternative energy sources will only fractionally decrease our dependence on imported energy. The lack of investment in oil/gas will come back to bite the US. The energy markets are a bear in the short term, but this plan paints a very bullish picture once the economy is back on track. This plan will give a bonafide reason for the Jim Rogers and Marc Fabers of the world to buy, buy, buy.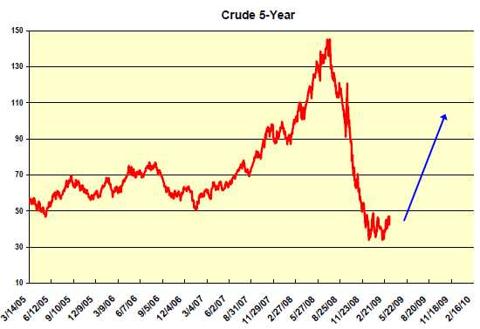 US Oil Fund (USO)
The four-day "USO roll" came and went without making a headline. Surprising? No. Once a front runner is exposed and brought upon regulatory eyes, it quietly leaves and moves onto the next market. And if anything, those slow-to-learn traders that believed it would happen again were outsmarted by the same forces who created the extreme contango last month. The narrowing of the carry is supportive. But in reality, there are no other significant bullish factors in the market right. Yesterday, OPEC decided to leave output unchanged leaving the door wide open for a test of the lows.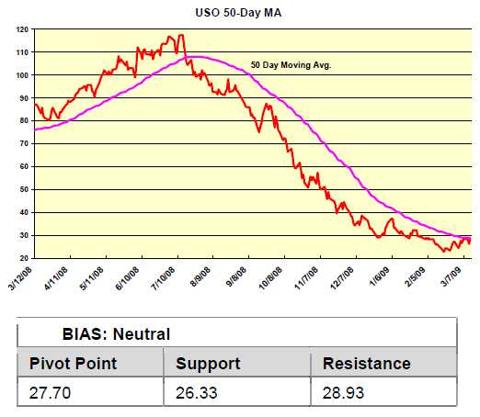 Powershares DB Crude (DBO)
Last week, rallies to the trendline met heavy selling and if you were brave enough to short it there, congrats. If you did not cover going into the weekend, you should rethink your trading strategy, particularly with news looming out of Vienna. The weekly DOE numbers showed net U.S. supplies of crude oil rose to an all time high. The post DOE drop and then substantial move up was most likely short covering ahead of OPEC. We highly doubt it was due to the "upbeat" economic news. Look for DTO to form a trading range between $170-$220. A break out of this zone will indicate a larger move is imminent.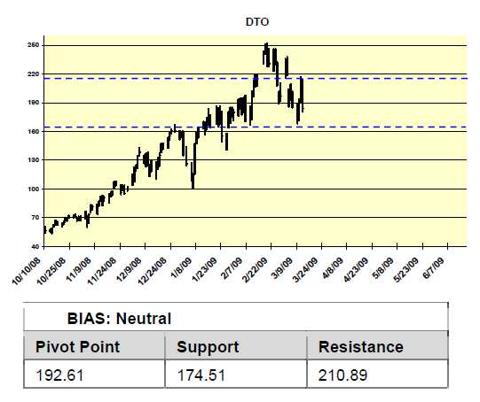 Powershares DB Crude (DXO)
The best thing holders of DXO can hope for is for OPEC to turn off the crude spigots. Because if they do not, DXO is going to slowly drown in crude oil. Can DXO survive the recession? Possibly, here's why: The most supportive factor for lovers of DXO is Russia's presence at the weekend OPEC meeting. Going forward, the involvement of Russia in OPEC along with the Saudis would create a strong alliance of the two heavy hitters in oil production who obviously want stronger pricing. Reports out of Vienna will be watched this weekend to see if OPEC will throw a lifeline to oil, and thus DXO.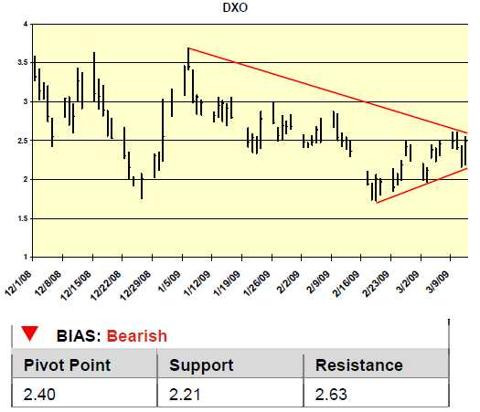 US Nat Gas Fund (UNG)
AT&T (T) announced a $565 Million (yes, you read that right) deployment of 15,000 Natural Gas vehicles over the next 10 years. It is the largest corporate commitment to Clean Energy to date. We applaud this move and will hope/assume others will follow suit and look to lessen their carbon footprint. This is a very supportive development for the long term. In the short term, however, we see no change. The new lows made last week, followed by Friday's close could be viewed as a weekly reversal. But that is a weak argument to be bullish UNG with an ugly technical and fundamental picture.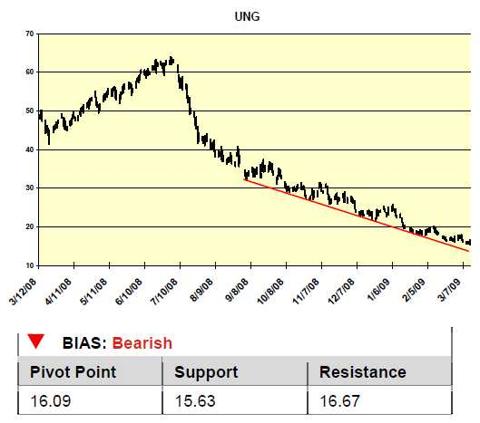 Energy Select Sector (XLE)
The equity markets finally enjoyed a rally this week and XLE had a healthy bounce from four year lows. In fact, had it not been for Conoco Phillips (COP) announcing 900 layoffs which dragged the stock lower, we likely would have seen more. Exxon-Mobil (XOM) has been in talks with Baghdad. XOM wants to play a significant role in Iraq's energy sector. It is bidding those oil development contracts and we believe the company will be rewarded. With a long term prognosis of higher energy prices, Exxon's investment in Iraqi oil should prove very profitable. This news, and the possible dawn of a recovering world economy, has us ready to change our bias to neutral.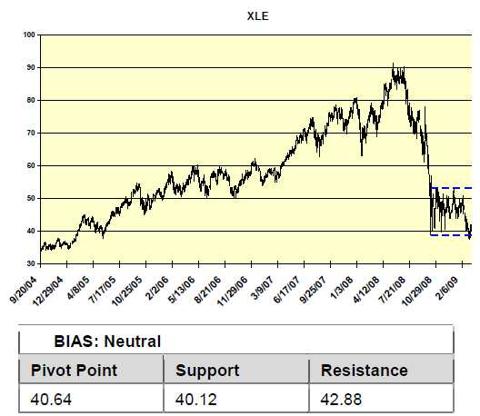 Market Vectors (KOL)
According to Dr. John Topper of the IEA's Clean Coal Center, the world's dependence on coal for more than 40% of its power needs is not showing any signs of decreasing. Dr. Topper went on to say that if anything, consumption was poised to increase over the next two decades. China's imports, while small now, are expected to increase dramatically over the coming years. India is going to be a huge importer as 18 major projects are underway. Is the Carbon Credit market, which gave back its small gains from the previous week, going to benefit from this heavier coal usage? We believe KOL components will benefit and consequently, change our bias.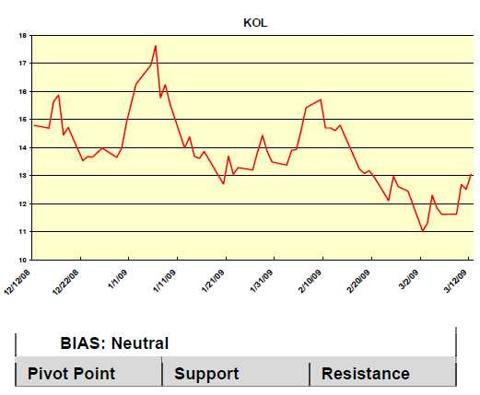 SPDR Gold Trust (GLD)
Volatility in GLD came to a screeching halt on Friday. The market perfectly tested the main trendline midweek and bounced back into the low 90's. The US mint announced that sales of the American Eagle coin rose to 710k ounces in 2008, up from 140k in 2007. Other mints around the world also reported brisk sales related to financial instability and inflation concerns. GLD's holdings are their largest on record at 1,040 tons and are now larger than Switzerland's position. Central Banks under the Washington Agreement still have 80% of their allotment to sell before September which could crush the market if we break the major uptrend.