Philips (NYSE:PHG) is a diversified technology company that has 3 primary segments:
Healthcare
Consumer Lifestyle
Lighting
The company has existed since 1891 and is a pioneer in lighting and numerous electrical products. Over the years the company has become a household name in consumer household appliances, light bulbs, and various medical instruments. The company is well known around the world and is the 144th most recognized brand as of 2012. Philips employs about 120k people and has a current market cap of $27B with trailing yearly revenues of $32B.
In this article I'll look more closely at the Healthcare and Consumer Lifestyle segments and highlight some of the key prospects and competitive advantages of the company as a whole. Although results have fluctuated quite a bit in recent years, the company now seems to be on a much better path under new management. However most of the improving fortunes of the company have already been priced into the stock, and I would only recommend investing on a pullback in price.
Note: Unless otherwise stated, financial figures are sourced from the 2012 annual report, Q4 2012 Conference Call, or Yahoo Finance.
Business Prospects & Competitive Advantages
The following charts show the breakdown in sales and earnings per segment from the most recent annual report: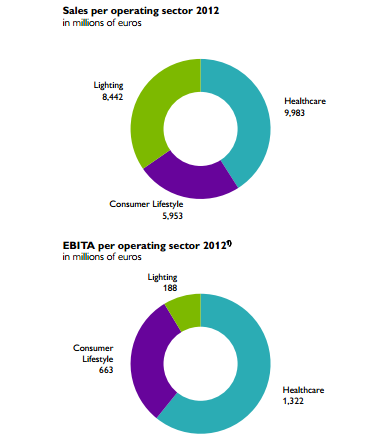 Below I've shown the approximate sales and operating profit in dollars:
| | | | |
| --- | --- | --- | --- |
| Segment | Sales | Operating Profit | Operating Margin |
| Healthcare | $12.9B | $1.7B | 13.2% |
| Consumer Lifestyle | $7.7B | $862m | 11.1% |
| Lighting | $10.9B | $244m | 2.2% |
In 2012 the company had an operating margin around 7%. In the past 10 years, the operating margin has fluctuated quite erratically with some years of negative earnings: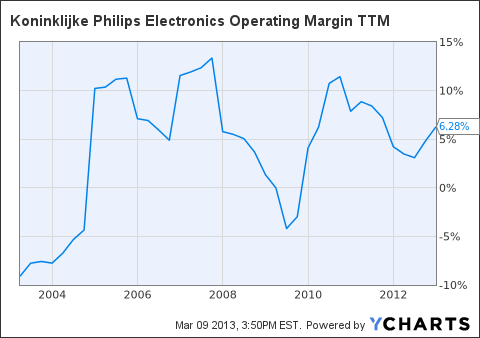 PHG Operating Margin TTM data by YCharts
After the great recession hit almost 5 years ago the company has had unpredictable results and seemed to be underperforming peers. In 2011 Fran van Houten took over as CEO with a reputation for making tough decisions. Previous to Philips he was the CEO of NXP, a semiconductor company that was spun off from Philips in 2006. Immediately after taking over as CEO, the company announced within a few months that it was spinning off the loss making iconic TV business that the company was well known for but had become a sinkhole on the balance sheet. Throughout 2011 van Houten announced 800 million euros ($1.04B) in cost savings and put in motion a 3 year plan to reignite all business segments, with a target to have sales growth of 4-6% by 2013.
So now that 2013 has arrived we can evaluate how the company has progressed. Wall Street for sure likes what it sees, as the stock has gone from lows below $17/share in late 2011 to the current price of $29.97 - an increase of 76%. In 2012 the company achieved the lower end of its mid term target of 4% sales growth already. Philips has done very well following its plans and has seen cost savings as well as sales growth both driving improved results. Besides divesting the TV business in 2011, the company has also announced in early 2013 the sale of its audio, video, multimedia and entertainment businesses to Funai Corporation. This will further drive cost savings. The target for the end of 2013 was to have returns on invested capital of 12-14% and group operating margins of 10-12%. At the end of 2012 these figures were about 9% and 7% respectively. In January Philips reaffirmed its guidance and said it still expects to achieve the stated financial targets by the end of the year. This despite revenue declines in North American and Western Europe and a tough first half of 2013 due to continued struggles in the economies of developed nations.
Going forward the company has a clear strategy to focus on Health and Well-Being as the key growth segments. I think the company has done a good job of ridding itself of poorly performing and low margin businesses and it is now in a much better position to maintain stronger growth rates.
Any further economic recovery in the US and Western Europe in the coming years should drive more stock price gains. The company also maintains a large and growing presence in emerging markets, which has offset declines in western markets recently. For example in mid 2012 the company reported declines between 3-6% in medical equipment in developed markets, but this was offset by double digit growth in emerging markets and Japan for an overall gain of +4% in the Healthcare segment.
Healthcare Segment
Looking specifically at Healthcare, the company has seen strength in Patient Care, Clinical Informatics, Imaging Solutions and Home Healthcare. With aging Baby Boomer populations reaching senior citizen status, healthcare spending in general is expected to continue to grow at about twice the average GDP growth until 2020.
Philips is one of the world's top three medical device companies. It is the market leader in diagnostic imaging and patient monitoring systems. The diagnostic imaging market (X-Rays, CT, MRI, etc) is expected to grow at a CAGR of 4.2% in the coming 5 years and is dominated by Philips, GE Healthcare (NYSE:GE), and Siemens (SI). The market for global patient monitoring systems is expected to grow slightly faster at around a 6% CAGR where Philips also has a strong position.
In 2012 Philips grew this segment overall by 4%, but that included high single digit declines in much of Europe and the US. Emerging economies grew an impressive 19% including as high as 40% in Russia. In the coming years western countries will need to stop putting off healthcare spending to keep up with their aging populations. With GDP growth expected to be 2-3% long term and healthcare to grow significantly faster, I expect that 6-7% growth is quite a reasonable expectation with some chance of this being closer to 10% assuming continued development of market share in emerging countries.
Consumer Lifestyle Segment
Philips consumer business offers a broad array of products across different categories. These include:
Health & Wellness: mother and childcare, oral care
Personal Care: male grooming, skin care, beauty
Domestic Appliances: coffee, floor care, garment care, kitchen appliances, water & air, beverage appliances
In several of these categories the company has a very strong competitive position. For example in the male grooming market, Philips maintains more than 50% market share in electric shavers having pioneered and led this market since the 1960s.
Going forward the company sees opportunities for growth due to the rising middle class in growth geographies as well as a continued consumer focus on health and well-being. This combined with the strength of the trusted Philips brand and providing locally relevant products will drive market share gains. The global middle class is set to grow from 1.8 billion people in 2009 to 4.9 billion by 2030. Most of this growth comes from the emerging economies of Asia, where amazingly their share of the global middle class will grow from just 28% to 66% in this time span. Overall the long-term growth trend here is about a 5% CAGR, of which Philips seems well positioned to benefit from with its strong position in Asian economies. In 2012 growth economies counted for about 33% of sales up from 31% in 2011, and many segments showed double digit growth. This has given a clear indication that this region is becoming more important every year for Philips.
Shareholder Friendliness
Philips maintains a shareholder friendly policy with a dividend yield around 2.7%. The company has maintained a steady dividend in the past few years and has also been steadily repurchasing shares under the 2 billion euro program announced in 2011. The company still had about 500 million euro left to go as of January and stated they will use this by July 2013. This will repurchase about 2% of outstanding shares in the coming 6 months. Over the past 10 years the company has reduced the outstanding share count by almost 30%. Going forward I think the company should be able to continue to increase EPS 2-3% per year with buybacks. Yearly cash flow is strong at close to $2.5B and although debt outstanding is over $5B, much of that is in the form of long-term bonds, which have an average maturity of 14 years. So barring any large recessions which cut earnings substantially, the company should be able to keep paying healthy dividends and repurchasing shares.
Catalysts for 2013-2014
I see the following potential catalysts as drivers for further near-term gains in Philip's stock price:
Increasing Value of the Philips Brand
Meeting targets of the Company's Accelerate! Program
Signs of Macroeconomic improvements in the US and Western Europe
According to Brand Directory, the Philips brand now has a value of approximately $8B in 2013. This is about 30% of the market cap and is a big intangible valuation to the balance sheet. Interestingly the company carries intangible assets for brand names and customer relationships at only $5.2B as of the end of 2012. This is largely unchanged from 2011, despite improving fundamentals at the company. Brand Directory now rates the brand at AAA for "extremely strong" up from AA+ the year before. The value has also increased by 18% in the past year up from $6.7B. It would appear that the perceived value of the brand is considerably higher than the company is currently valuing it on the balance sheet. It is still lower on the Global 500 list than it was 5 years ago, but the significant jump in the past year demonstrates how well the company is doing especially in emerging markets. Further positive sentiment on this could propel further share price gains.
Since mid 2011 the company has been pushing strongly its strategic 3 year plan called Accelerate! to improve margins, reduce costs and reignite growth. So far the company has delivered as promised and the company's financials and growth outlook have definitely improved. In the Q4 2012 conference call in January, the management reiterated confidence of meeting the stated goals of Accelerate!. This would mean further top line growth of 1-2% from 2012 levels, as well as operating margin improvements of a few hundred basis points. If the company meets these targets I expect further share price gains in 2013.
The company stated that growth in developed markets would remain weak in the 1H of 2013 but would strengthen later in the year. However if any macroeconomic changes occur in the coming months which make it clear that all of 2013 will be a tough environment then I expect a pullback in the shares as this will make it much less likely that the targets are met. On the flip side, signs of better than expected macroeconomic conditions will be a positive catalyst for the stock. Specific factors to watch include a more permanent solution to the US Fiscal Cliff discussions which the company specifically stated was impacting industry investments in the region. Similarly, signs out of Europe that the governments and central bank have a firm control of debt issues will likely be a strong catalyst, as much larger corporations in the region and key customers of Philips are being very hesitant and conservative with investments at the current time which is holding down sales growth.
Investment Risks
Risk: Macroeconomic Worries of Developed Markets
A thesis for investing in Philips should be based around a bet that developed markets will continue to recover. This includes improvements in the housing sector in the US as well as the major European economies returning to growth. The company has executed well in the past year and had positive sales growth while its major western markets all saw declines. However one reason they were able to accomplish this was due to unusually strong growth in Japan due to stimulus packages and favorable exchange rates. Going forward in order to maintain growth and beat results, the company will need continuing improvement from western countries. If the major global economies dip into recession again or if the sovereign debt crisis worsens in Europe, Philips will suffer and will be in danger of not meeting its stated near-term financial targets. Although emerging markets are growing fast, they still only make up about one third of company sales so Philips remains highly dependent on economic growth in Europe and the US in the near term in order to grow its top and bottom line.
Risk: Diminishing Strength of the Global Brand
As discussed above Philips has a strong brand name which is worth a significant amount, as much as 30% of the value of the whole company. The brand value has strengthened from 2011 to 2012, but in the years prior to that it had dropped significantly. It has dropped all the way from 88th in 2007 to 126th in 2013 (Even 144th in 2012). The recent improvement here could be a catalyst for further gains in the share price. However on the flip side, any signs of deterioration in this brand could pose a longer term risk for the value of the company. I think another interesting insight is to look at how popular the "Philips" search term has been on Google in the past decade. Notice how it has consistently dropped since 2004:

Click to enlarge
The trend is quite volatile, likely due to a once a year peak around the holidays as people search for consumer products from Philips to buy as presents. But clearly the long-term trend has been negative. Although this is by no means a scientific measurement for the prospects of the company, I think that going forward it is a risk that the company needs to pay close attention to. The demand for many of their products, especially in the consumer lifestyle segment can be highly volatile depending on changing tastes and trends of consumers. Also in the past the company was most widely known for TVs which it has now tried to divest away from (although it still will receive licensing royalties for use of the Philips brand). To maintain growth going forward the company must continue to strengthen their relationships with consumers and innovate with new and interesting products. In the coming few years if the company does not keep up with the long-term growth in the industries it serves (around 4-10% growth depending on segment) then I would be worried about the long-term future prospects. It is for sure a trend to watch carefully.
Risk: Increased Competition
Philips has a top 3 position in much of the Healthcare industry for specialized medical equipment and devices. The company also has a leading position in some consumer lifestyle products (e.g. male grooming), and is a market leader in LED lighting together with Osram (subsidiary of Siemens). Although Philips is a leader in many industries it competes in, there is a lot of competition and many of the markets are fragmented. For example the LED market has as much as 10 firms which make up only 50% market share. In Healthcare, Samsung (OTC:SSNLF) has recently announced its strong intentions to get into the medical equipment market and has been actively acquiring suppliers in this space. On the recent conference call management said it was too early to tell on the impact of this but clearly something to watch carefully going forward. One competitive advantage that Philips maintains is its immense patent portfolio with 54000 patent rights, 39000 trademarks, 70000 design rights and 4400 domain name registrations.
Valuation
Philips has a free cash flow of $1.60/share in its most recently reported results which were released in January. GAAP EPS was considerably lower, around $0.30, due to a one-time legal charge which was taken in 2012. I've used the $1.60 figure as starting point for my DCF. In terms of growth I expect the company should be able to grow FCF organically about 6%, which combines the business prospects I see for Healthcare, Consumer Lifestyle and Lighting. All of these industries have expected growth between 5-7% in the coming decade. As stated previously, the company should be able to repurchase shares at about 2% per year based on historical trends and expected cash flow levels in the coming years. I've therefore modeled a likely scenario with 8% growth. On the optimistic side if western economies recover strongly in the coming few years (and consequently the growth in Healthcare spending and LED adoption is a few percentage points better than anticipated), I expect growth could be as high as 10%. Conversely if the European sovereign debt crisis causes deep recessions in the coming years or other risks come to fruition (e.g. strong new competitors take market share) then growth could be substantially lower - I've estimated at 0%.
Optimistic Scenario

Likely Scenario

Pessimistic Scenario

Current Free Cash Flow

$1.60

$1.60

$1.60

Earnings Growth Rate Next 10 years

10%

8%

0%

Terminal Growth Rate

3%

3%

3%

Years of Terminal Growth

10

10

10

Discount Rate

8%

8%

8%

Intrinsic Value

$32.67

$28.20

$16.50

Probability of Occurrence

20%

60%

20%

Weighted Average

Intrinsic Value

$26.75/share
It should be noted that Philips also has $5.43/share in cash on its balance sheet. If you add this to the valuation you get an intrinsic value of $32.18, which would imply only a 7% margin of safety from the current market price.
Relative Valuation
Philips' biggest and most easily comparable competitors are Siemens and GE. All of these companies are conglomerates with some overlapping businesses and some differences. Looking at an EV/EBITDA comparison of the three Philips would appear to be the most attractive with a cash on cash yield of 13.7%:
| | |
| --- | --- |
| Company | EV/EBITDA |
| Philips | 7.28 |
| General Electric | 20.24 |
| Siemens | 8.26 |
The Bottom Line
Philips management has done a good job the past few years of righting the ship and putting the company on a much better path for growth going forward. The company maintains a strong position in several key growth markets, and I like the company as a play on improving economic sentiment in the US and Western Europe over the coming few years. That being said much of the improvements in the company's fortunes has already been priced into the stock as it has appreciated about 50% in the past year. By my DCF estimates, the company is currently priced at or near fair value. However I do like a few other factors at play here - namely improving sentiment and value of the Philips brand name in the past year, as well as the seemingly attractive valuation against industry peers. Due to these points coupled with a nice stable dividend, I would command a lower margin of safety for Philips when considering to purchase shares. Consequently I've put a buy target on the company at $25/share and will watch in the coming few months for any signs of share price weakness.
Disclosure: I am long SI. I wrote this article myself, and it expresses my own opinions. I am not receiving compensation for it (other than from Seeking Alpha). I have no business relationship with any company whose stock is mentioned in this article.