I am probably not the first, and definitely not the last, to write about the recent surge in stock markets worldwide. It has been so long since investors have had a strong rally like that to play with. Now that markets have rallied almost 10% worldwide in one week; one question remains: Is it safe to invest in stocks again?
For many months now, investors have been trapped in a fake bear market rally that proved to be short lived. Markets worldwide have continued to hit long-time lows in February and March '09. The strong rebound this past week has surprised quite a few people and it was clear that short sellers had to cover their positions after Tuesday's rally. Many are still skeptical that stocks are a good play right now, however, this time they could be different for few reasons:
Banks sent positive signals with Citigroup (NYSE:C), JP Morgan (NYSE:JPM) and Bank of America (NYSE:BAC) announcing that they all made a profit in January and February. It is definitely a sign of relief for investors as rumors of bankruptcy and nationalization have persisted in markets recently.
Economic indicators are turning positive for the first time in many months (see graph from the WSJ below). Previously, a market rebound typically occurred while economic data was still in a free fall. The recent turnaround in economic data could indicate support for a strong stock market rally.
Many indices are hitting important long term support level which could also bring more buyers in the market (CAC40 is right on its 2003 support level …)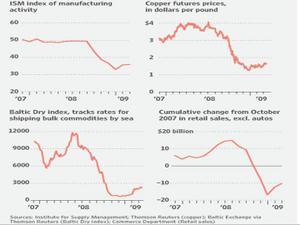 There is exceptionally strong evidence that the recent earnings announcement by three of the biggest banks in the US (that all three made profits in January and February), at a time when almost everyone gave up on them, was the trigger for the rally. It is still unclear and too soon to really say that the worst is over for these banks, but we can now admit that the Fed actions the past few months have been a success and that it clears the sky a bit.
Both the CAC and the Dow rebounded on strong support levels and are expected to continue their rally for couple more weeks (weekly charts). On the other hand, the Nikkei 225 is still below a long term support level of 2003 but rebounded strongly when the index retested its last October low. However, recently the correlation between the Dow and the Nikkei 225 has been 0.98, which makes me believe that any rebound in the US stock market will also be felt in Japan.
I have a feeling we are going to enjoy watching CNBC or Bloomberg TV over the next couple weeks and it will certainly be an enjoyable change of pace to actually look forward to reading the Wall Street Journal or the Financial Times.