I previously wrote about Lukoil (OTCPK:LUKOY) roughly 6 months ago and wanted to provide an update on it, as well as add a new Russian stock recommendation: Gazprom (OTCPK:OGZPY).

Lukoil:
Since August 20, 2012 when the previous article was written, Lukoil shares have rallied roughly 15%. There have also been several developments that make me believe that there is way more upside still.
Lukoil CEO Vagit Alekperov and vice-president Leonid Fedun have both increased their stakes in the company. Alekperov's stake is now at 20.92%, while Leonid Fedun owns 9.5% of the company. It is also worth mentioning it again that company management having their personal fortunes so closely tied to the company they run is a completely unique situation for a public Russian company.
The company has posted record 2012 earnings: net income rose by 6.2% and reached record $11 billion. EBITDA rose by 1.7% and reached $18.9 billion. Sales revenues were $139 billion (+4.1% y-o-y).
According to CEO Alekperov, Lukoil will consider boosting dividend payout ratios from next year when investment demands ease. Lukoil will distribute 23% of net income in 2012 and is looking to boost the payout ratio to 30% in the medium term. The company is also moving from annual dividend distribution to paying them out twice a year.
Russian analyst consensus predicts that Lukoil shares will have a 29% rally in the next 12 months. With a TTM PE of 5.3 and a Price/Book ratio of 0.68 I still definitely see Lukoil as a strong buy.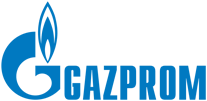 Gazprom:
Gazprom is the largest extractor of natural gas and one of the largest companies in the world with current market cap being $102B. Gazprom was created in 1989 when the Ministry of Gas Industry of the Soviet Union transformed itself into a corporation, keeping all its assets intact. The company was later privatized in part, but currently the Russian government holds a controlling stake in its hands.
Similar to Lukoil, Gazprom shares have cratered from their $31.12 high during the 2008 financial crisis and never quite recovered. The price today stands at just under $9 - a staggering 71% decline. This leads to a very interesting valuation (to say the least):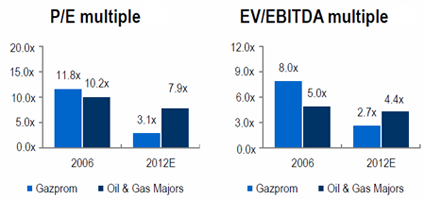 Of course, there are several reasons why the valuation has remained so depressed for several years, so let's go through the main ones:
Pressure from competition inside Russia:
Over the past couple of years there have been talks that Gazprom might lose its monopoly on exporting LNG from Russia. While the majority (over 60%) of Gazprom revenue comes from sales within Russia, exports are a lot more profitable and the vast majority of company profits come from sales to foreign countries.
Allowing Gazprom competitors to export LNG will no doubt be a big gain for them, however I do not see it being a big loss for Gazprom. The simple reason is volume and scale: Gazprom single-handedly owns 18% of the world gas reserves (72% share of Russian gas reserves) and handles 15% of the world gas production (78% share of Russian gas production).
Saying that it is a giant would be a big understatement and I do not see its local competitors from having too big of an impact on the overall future of Gazprom. Yes, it is true that the government wants to diversify and reduce its reliance on a single gas company, however, as long as the government holds a big stake in the company, it wouldn't risk dealing any big blows to the company that is paying a lot of taxes.
Taxation:
Speaking of taxes: there is a very real risk that tax levels for Gazprom could noticeably increase. Gas sales in Russia are currently taxed at a rate that is drastically lower compared to the tax rate on oil sales.
There is currently debate within the government on the subject of whether the gas taxes are too low or whether it's the oil taxes that need to be cut to equalize their treatment somewhat, but given the fact that Putin needs more budget money for promised development, a tax hike on Gazprom is the more likely solution.
Heavy reliance on gas prices:
While it is indeed true that Gazprom is still heavily reliant on the overall gas market situation, the company has made some decent progress in diversifying its business.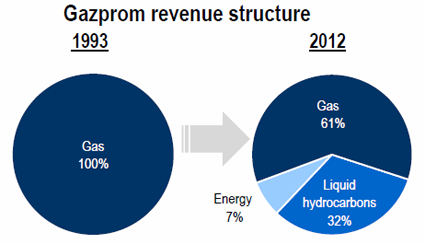 Political risk of nationalization:
Russia bears always like to bring up the famed story of Yukos as an argument against investing in Russia. But people beating that dead horse of a story never seem to mention that two major circumstances are very different in this case:
On 22 August 2012, after a long 20-year process, Russia has finally joined the WTO.
The ownership structure of Gazprom is very different from Yukos as there are a lot more foreign investors.

Conclusion:
With a Price/Book ratio of 0.4 and current dividend yield being north of 5% (with the payout ratio below 30%), I believe that Gazprom offers a compelling valuation that barring extraordinary circumstances is virtually guaranteeing a good return on investment in the longer (5-10 year) term.
It seems that some very smart folks agree with this assessment: Prosperity Capital Management Ltd., whose Russia fund has beaten over 90% of its rivals since its inception in 1996 has recently bought Gazprom for the first time in over a decade.
Disclosure: I am long OTCPK:OGZPY, OTCPK:LUKOY. I wrote this article myself, and it expresses my own opinions. I am not receiving compensation for it (other than from Seeking Alpha). I have no business relationship with any company whose stock is mentioned in this article.