Since my last analysis in Dec. 2012, the major credit companies have performed in-line with the rise in the S&P 500 with American Express' (NYSE:AXP) price slightly outperforming and Discover Financial (NYSE:DFS), MasterCard (NYSE:MA), and Visa (NYSE:V) stock prices slightly underperforming the index. The latest quarterly results of MasterCard and Visa exceeded Wall Street expectations and due to a lack of meaningful competition, a secular move to electronic transactions, and shareholder friendly policies, I expect the common stock of MasterCard and Visa to continue to perform well. Despite recent legislation to reduce credit card companies' pricing power and lawsuits against these companies, it seems like the music will continue to play for the major credit card companies for years to come due to their intrinsic ability to facilitate electronic transactions.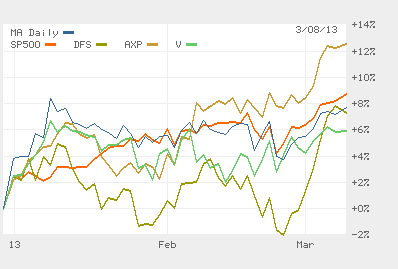 Recent financial performance
For the quarter ending December 31, 2012, MasterCard and Visa reported earnings per share of $4.86 and $1.93 outperforming the average estimate by 1% and 8%, respectively. MasterCard reached revenue of $1.9 billion and Visa of $1.3 billion for improvements of 9.7% and 12.9% from the same quarter in 2012, respectively. Both companies have healthy earnings before interest, tax, depreciation and amortization margins of 53.3% for MasterCard and 24.9% for Visa. The companies are able to improve their bottom lines by investing in technology, having limited competition, and improving operations. And they can grow their top lines even in bad economic climate due to a transition from cash to electronic payments. For example, even if GDP in a country drops by 2% but 5% more consumers and businesses use credit cards and related services, credit card companies will likely increase their revenues.
In addition to strong performance, both companies repurchase significant amount of shares. This spreads their earnings over a smaller amount of shares and also increases the demand for their shares. Currently, MasterCard has $440 million remaining from a previous repurchase authorization and $2 billion from a more recent authorization the company announced on February 5, 2013. Similarly, Visa has available $1.1 billion available under an old authorization and $1.75 billion under a recent share buyback program. This is in addition to annualized dividend yields of 0.5% (MasterCard) and 0.8% (Visa). These shareholder friendly policies, together with a strong operational performance has caused the shares to trade at significantly higher price-to-earnings ratios of 20.7 and 21.9 for MasterCard and Visa, respectively, compared to a forward PE ratio of 14.2 for the S&P 500.
Merchant settlement
In 2005, hundreds of merchants filed a class action lawsuit against MasterCard, Visa and the major credit card issuing companies over fixing of credit card fees. After years of litigation, MasterCard and Visa, together with the other defendants and a number of plaintiffs, agreed to a settlement. The settlement calls for a payment of $7.25 billion to the suing merchants and $525 million to stores suing independently. In addition, merchants will be allowed to pass some of the fees to customers in the form of a surcharge.
The settlement was welcomed by MasterCard and Visa as it basically imposes a fine on the companies without resolving the issue of fee setting. As a result, a majority of the plaintiffs oppose the settlement and in September 2013 a judge will decide whether the settlement stays.
Ten states have laws that prohibit merchants from levying credit card related surcharge fees and their laws prohibit companies doing business in the state from instituting similar fees in all other states where they operate. Thus, large, national companies will not have surcharge fees. At the same time, small companies, in order to stay competitive with their larger competitors, will likely not charge such fees. It is easy to see that if the settlement is approved, it will not do anything more than slapping a (relatively) small fine to the credit card industry.
New developments
Both MasterCard and Visa continue to expand globally. The most significant initiative both companies have undertaken is to reach the hundreds of millions of people without an access to the formal financial system. Reducing cash use in developing countries as well as developed countries makes economies more transparent, transactions easier, and reduces the risk of carrying cash. Also, MasterCard and Visa, as well as a number of other intermediaries, get a cut of each transaction.
For example, Visa is part of Saral money in India launched recently in a partnership between the Indian government, five banks and the national identity system to offer debit cards there. In Russia, Visa is partnering with one of the largest payment networks, QIWI, to provide a digital wallet. And in February 2013, it launched a new plug-and-play mobile money platform together with leading mobile phone operators in India and Rwanda. The platform offers open-loop (allows consumers to change mobile providers without losing their payment information) and closed-loop payments as well as user interface design, consumer enrollment, transactions processing, authorization, clearing and settlement. In other developments, it entered in a partnership with Samsung to provide NFC (near field communications) capability by utilizing Visa's payWave technology (Apple's iPhone does not offer NFC capability).
In the U.S., Visa extended its partnership with JPMorgan Chase (NYSE:JPM) and ended the ban on retailer discounts for specific cards in an effort to relax its rules. On a company-wide basis, Visa's seven major focus areas include:
continue to extend electronification of payments - cash is expensive and it is the "enemy";

invest in technology and innovation - examples include the Fundamo acquisition and new software developments;

international growth - credit cards are an integral part of government monetary systems;

merchant relationships;

employees - the company's success is based upon the quality of its people;

capital allocation - investing in growth, acquisitions, dividends and share buybacks; and

continue an active dialogue with the investment community.
Similarly, MasterCard is focusing on domestic as well as international expansion. In the U.S., recent wins include Intercontinental Hotel Group (NYSE:IHG), Bass Pro Shops, Shell (NYSE:RDS.A), KeyBank (NYSE:KEY), Aetna (NYSE:AET), and SunTrust. Its wins abroad include RBC (NYSE:RY) in Canada and significant wins in Africa (Equity Bank and Nigeria) and Latin America (Brazil). In addition, its PayPass service has reached over 700,000 terminals and is still growing strongly in Asia/Pacific, Middle East and Africa. Its MasterPass digital payment platform, which is an evolution of PayPass Wallet service, is well accepted by financial institutions and merchants. Also, MasterCard is helping financially under-served people with its mobile money partnership program.
Finally, both companies are pushing for implementation in the U.S. of the EMV (Europay, MasterCard, and Visa) standard already implemented in Europe and other regions of the world. The implementation is costly for many merchants but MasterCard and Visa are relentless, offering incentives and threatening penalties for merchants that do not implement EMV technology by the October 2015 deadline (including shift of liability to the merchant for losses from fraud).
Conclusion
Without a doubt, the credit card companies, including Visa and MasterCard provide value to the economy. For example, they can offer analytical data to their clients (merchants and financial institutions) about spending patterns and demographics. Certainly this and other benefits stemming from the ability to track transactions are not available when using cash. In addition, Visa and MasterCard are able to keep and return to shareholders most of the incremental profits from technological innovation and economies of scale as there are few alternatives to their global networks and experience in payments.
On the negative side, MasterCard and Visa serve mostly merchants and financial institutions and have little incentive for a real change. For example, American Express, which issues its own credit cards, is teaming with Twitter to offer shopping service by utilizing special hash tags. Also it is offering an alternative to a checking account in a partnership with WalMart (NYSE:WMT) called the Bluebird. Similarly, Discover is friending Facebook (NASDAQ:FB) and eBay's PayPal (NASDAQ:EBAY).
It seems that due to their comfortable duopoly and close connection with established financial institutions and merchants, Visa and MasterCard are not venturing in similar business activities. Even the often talked about innovative payment company Square still relies on the major credit card companies. So far, it seems like Visa and MasterCard are winning the war against cash without taking any prisoners.
Disclosure: I have no positions in any stocks mentioned, and no plans to initiate any positions within the next 72 hours. I wrote this article myself, and it expresses my own opinions. I am not receiving compensation for it (other than from Seeking Alpha). I have no business relationship with any company whose stock is mentioned in this article.