On March 8, CYS Investments (NYSE:CYS) declared a quarterly dividend of $0.32 per share for the Q1 2013. This dividend is a reduction of $0.08, or 20%, from the previous level of $0.40 per quarter. However, this new lower dividend seemed to be "priced in", as the stock was up moderately on Monday, compared to the sharp 3% decline on Friday right after the new dividend was announced. CYS is one of the few agency mREITs that continues to trade at a significant discount to its book value. At this new quarterly dividend rate and at current prices, CYS now yields about 10.5%.
Back in February, it was quite obvious that a dividend reduction was coming for CYS, as its net interest margin ("NIM") had declined sharply during Q4 2012. In a previous article, I outlined three possible scenarios where I attempted to determine CYS's new dividend level. Below are the excerpts from this article:
1st Scenario
The CEO basically made the case for CYS having a ROE of about 10%. We can also estimate ROE. This is very easy to arrive at, first multiply 0.94% (the net interest spread) by 7.7 (the leverage). This gets you to 7.24%. Next, we add the 1.97% yield on unlevered assets. This gets us to 9.21%. 9.21% ROE is not a great number, but it isn't horrible. Next, let us multiply the ROE by the shareholder equity (total assets- total liabilities). As of Q4 2012, shareholder equity for CYS was $2.4B. This gets us to $221M. Now, we divide this by the total shares outstanding of 175M. This gets us to about $1.26 per share, or about $0.316 per quarter. This would suggest a dividend reduction of 21% from the current level of $0.40. At current prices, this would be a 10.5% yield.
2nd Scenario
3rd Scenario
I had initially guessed that the 2nd scenario would be the most likely to happen. However, it now appears that the 1st scenario was what actually played out. This leads me to assume that CYS generated about a 9.2% ROE during the quarter.
It is my opinion that Q4 2012 marked the nadir in terms of NIM and ROE for agency mREITs. To determine this, one only has to look at the 10-2 year Treasury spread, which has been widening since November: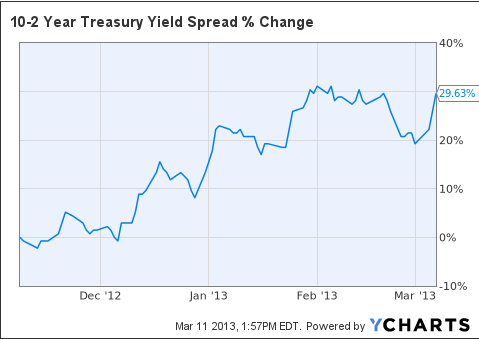 This widening of the spread should provide a boost in interest income for CYS during Q1 2013. However, we will not know to what extent till Q1 earnings are released.
As of Q4 2012, CYS had a book value of $13.31 per share. The current share price for CYS of about $12.00 represents a 10% discount to this book value. This discount compares favorably to other agency mREITs, such as Annaly Capital (NYSE:NLY), which is trading for a smaller 3.5% discount, and American Capital Agency (NASDAQ:AGNC), which is trading for a 3.5% premium.
| | | | |
| --- | --- | --- | --- |
| Ticker | Price as of 3/11/13 | Book Value as of 12/31/12 | Premium/ (Discount) |
| CYS | $12.00 | $13.30 | (10%) |
| NLY | $15.30 | $15.85 | (3.5%) |
| AGNC | $32.75 | $31.64 | 3.5% |
Conclusion
I tend to like undervalued high-yield stocks, which is exactly what CYS offers. While its current dividend is lower than most of its peers, CYS remains one of the more undervalued agency mREITs due to its sharp discount to book value.
Disclosure: I am long CYS, AGNC. I wrote this article myself, and it expresses my own opinions. I am not receiving compensation for it (other than from Seeking Alpha). I have no business relationship with any company whose stock is mentioned in this article.