It should come as no surprise that crime is big business in the United States. An unfortunate product of this fact is that there are over 2,000,000 people incarcerated in state and federal prisons. Ninety percent of the total prison capacity is operated by the states and federal government. The remaining 10% is operated under contract with private companies.
Corrections Corporation of America (NYSE:CXW) is the nation's largest privately owned operator of correction and detention facilities. CCA operates 67 facilities in 20 states comprising nearly 100,000 beds in all. Besides providing the basic services relating to inmates, the company also offers a variety of rehabilitation and educational programs.
CCA has been a steady performer with revenue growing at a 6.2% 10-year Compounded Annual Growth Rate. Earnings per share have kept pace over the same period with a 5.2% CAGR. It began paying a $.20 quarterly dividend in June of 2012, which calculates out to a yield of just 2% reflecting a conservative payout ratio just under 50%. However, the big news is that it is in the final stages of converting to REIT status. In announcing this decision, it has also raised the quarterly dividend from $.20 to $.53, payable on April 15. The ex-dividend date is April 3. The effective yield annualized is now 5.6%.
Last year CCA paid around $88 Million in taxes at an effective tax rate of 35%. The tax rate after converting to REIT status is estimated at 8.5 to 9.0 percent. That alone should free up an additional $70 Million, or $.70 per share for potential distribution to equity holders. Free cash flow for the trailing twelve months was $204 Million. Add that to the tax savings, and it comes up to around $275 Million available for distribution. If dividends remain constant at $.53 per share, or $2.12 per year, that would equate to a payout ratio of around 75% which is line with a healthy REIT.
Despite what seems to be good news creating value for shareholders, the news hasn't yet been fully reflected in the stock price, which in my opinion translates into a buying opportunity for Dividend Growth Investors. See the 3-month chart below: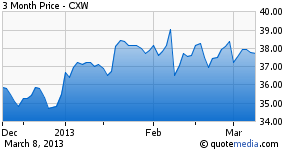 Somewhat lost in all the REIT conversion news was the strong 4th quarter and full year financial results recently reported. Last year marked the 12th consecutive year of EPS growth with Adjusted Funds From Operations (AFFO) up over 11% during the last seven years on a compounded basis. In its recent conference call, management was careful and conservative in its guidance for Q1, 2013 due to much higher anticipated payroll taxes compared to the 4th quarter, 2012. Full year guidance of AFFO was in the range of $2.80 to $2.90 range, more than adequate to support the annual dividend of $2.12.
As noted earlier, the public sector operates 90% of the prison marketplace. The highly publicized overcrowding and deteriorating conditions of these facilities coupled with state and federal budget woes puts CCA in a good place to capitalize on these opportunities. The various states' Departments of Corrections have failed to fully account for the costs of pensions and health care and necessary capital outlays, which further boosts the value proposition of CCA even more.
One potential headwind facing CCA is California's realignment plan that calls for reducing the state's inmate population and to convince the federal courts to raise the capacity of their 33 state owned facilities. This plan, dubbed "The Blueprint" is entangled in litigation with no immediate solution in sight. Further, the state just recently revised its estimate of inmates upwards by 6,000 to 130,000 by 2017. The plaintiffs expressed in a filing that "the California prison system remains in a state of emergency and continues to be overcrowded".
Conclusion:
Excluding California, CCA has ten state customers who expect their prison population to grow by 10,000 inmates over the next five years with no capacity to deal with them. This is a continuing theme with the federal prisons as well. Six new state contracts are being pursued that are projecting overcrowding conditions by 8,000 inmates within the next five years. CCA has demonstrated sound financial performance and the ability to generate solid and predictive cash flows for several years. The conversion to REIT status now goes a long way towards unlocking value to the shareholders with its 5.6% dividend.
Disclosure: I am long CXW. I wrote this article myself, and it expresses my own opinions. I am not receiving compensation for it. I have no business relationship with any company whose stock is mentioned in this article.