The Conference Board released its monthly Employment Trends Index (ETI) today, which is a composite index measure based on eight individual labor-market indicators that track the overall conditions and underlying trends in the U.S. labor market. In February, the ETI increased for the fifth straight month to a 56-month high of 111.14, which is the highest index reading since June of 2008 (see chart below). On an annual basis, the February ETI was 3.2% above its year-ago level, and posted the 37th consecutive year-over-year increase starting in February 2010.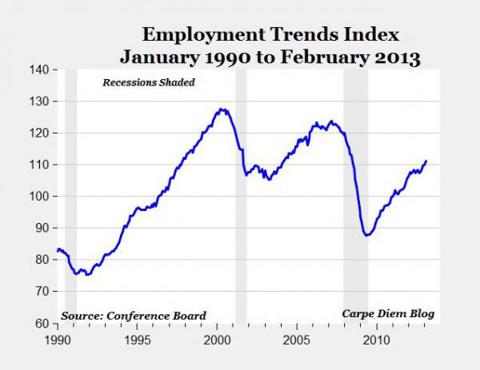 Click to enlarge
February's increase in the ETI to a four-and-a-half-year high was driven by positive increases in seven of the eight individual labor-market indicators. The positive components in February -- from the largest to smallest contribution -- were Percentage of Firms With Positions Not Able to Fill Right Now, Real Manufacturing and Trade Sales, Industrial Production, Employees Hired by the Temporary-Help Industry, Ratio of Involuntarily Part-time to All Part-time Workers, Job Openings and Initial Claims for Unemployment Insurance. The only component that declined last month was the variable: the Percentage of Respondents Who Say They Find "Jobs Hard to Get" from the Conference Board's monthly Consumer Confidence Survey.
Gad Levanon, Director of Macroeconomic Research at The Conference Board commented on the February ETI: "As a result of the large increase in February, and positive revisions to earlier months, the Employment Trends index is signaling an improving employment environment. However, even though the labor market has gained in recent months, the looming sequester is likely to slow the pace of job creation in the near term."
The steady increases in the ETI to a 56-month high in February reflect slow, but ongoing, improvements in the U.S. labor market -- or, according to The Conference Board, "an improving employment environment."