SandRidge Energy, Inc. (NYSE:SD) represents the best and worst aspects of the oil and gas industry. The company has made the type of bold and aggressive steps that positioned it as an "early mover" in several of the more attractive liquids plays, and the company has done a reasonable job hedging production at attractive prices. These positives are unfortunately far outweighed by an egregious and abusive corporate governance profile, and a capital allocation strategy that would be better suited for a regular at the roulette table, than from a multi-billion dollar organization. If this story sounds eerily familiar to Chesapeake Energy (NYSE:CHK) it could very well be because Tom Ward and Aubrey McClendon co-founded Chesapeake many years ago, and Ward took that swashbuckling mentality to SandRidge in 2006. Fortunately for shareholders, TPG-Axon and Leon Cooperman's Omega advisors have amassed large stakes in the firm and seem adamant on ousting Ward. Prem Watsa of Farifax Financial (OTCPK:FRFHF), whom I have the utmost respect for, is also an extremely large shareholder, but up to this point he has been far more complimentary to Ward. Moving forward, I believe that SandRidge Energy offers a compelling opportunity to profit from an undervalued asset base, activist investors' involvement, and a possible change in management. At the end of the article I will recommend a strategy for investing in the company that in my opinion maximizes the risk-adjusted return potential.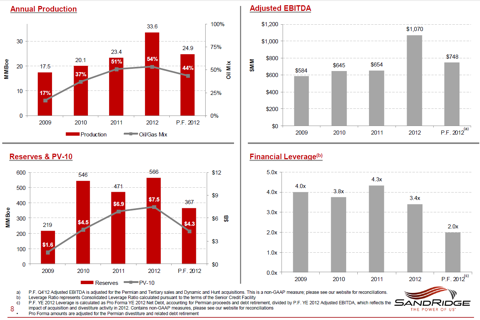 SandRidge Energy has been transformed dramatically through a variety of acquisitions and divestitures. The company went from having a large concentration of natural gas fields where prices have plummeted, towards a company that now derives the majority of its revenues from liquids. To be clear, when Tom Ward took over in 2006, he wasn't given an extremely strong hand to play. Currently, the company's primary area of focus is the Mississippian formation. This formation is a shallow hydrocarbon system in the Mid-Continent area of northern Oklahoma and Kansas, where it had approximately 1,886,000 net acres under lease at December 31, 2012. SD also had approximately 457,000 and 232,000 net acres in the Gulf of Mexico and the Permian Basin, respectively, under lease at 12-31-2012. However, the company agreed in December to sell a significant portion of its properties in the liquids-rich Permian Basin for about $2.6 billion, and this transaction closed on February 26th, 2013.

The Permian sale is interesting in several respects. Tom Ward has focused extensively on converting the company towards liquids, and the Permian assets are ideally liquid-rich, and were nicely productive. Ward's logic is that the company bought the assets on the cheap, and divested them at an attractive valuation, reflective of a mature asset play. This makes some sense but it isn't clear if the company is in the land and mineral speculation business, where it utilizes heavy leverage and makes potentially crippling bets for the prospect of short-term profits, or if it is trying to actually produce free cash flows from drilling, and creating shareholder value through those activities. SandRidge is using the proceeds of the sale to pay-down debt, and to continue to expand its operations in the Mississippian, which I will cover in more detail later. In early 2012, the company threw a curveball by acquiring Dynamic Offshore Resources LLC for $1.275 billion. The company used $680MM in cash and 74MM shares to acquire this operator on the Gulf of Mexico shelf. The reason this was strange was because Ward has put so much focus on the land-based Mississippian and Permian plays, and then this already over-leveraged company extended itself further into a formerly non-core offshore area. The company made a tuck-in acquisition to increase its GOM play, and SD has improved productivity from these wells to over 30 MBoe/d.
SandRidge argues that the Gulf of Mexico rigs are serving as a financing vehicle, where the company can harvest the free cash flows to further investment in the Mississippian. The problem with this logic is that SandRidge is a highly levered company with extremely expensive costs of capital. As of December 31, 2012, the company had total indebtedness of $4.3 billion. Below is a table highlighting the company's on and off-balance sheet obligations:

While the company has effectively utilized long-term debt, reducing short-term liquidity event risk, interest rates are extremely high relative to competitors. These interest expenses have considerably hindered the company's profitability, while creating enormous risks for the company if energy prices were to decline, or if the company faces any material operations problems. I'd much rather see the company divest these Gulf of Mexico assets after increasing production so that the company can use the proceeds to further deleverage. Selling assets not only allows the company to reduce its expensive long-term debt, but it also reduces the capital expenditure requirements, which currently are significantly in excess of the company's operating cash flows.
SandRidge is betting heavily on the Mississippian play where there are large amounts of information about the vertical drilling programs, which have been going on for the last 30 years. This allows the company to utilize horizontal techniques to extract the resources from the shale, without taking a lot of risk in terms of dry wells. The company's concentration on the Mississippian play has led to improved well performance, highlighted by lowered costs. The company has a lot of acreage in Kansas with attractive geological features, and if the area proves to be as lucrative as the company believes it can, then the monetization of partial dispositions could be highly lucrative down the line.
SandRidge has spent $400MM and is spending another $250MM this year on a saltwater disposal system. There are about 106 disposal wells in operations and 700 miles of gathering lines. These wells can dispose of 1.6MM barrels of saltwater a day and the company is able to significantly reduce its operating costs per well with its owned and operated system. I believe the company should sell or spin-off these assets into an MLP structure to further improve the capital structure. This could raise close to $1 billion, which will go a long ways towards reducing debt, without materially impacting the company's earnings, or lack or earnings for that matter. SandRidge also owns and operates an oil fields services subsidiary, which consisted of 30 operational rigs, with 14 of them operating on company-owned properties in the Mid-Continent and Permian Basin. This entity represents another opportunity for the company to monetize another non-core asset if need be.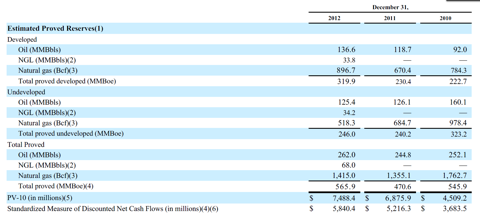 SandRidge has engaged in a variety of royalty trusts and joint ventures to raise capital. While many of these have been done at reasonable prices, the complexities of the joint ventures tend to make SandRidge less attractive to potential buyers. Chesapeake Energy has the same problem and because of the swashbuckling financial shenanigans of both companies' they would both likely benefit from being acquired by a well-financed integrated oil company. Using $94 oil and $3.45 gas, SD would expect EBITDA of $850MM in 2013. Pro-forma EBITDA in 2012, adjusted for the Permian sale and GOM acquisitions, would have been $750MM. Management has hedged about 85% of oil production at just over $98 per barrel. I believe that over the longer-term, natural gas prices will head higher, as new utilizations of the more cost-efficient fuel come to fruition. This would add material upside to almost all E&P companies, including SandRidge, which still has a lot of natural gas resources. The key will be that the company needs to de-risk the balance sheet, so that its future developments in its key plays aren't inhibited if prices were to decline, or if liquidity were to tighten materially like it did in 2008-2009.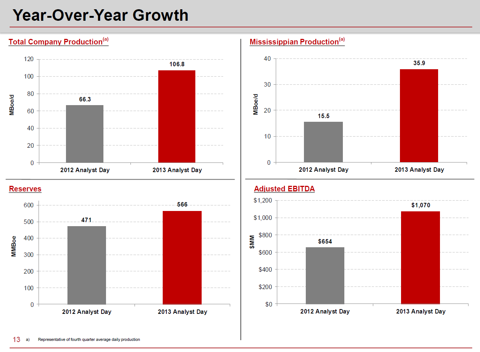 Much has been written about Tom Ward's profligate spending, absurdly high salary that has no correlation with stock or financial performance, and use of corporate funds on various planes and non-core assets. The news of inter-dealings between him and his family's private capital and company funds are very disturbing and demand that he no longer lead the company in my opinion. I don't get any enjoyment in calling for someone's job, but when you take capital from outside investors and pilfer it on yourself, without any reasonable basis for doing so, there is simply no excuse. While SandRidge calls itself a growth company, it is important to note that since 2006, the share count has grown from 75MM to 456MM. Therefore per-share growth is not impressive at all in that context, and when you factor in the debt used to further finance the growth, there is no doubt the company has been a material shareholder value destroyer. I wouldn't invest in SandRidge if I believed Tom Ward will be the CEO within 2 years. I believe TPG-Axon's plan makes a lot of sense to reduce corporate overhead expenses and sell non-core assets. The company can further develop the Mississippian, potentially waiting for the optimal time to sell the entire company.
While TPG-Axon believes the company might be worth between $10-$12 per share, offering a potential double from the current share price, we've chosen to invest using a different method. Currently, an investor can sell the January 2015 $5 puts for approximately $150 per contract. This means that on a maximum risk of $350 per contract, the investor stands to make $150 or 43% on that maximum risk in 676 days, assuming the stock price is above $5 at expiration. This is roughly a 24% return on an annualized basis, and the reason I like this strategy is that if for any reason the company has to raise equity capital, which would be dilutive, there is more protection by being able to buy the stock at a breakeven of $3.50 if your option expires in the money. SandRidge doesn't have any material near-term debt maturities, so it is tough to find a major liquidity event prior to the expiration of the option contracts. Even if cash flows and liquidity resources aren't sufficient to self-fund the company's robust CAPEX plans, options such as the previously mentioned sale of assets, and a decrease in the CAPEX budget could cushion the blow materially. We do own a very small sliver of stock, paired with previously sold covered-calls at the $10 strike price, but we believe the benefits of selling puts outweighs the potential benefits of being long the equity while Tom Ward is still steering the ship.
Disclosure: I am long CHK, SD. I wrote this article myself, and it expresses my own opinions. I am not receiving compensation for it (other than from Seeking Alpha). I have no business relationship with any company whose stock is mentioned in this article.