This morning, Best Buy (NYSE:BBY) was upgraded by Jefferies & Co to a Buy from a Hold rating. According to analyst Dan Binder, Best Buy has grabbed a bigger than expected chunk of market share following the Circuit City liquidation. BBY has been able to take 40-50% of the vanquished Circuit City share, as opposed to earlier expectations of 30%. His price target was lifted to $37, up from $24-$26.
Of particular note, Jefferies had one of the lowest earnings estimates on the Street before this upgrade. Now, estimates for the March 2010 fiscal year have been raised to $2.65 a share, an estimate which is 10% above the $2.39 average estimate. Looked at from this perspective, Jefferies has gone from having one of the most pessimistic opinions on Best Buy to one of the most upbeat. Can upward earnings revisions by other analysts be far behind?
It seems as though this upgrade of Best Buy is very timely. Best Buy has planned to cut their capital spending for their March 2010 fiscal year by approximately 50%, compared to the $1.2 billion spent on capital expenditures in their current fiscal year. With a heartier market share and an expected higher revenue count, BBY should see these additional revenues flow to the bottom line.
Best Buy is slated to report earnings on March 26th. A look at the 6 month chart shows a bullish series of higher highs and higher lows have been forged since the stock bottomed with the market last November. More importantly, the stock has been trading in a very tight range of late, indicating that the stock is now in strong hands going into this earnings report next Thursday. With no meaningful resistance on the charts until the $36 price level, I like the risk/reward of this trade going into earnings.
click to enlarge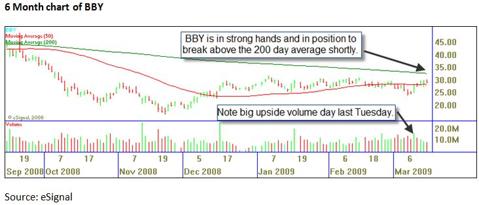 Click to enlarge
Disclosure: I am not currently long BBY, but plan on taking a starter position in it this morning. I will add to my position on any move through short term resistance at $31.85.