Last October, I published an article profiling the company Glatfelter (NYSE:GLT). The article was intended to capture the attention of investors after dividend income as well as those advocating moderate long-term growth. Since October, GLT has provided patient investors with its steady dividend and roughly a 10% increase in its security price. GLT's wide moat and profitable operations offers a high level of stability for investors seeking either income or growth. This article illustrates GLT's recent performance and provides seven reasons why GLT is a solid company to purchase at its current valuation. For a good primer, I will start with a brief overview of GLT's business.
Overview & Market Performance
GLT is a global supplier of specialty paper and engineering products. GLT's long history of success dates back as far as 1864, when it was originally founded in south central Pennsylvania. GLT was later incorporated in 1906, and today is headquartered in York, Penn. Today, GLT's product line is quite extensive ranging from items a basic as specialty papers to custom engineered items for food processing companies. For further information, please visit GLT's company website.
Currently, GLT is trading at roughly $19 per share. With 42.86 million shares outstanding its market capitalization is roughly $820.34 million. Taking a look at its historical returns it is safe to say the presence of volatility is insignificant, and more or less irrelevant. This is clearly illustrated through the fluctuations in GLT's security market price.
Figure 1: GLT's One Year Price Graph from FinViz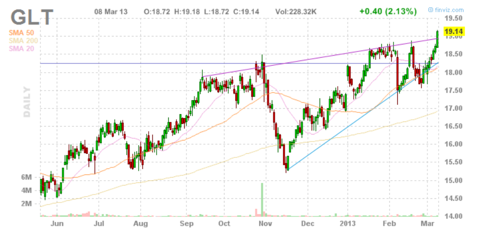 Seven reasons to buy GLT:
#1 GLT is an excellent dividend stock. On May 14, 1992, GLT's stock experienced a 2:1 split. GLT's management issued its first dividend ever to shareholder on Jan. 11, 1993 and has paid a dividend ever since. The first dividend was an annual dividend of 70 cents (17.5 cents per quarter). Furthermore, GLT's management announced a 11% increase in GLT's dividend on March 5th. GLT's quarterly dividend in now $0.10.
Figure 2: GLT's Dividend Distributions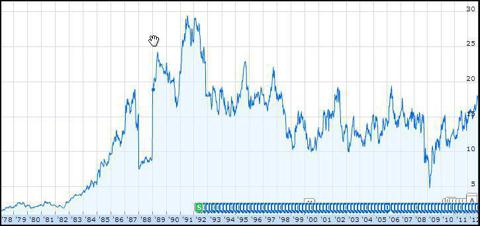 #2 GLT is a cash friendly company. Historically, GLT has exhibited strong levels of free cash flow. Its recent dividend increase reflects managements expectations surrounding expected future free cash flows suggesting a solid increase in free cash flow available to shareholders over the next quarter.
Figure 3: GLT's Free Cash Flows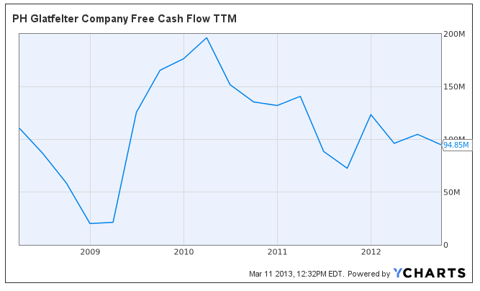 #3 GLT has a clean balance sheet and a minimal level of debt outstanding. GLT's current debt to equity ratio is roughly 40%, which is relatively low compared to its peers. As displayed in figure 4 below, notice the steady reduction in GLT's debt to equity ratio over the past five years. Its clear GLT's sustainable free cash flow generation has enabled GLT to steer away from high levels of debt financing and rely on other sources of funds. Also, this suggests GLT's internal growth rate substantially higher than it was at this time last year.
Figure 4: GLT's Debt to Equity Ratio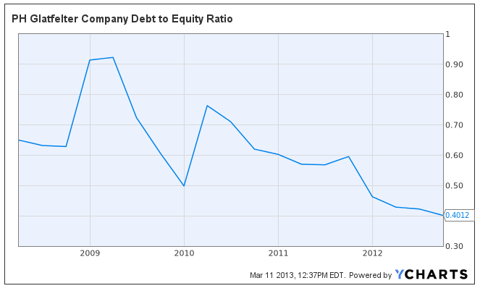 #4 GLT's diversified product line and customer base both provide significant room for growth. Being a provide of such a niche specialty product can often limit the potential market and room for increasing profitability. However, GLT efforts towards global expansion open up doors for future growth.
#5 GLT's returns reveal relatively low risk for investors. Using GLT's historical holding period returns, I computed a firm-specific beta and standard deviation of 1.24 and 3.45%, respectively. Given the market has a beta of 1, GLT's beta of only 1.24 suggests its relatively low risk. Also, its standard deviation is considerably low in comparison to its peers. Its peers exhibit an average standard deviation of 6%.
#6 GLT is undervalued based on its price to earnings growth (NYSE:PEG) and its price to free cash flow ratio (P/FCF). The combination of a P/FCF ratio lower than 15 and a PEG ratio of less than 1 is often an indication that a firm is trading at a discount to its fair value. Currently, GLT's PEG and P/FCF ratio are 0.32 and 13.5, respectively.
Figure 5: GLT's PEG Ratio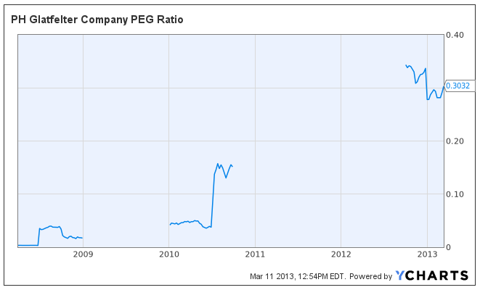 #7 The six analysts that cover the stock have a six month median price target of $21.50 per share. This implies an upside of nearly 13%, which I feel is conservative.
Conclusion
Overall, GLT's sustainable business model has enabled GLT to increase profit margins in a highly competitive industry. The combination of a dedicated management team and a long history of success makes GLT an ideal stock for long-term oriented dividend investors seeking moderate growth. In conclusion, the continued demand for GLT's products is simply going to support the continuation of this stream of fixed income.
Disclosure: I have no positions in any stocks mentioned, and no plans to initiate any positions within the next 72 hours. I wrote this article myself, and it expresses my own opinions. I am not receiving compensation for it (other than from Seeking Alpha). I have no business relationship with any company whose stock is mentioned in this article.