On Monday, Micron Technology (NASDAQ:MU) will announce their fiscal Q2 earnings. For those unfamiliar with MU's business, MU is best known for producing many forms of semiconductor devices and memory chips.
While it isn't a marquee name, Micron is a key part of the tech industry value chain. And as the first company in the tech industry to report earnings for the quarter, anyone investing in tech should be paying close attention
MU has been losing money hand-over-fist for the last year, but they seem like they may be turning things around. MU acquired a competitor out of bankruptcy and has shut down unprofitable plants. The stock has been on a tear, up well over 60% since November. While I like MU's overall story, I am nervous about the targets set with the Elpida acquisition so I am staying away. With multiple acquisitions and strategic partnerships, the stock is too hard for me to read at this point.
Past
Not only has Micron been losing money for the last 6 quarters, they've been losing money a lot faster than the street anticipated (all numbers from thestreet.com).
| | | | | |
| --- | --- | --- | --- | --- |
| Period | Estimate | Actual | Variance | Previous Year |
| Q1 2013 | ($0.20) | ($0.27) | ($0.07) | ($0.19) |
| Q4 2012 | ($0.23) | ($0.24) | ($0.01) | ($0.14) |
| Q3 2012 | ($0.20) | ($0.32) | ($0.12) | $0.10 |
| Q2 2012 | ($0.19) | ($0.29) | ($0.10) | $0.07 |
| Q1 2012 | ($0.08) | ($0.19) | ($0.11) | $0.15 |
| Q4 2011 | $0.01 | ($0.14) | ($0.15) | $0.32 |
The semiconductor industry is famously competitive and the low prices of the last year have wrung out some of the competition. That should be a major positive for MU, now that DRAM prices have started to rise.
Present
Micron is pretty cheap by most metrics, as one would expect after 6 quarters of missed expectations. Currently the stock is trading at about 1.2x sales,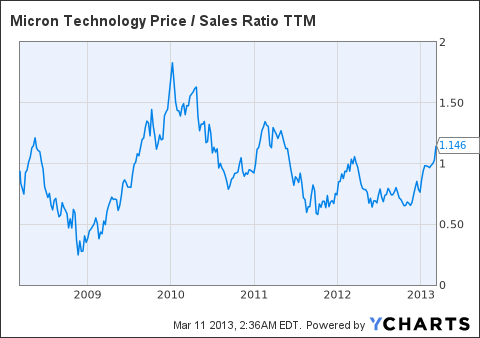 MU Price / Sales Ratio TTM data by YCharts
The company is also trading at a similar premium to book, which makes it extremely cheap for a high-tech manufacturer- probably the cheapest I have ever seen by that metric.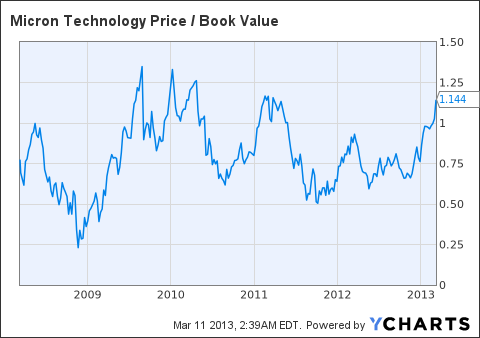 MU Price / Book Value data by YCharts
Given the fast pace of change in the industry now, though, the historical numbers are only of limited use to us.
Future - Risk and Reward
The main determinant of MU's success is the spot price of memory, which you can track here. As you can see, the price has shot up over the last six months (not coincidentally, MU's stock price shot up as well). The industry rags indicate that this is primarily due to cuts in production capacity, which is great news for MU. This combined with the additional capacity from the asset purchase means that there's a lot of room for the company to run.
However, I have concerns for this quarter around integration worries with Elpida- while the court rulings have been positive, I don't like the idea of investing in companies that have recently gone through major acquisitions, and there's a lot of new debt they're taking on. MU is projecting that they will earn over $0.50/share before acquisition this year, which seems pretty optimistic to me. I suspect that integration and ramp-up will go slower than projected, which is why I am staying away, but watching closely. If there's a dip in price, I like the long-term potential of the company. If the Stock dips to about $8, I think it's a buy again, but I'm on the sidelines for now.
Disclosure: I have no positions in any stocks mentioned, and no plans to initiate any positions within the next 72 hours. I wrote this article myself, and it expresses my own opinions. I am not receiving compensation for it (other than from Seeking Alpha). I have no business relationship with any company whose stock is mentioned in this article.