Do you consider yourself a value investor? Are you a student of the investment practices of Warren Buffett?
If your answer is yes to those two questions then I bet you are familiar with Canadian company Brookfield Asset Management (NYSE:BAM).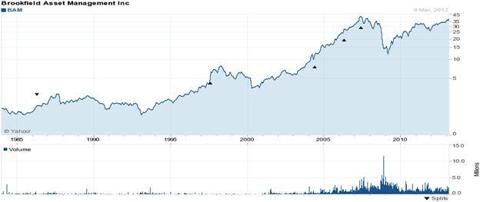 Brookfield along with companies like Markel Corporation (NYSE:MKL) and Fairfax Financial (OTCPK:FRFHF) are companies that embrace the Warren Buffett culture of value investing. These companies focus on effective capital allocation and wealth preservation.
The people that run these companies are "value investors" and their results over the long term speak for themselves.
Brookfield lists its "Investment Principles" as follows:
Investment Guidelines

· Invest where we possess competitive advantages.

· Acquire assets on a value basis with a goal of maximizing return on capital.

· Build sustainable cash flows to provide certainty, reduce risk and lower the cost of capital.

· Recognize that superior returns often require contrarian thinking.

Measurement of Our Corporate Success

· Measure success over the long term by total return on capital.

· Seek profitability rather than growth, because size does not necessarily add value.

· Encourage calculated risks, but compare returns with risk.

· Sacrifice short-term profit, if necessary, to achieve long-term capital appreciation.

Business Philosophy

· Build the business based on honesty and integrity in order to enhance our reputation.

· Attract and retain high caliber individuals who will grow with us over the long term.

· Ensure our people think and act like owners in all their decisions.

· Maintain an open exchange of information and strategies with all constituencies.
Yes, yes these are the concepts that I love to see.
But Brookfield is an enormous company and when a company is that big its shares are rarely as mispriced.
At Brookfield's 2012 Investor Day the company disclosed that it manages a staggering $150 billion in assets.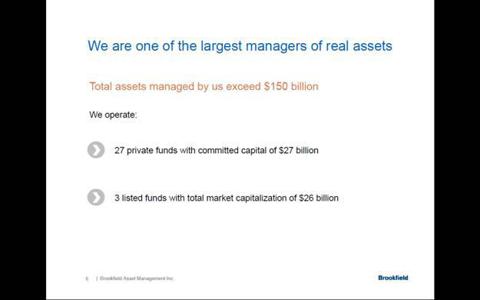 As an admirer of Brookfield, but not wanting to invest directly in a company this large (and generally fairly valued) I decided to do the next best thing. I decided to invest alongside of Brookfield in one of its portfolio companies.
I thought that this would be the best of both worlds. I would get to have Brookfield in control of the capital allocation at the company I was invested in, but be invested in a smaller business with more upside.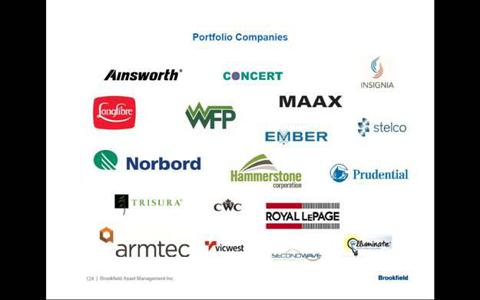 The slide above lists the companies that Brookfield's Private Equity Group is invested in. If you look really hard in the bottom row at the second name from the right you will see the name of the company where I chose to partner with Brookfield.
The company is called Second Wave Petroleum (OTC:SCSZF). Second Wave is an energy producer focused on a light oil unconventional resource play called "Swan Hills" in Alberta, Canada.
I've learned the hard way that when investing in the energy sector (and especially the smaller companies) the single most important thing to consider before investing is the track record of management and the Board of Directors.
That is why I bought a few shares of Second Wave. I bought them because I knew that the smart folks at Brookfield were in control of this company and "had my back." I knew that I could count on them to protect my capital and make good decisions for me.
Or so I thought……
Brookfield owns 47.5% of Second Wave through the Brookfield Bridge Lending Fund and a Brookfield representative is the Chairman of Second Wave's Board of Directors.
In other words Brookfield is in total control the decision making at Second Wave Petroleum.
In early 2012 Brookfield in its role directing the fortunes of Second Wave's shareholders was confronted with a decision that it had to make.
With Second Wave shares trading at close to $3.00, the company was approached by a would be acquirer. This was the news release from Second Wave at the time:
Strategic Alternatives Process

In response to certain unsolicited expressions of interest the Company's Board of Directors believe it is in the best interest of the shareholders to initiate a process to identify, examine and consider strategic alternatives available to the Company with a view to enhancing shareholder value.

Such alternatives may include, but are not limited to, a sale of all or a material portion of Second Wave's assets, whether in one transaction or a series of transactions, a sale of the Company, or a merger or other strategic transaction involving Second Wave and a third party, and will include continued execution of the Company's business plan.
At the time of this offer Second Wave's share price was $3.00 per share. The stock price quickly moved up close to $4.00 per share as the market anticipated the likely valuation at which a sale of the company would occur.
With the ball in their court, Second Wave, or more accurately Brookfield as controlling shareholders chose to walk away from the deal:
Strategic Alternatives Review Process

Second Wave's Board of Directors have elected to terminate the corporate strategic alternatives review process, announced on February 28, 2012, as the process did not result in a proposal that reflects the long-term value of Second Wave's Pekisko and Beaverhill Lake oil assets. Since announcement of the Company's process, the equity markets have weakened substantially, while the Company's recent drilling success on its Beaverhill Lake light oil play in Judy Creek has exceeded expectations, as outlined below, and has added considerable long-term value for its shareholders.
Was that a good move for shareholders? Check out the stock price action over the subsequent year for your answer:

From having an offer to purchase the company somewhere between $3 and $4 per share only one year ago, shareholders of Second Wave are now faced with a share price of $0.37!
As stewards of shareholder capital, Brookfield has managed to seemingly back Second Wave into a corner where it has a debt load that is not manageable for its level of production and cash flow. The company can't finance growth from the level of cash flow it has, and therefore can't grow its way out of the predicament.
What does the company have to say for itself and the current shockingly low share price?
Nothing.
The last communication out of Second Wave was Nov 15 of last year. That is almost four months without a peep from the company, and every day the share price drips lower.
In my opinion Brookfield Asset Management has some explaining to do.
I also believe Brookfield Asset Management owes Second Wave shareholders some action. Action in the form of some sort of non-dilutive bridge financing to take away the concerns that the stock market has and turn this company around.
Brookfield has access to billions of dollars. It can easily fix what ails Second Wave (that being a cash infusion). And since it was Brookfield's poor decision making that have got shareholders into this pickle I suggest they fix this problem in a non-dilutive way.
Surely Brookfield must have some concerns about its reputation given what has transpired at Second Wave. I know how I feel about Brookfield today and I'm sure other suffering Second Wave shareholder feel the same way.
I invested in this company because of Brookfield's investment and decision making ability. Instead a huge percentage of my original investment has been destroyed because of it.
On behalf of Second Wave's shareholders I call on Brookfield to fix this situation.
Second Wave still has the same assets that someone was willing to pay almost $4 per share for one year ago. The asset value is still there, all we need is some leadership from Brookfield to realize that value.
I've been trying to get some answers from Second Wave management and have not received any calls back. I invite the company or someone from Brookfield to contact me and explain what the heck is going on at this company.
Disclosure: I am long OTC:SCSZF. I wrote this article myself, and it expresses my own opinions. I am not receiving compensation for it (other than from Seeking Alpha). I have no business relationship with any company whose stock is mentioned in this article.