Panera Bread (NASDAQ:PNRA) has achieved what we view as a sustainable revenues growth over the last few years. Improved brand recognition, in addition to attractive food mix alongside weak economic recovery, has lured more customers into the bakery stores. We believe that the current growth rate will be sustained in 2013 and will subsequently experience a decline, once the economy improves.
Growth is driven both by an acceleration in the numbers of new stores opened (both owned and franchised) and consistent increase in year-on-year sales growth. It is also apparent that the company is focused more on the franchising side of the business. This can be noted from the changing ratio of new franchises to owned bakeries. Franchises bring in less revenue than company owned stores, thus capping the growth potential in net revenues generated on a long term basis.
The company continues to buy owned equity, which will ultimately result in inflated earnings per share.
| | |
| --- | --- |
| Name | Panera Bread Company |
| Symbol | PNRA |
| Listing | Nasdaq |
| Industry | Retail Eating Places |
| SIC | 5812 |
| Rating | Overweight |
| Price Target* (USD) | $208.30 |
| Mkt Cap | $4.85B |
| Enterprise Value | $4.6B |
| * 12 Months Target | |
Panera Earnings
Encouraging Fiscal Year 2012 Results -- 2013 Growth Prospects Similar to 2012
Company Highlights:
Fourth Quarter Reported Diluted EPS $1.75 versus $1.74 Mean Estimate
Full Year Fiscal 2012 Reported Diluted EPS $5.89 versus $5.88 Mean Estimate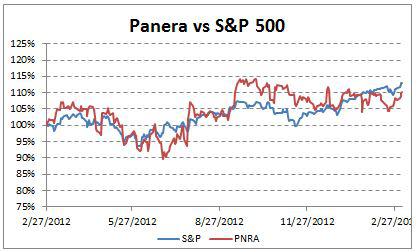 Growth Story
Company Highlights:
Q4 2012 Company-Owned comparable bakery-café sales up 5.1%
Q4 2012 Revenue increased 15% to 572 million
FY 2012 System-wide new bakery café
Store Expansion: Panera Bread Company added 123 new stores in 2012, 64 of which are in the form of franchises. 2013 brings in a similar addition in the number of stores. The company has already committed to 195 new franchises that will open in the next four to five years.
Fiscal Year 2012 - Rearview Mirror
Net Revenues increased 17% year-over-year to $2.13 billion
Bakery café sales increased 18% year-over-year to $1.88 billion
Franchise generated revenues increased 10% to $102 million year-over-year
Bakery café expenses totaled 70% on net revenues in 2012 that is down from 71% in 2011
SG&A expenses totaled 5.5% for 2012 versus 6.2% in 2011
System wide average weekly sales grew 5.3% in 2012 to a record $47K
Company added 59 bakery owned stores and 64 franchises in 2012
Operating margin was 13.3% of net revenues in 2012 versus 12.1% in 2011
EBITDA was 18% in 2012 versus 16% in 2011
Capital expenditures constituted 7.2% of net revenues in 2012, 5.9% in 2011
Working capital was 0.5% of net revenues in 2012 and 0.1% in 2011
Reported EPS
2010
2011
2012
Basic
3.65
4.59
5.94
Diluted
3.62
4.55
5.89
Valuation Metrics
2012A
2013E
P/E(x)
28.0x
22.9x
EV/EBITDA(x)
12.3x
10.5x
EV/Revenue
2.2x
1.9x
Revenue($m)
2,130
2,478
EBITDA($m)
374
440
ROIC
33%
--
Guidance
Management provided the following guidance for 2013:
Bakery-café sales growth of 4.5% to 5.5%
Operating Margin Flat/+50bps compared to 2012
New bakery-café target 115 to 125 system wide
Average weekly sales for new bakeries is $40K to $42K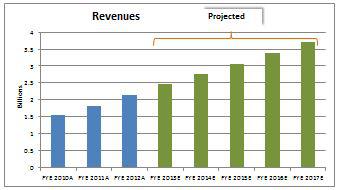 Trend Analysis
We look at the trend of various balance sheet and income statement line items.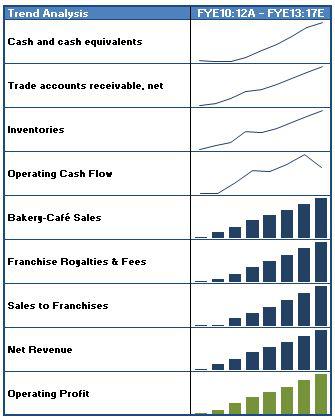 Comparables
For our valuation exercise, we selected six names in addition to Panera Bread. Our selected sample includes Starbucks (NASDAQ:SBUX), Yum Brands (NYSE:YUM), Dunkin Donuts (NASDAQ:DNKN), Chipotle Mexican Grill (NYSE:CMG), Burger King Worldwide (BKW), and Bloomin Brands (NASDAQ:BLMN).

Our benchmarking exercise indicates three distinct market cap tiers. Starbucks and Yum! Brands lie in the large cap tier, while Chipotle Mexican Gill lies in the middle market cap tier. Panera, Dunkin Donuts, Burger King Worldwide and Bloomin Brands are all in the small cap tier. Financial statistics indicate Panera operates in the same revenue zone of Chipotle and Burger King Worldwide. Profitability margins indicate closest resemblance between PNRA, SBUX, YUM and CMG.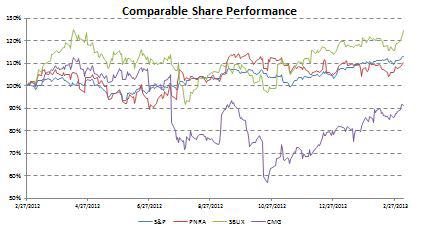 Return and growth analysis indicates that Panera lags only Chipotle Mexican Grill in both returns and growth rates for 2013. Our model indicates however that PNRA would overtake CMG in 2014.
In terms of multiples, we believe Panera is attractively priced in every single metric. Enterprise value multiples of revenue and EBITDA indicate Panera is undervalued as compared to both CMG and SBUX. The same holds for earnings multiples. If we apply forward multiples for SBUX as a lower bound and CMG as the upper bound of PNRA's valuation, we get a price range of $195-$216 for EV/Revenue, $191-228 for EV/EBITDA and $189-$230 for P/E.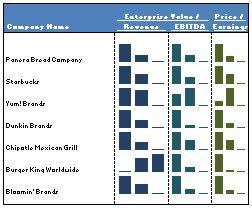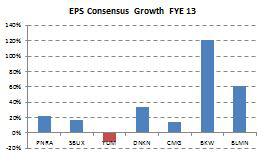 Discounted Cash Flow Analysis
We modeled our discounted cash flow analysis based on management's estimates of new stores opened, operating profit margins and bakery-café sales growth rates. We conducted sensitivity analysis using four distinct model variations. The models used were named 1) Base 2) Management 3) Upside and 4) Downside. We manipulated revenue growth rates, operating profit, capital expenditures as well as depreciation and amortization. In addition we carried out a sensitivity analysis based on ending EBITDA terminal multiple and WACC. Discounted cash flow analysis yields a share price of $217.01.
Key Assumptions:
Weighted Average Cost of Capital at 8.4%
Cost of Equity at 9.3%
Levered Beta at 0.90
Target Debt/Equity ratio of 17.6%
DCF Model
EV
Share Price
Base ($)
$6.35B
$214.73
Management
$6.64B
$224.48
Upside
$7.85B
$265.53
Downside
$4.83B
$163.31
Mean
$6.42B
$217.01
Valuation Summary
Our valuation summary indicates a twelve months projected fair value based on multiples for Panera Bread at $208.30. We do not include discounted cash flow pricing due to the difference in the time frame projected, as DCF analysis measures the fair value per share as of the completion of this report.
Based on our analysis, we rate Panera Bread the equivalent of "buy" and initiate our coverage with an overweight rating.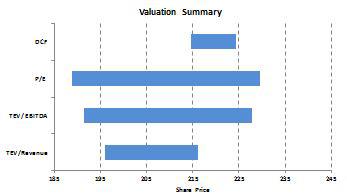 Supplemental Financial Information
Balance Sheet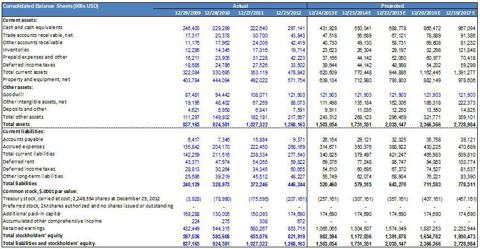 We included $50 million in equity purchases our balance sheet projections to accommodate for Panera's Board approval of an equity buyback program equal to $600 million. We also maintained Panera's book value of Goodwill as such line items cannot be projected with certainty.
Income Statement

Cash Flow Statement

Additional Comparable Data
TEV Multiples

Earnings Multiples

Liquidity Ratios

Turnover Ratios

Open Questions and Caveats
We have not included in our model the following:
The potential for international growth and brand development
The additional requirement(s) of opening up additional bread distribution facility (or the expansion of current facilities) in order to serve the growing number of bakery cafés and franchises
Additional acquisitions of bakeries
Ultimately, we believe there is concrete potential for the growth of the Panera Bread name globally, especially in the Asian and European markets. In the case that global expansion plans exist, Panera Bread Company could potentially sustain the current growth rate for a much longer period of time and achieve much higher valuation multiples. Management guidance does not refer to any similar plans for the foreseeable future.

Note: 10StockIdeas.com does not conduct any business with Panera Bread Company or any affiliated parties. The opinions mentioned in this report belong to the analyst who prepared this report. Sales, margin and earnings estimates of the comparable companies were based on analysts polled by Thompson Reuters and are not based on any analysis performed by 10StockIdeas.com.
Overweight rated stocks are expected to outperform the S&P500 index over a 12-month period
Market Weight rated stocks are expected to perform in line with the S&P500 index over a 12-month period
Underweight rated stocks are expected to underperform the S&P500 index over a 12-month period
Price Target refers to a 12-month period
Disclosure: I am long PNRA. I wrote this article myself, and it expresses my own opinions. I am not receiving compensation for it (other than from Seeking Alpha). I have no business relationship with any company whose stock is mentioned in this article.