There are many, many reasons why Zynga (NASDAQ:ZNGA) is a strong buy at these levels. If you are a bear or a bull, this information is worth taking a look at:
Zynga's has huge potential in the online gambling realm. Key states such as Nevada and New Jersey have recently legalized online gambling, and others will soon follow after them. Zynga has confirmed that they are going in that direction.
In my opinion the second option is the better one. Zynga has 310 Million + active users. If they incorporate gambling this figure could double. But that is besides the point. If these users on average gambled just ONE dollar a month, this would be an increase of over 3.7 Billion Dollars a year. Zynga's cash will triple. Imagine if on average they gambled 1 dollar a week. I can confidently say that if this is executed correctly this can become a multibillion dollar a year revenue source.
Zynga is expanding further into Europe. Its user base will continue to grow because of this. In addition they are currently working on gambling games there. This can be viewed as an experimental phase for the idea. I would suspect that results should be released shortly.
There is no limit that I can really imagine regarding the growth of this company if the entry into this field is successful. Not to mention, with hundreds of millions of users and a mountain-sized cash pile, Zynga is an extremely attractive takeover target.
Zynga is expanding its gaming arsenal with even better games. Games such as "What's The Phrase" have recently been released, and it seems as though they will be a hit. (I can personally say that this new game is extremely addicting and fun) Try it out.
Now lets look at the charts: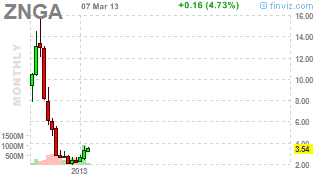 Zynga has fallen fast from around 15 a share, and then from ten, in just a number of months. In this way it is completely oversold technically, and should consolidate in the upward direction. Any company that has fallen this much, this fast, deserves to be looked at.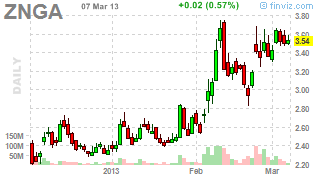 The stock has barely any resistance between $3.80 and $6, so that may lead to a smooth ride up when it crosses $3.80 with some volume and momentum.
The stock has spent a number of weeks in the 3.30-3.70 area, which means it has most likely found support here. The fact that it has remained at these levels confirms that its recent ride up is not just a short term jump, but is solidified. The fact that it has stayed at these levels is actually a very good, "healthy" sign for the stock.
If you look at the 1 month or 6 month chart you can see a cup and handle formation. If you look at the 1 year chart you can see what seems to be the bottom of a cup and handle. If this formation is complete, it will bring the price up to at least $15.
Overall sentiment towards Zynga is finally turning positive, and as more and more people realize its potential and worth, it will skyrocket. As this company shows more and more strength, higher price targets and buy ratings will emerge. These will surely give a nice pop to the stock price. Michael Pachter of Wedbush has rated it with a $17 price target.
I hesitate to put a price target on this one, because there's no telling how high it can go with online gambling potential, but if I had to, I would say:
$6 within 1-2 months
$10-15 within 6-7 months
It could increase tenfold in a year or two with online gambling.
Disclosure: I am long ZNGA. I wrote this article myself, and it expresses my own opinions. I am not receiving compensation for it. I have no business relationship with any company whose stock is mentioned in this article.
Additional disclosure: Make sure to always do your own research before making a decision.