10 Bcf/d Within Reach
What would have sounded inconceivable just two years ago is quickly becoming reality: natural gas production from the Marcellus will cross the 10 Bcf/d mark in 2013. During Range Resources' (NYSE:RRC) fourth quarter earnings conference call on February 27, Ray Walker, the company's COO, stated that current production from the Marcellus is close to 9 Bcfe/d:
In 2006, on my very first trip to Pennsylvania, I was up there to work on the very first horizontal well, which was the fifth well ever spud in the Marcellus. Today, there are approximately 7,000 Marcellus wells that are either drilling, completing or producing. Marcellus is producing close to 9 Bcf equivalent per day and is now the largest-producing gas field in the U.S. and still growing. For the last couple of years, Marcellus operators have begun exchanging data, analyses and results on a regular basis, resulting in everyone going up the learning curve a whole lot faster.
Based on my analysis of operators' production guidance and in-service schedule for take-away capacity additions, production growth from the Marcellus during 2013 will likely exceed 2 Bcfe/d again. This should bring total production from the field firmly above the 10 Bcfe/d mark by the end of the year. Pipeline gas will represent 90%-95% of the total production stream in 2013, with the balance being NGLs and condensate.
Official Production Statistics
The Marcellus Shale has massive areal extent and spans several states. With official statistics released very infrequently (semiannually by the State of Pennsylvania and once a year by the State of West Virginia), it is not difficult to be caught by surprise by massive step-changes in Marcellus' production volumes.
The State of Pennsylvania currently accounts for the majority of the Marcellus production, but West Virginia volumes are also growing fast. Latest official data from Pennsylvania shows that during the second half of 2012 production from the State's portion of the Marcellus averaged approximately 6.3 Bcfe/d. Production volumes ramped up significantly towards the end of the year as new high-pressure gathering lines and field compression were put in service. Based on my analysis of pipeline, operator and EIA 914 data, Pennsylvania Marcellus 2012 exit rate likely was in the 7.0-7.1 Bcf/d range. Production continued to ramp up in January and February and may have approached 7.5 Bcf/d by this time.
Official West Virginia statistics for 2012 will not be out for another several weeks -- the latest available data is for the month of December 2011 when production from the West Virginia portion of the Marcellus was just over 0.5 Bcf/d. Based on my analysis of guidance from operators and midstream companies, I estimate West Virginia Marcellus production 2012 exit rate at 1.0-1.1 Bcf/d. WVa Marcellus volumes may reach 1.5 Bcfe/d by the end of 2013. (At this time, I do not have an estimate for production from the Ohio portion of the Marcellus, but it is less significant than West Virginia Marcellus volumes.)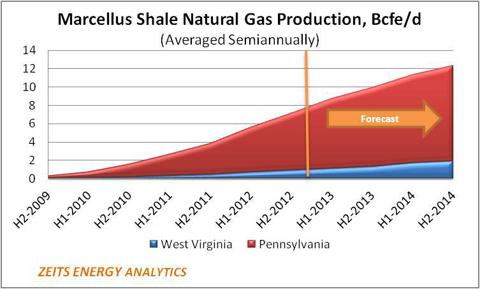 |
(Source: EIA, Zeits Energy Analytics)
EIA 914 data provides valuable insight into Marcellus production growth on a monthly basis. Data through December 2012 shows an unabated -- essentially a straight-line -- ascent of the "Other States" volumes, which are driven primarily by the Marcellus (and, to a much lesser degree, the Bakken). Since the beginning of 2011, Other States' production has increased by a staggering 7 Bcf/d (gross withdrawals).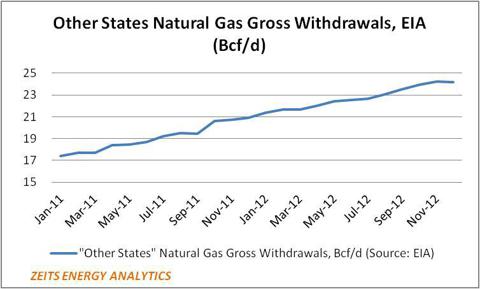 (Source: EIA, Zeits Energy Analytics)
All these data correlate with the "close to 9 Bcfe/d" figure quoted by Range (which includes Marcellus production across the three states - Pennsylvania, West Virginia and Ohio).
In addition to the Marcellus natural gas volumes, the Appalachian region supplies a not-insignificant amount of low-decline conventional natural gas production. In Pennsylvania alone, conventional volumes currently contribute approximately 0.5 Bcfe/d of natural gas.
What Has Fueled Marcellus' Extraordinary Growth?
In the retrospect, even highly regarded natural gas market consultants have failed to predict the pace of production ramp up in the Marcellus. Looking back at several respectable industry forecasts produced as recently as 2010 and 2011, I was stunned by the very wide gap between the Marcellus volumes estimates and the actual outcome.
Operators' better understanding of the play's micro-geology (i.e., selective approach to choosing drilling locations, more effective placement of laterals and frac stages, etc.) and strong advances in completion technology have been key factors behind the Marcellus better-than-expected deliverability. It appears that 9-10 Bcf per well have become a new EUR threshold in the play's dry gas sweet spots, with well costs typically running in the $6-$7 million range per well with a 4,000 foot lateral, and declining.
In terms of well productivity, the Marcellus does not cease to surprise. Cabot Oil & Gas' (NYSE:COG) recent drilling results announcement is a case in point (the table below summarizes production data for some of the company's most amazing wells drilled in Susquehanna County, Pennsylvania with EUR Potential often exceeding 20 Bcf per well). It is certainly hard to blame forecasters for estimates that have been too low: who could have envisioned just a few years ago that 20-25 Bcf wells in the Marcellus soon would no longer be making headlines?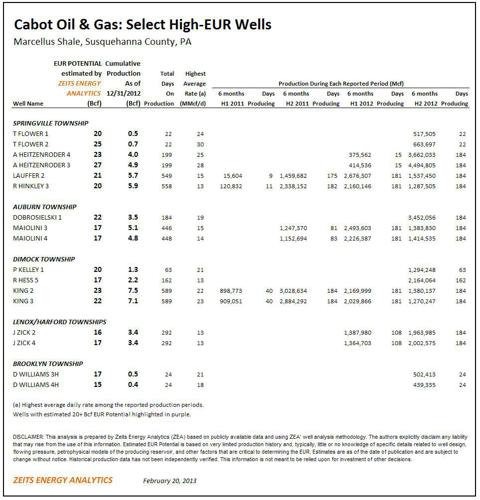 (Source: Cabot Oil & Gas; PA DEP; Zeits Energy Analytics)
Implications For Natural Gas Commodity Funds and Gas Producer Stocks
The slope of production growth from the Marcellus remains very steep and has proven immune to the extreme weakness in natural gas prices seen during 2012. For several years in a row, production from the field has been increasing by over 1 Bcf/d every six months. Most impressively, infrastructure developers have been able to deliver takeaway solutions for the play's rapidly growing volumes much quicker than had been suggested by the most optimistic predictions. The trend will likely be sustained in 2013, with particularly large leaps in production volumes toward the end of this year.
The continued strength of the Marcellus production growth does not spell good news for the natural gas market that still remains oversupplied. Many current forecasts appear to underestimate the velocity of production ramp up in the Marcellus and may contribute to misguided optimism with regard to a sustained natural gas recovery trend.
After the strong rally during the past two weeks, Nymex natural gas price is again solidly in the "stimulative" territory ($4+/MMBtu for new production which typically has lead time of several months).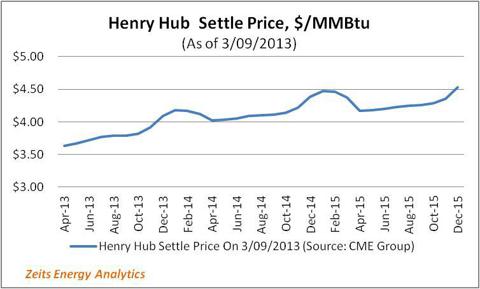 (Source: CME Group; Zeits Energy Analytics)
Operators will likely use this strength in natural gas price as an opportunity to layer in additional hedges and accelerate drilling activity in a variety of plays. With the Marcellus volumes expected to regain momentum towards the end of the year, the supply/demand balance may not see as much relief as needed for a sustained increase in natural gas prices.
The above discussion is fundamentally relevant for natural gas (NYSEARCA:UNG) and the natural gas producer stocks. My natural gas producer index includes:
Chesapeake Energy (NYSE:CHK)
EnCana Corporation (NYSE:ECA)
Devon Energy (NYSE:DVN)
Southwestern Energy (NYSE:SWN)
Ultra Petroleum (UPL)
EXCO Resources (NYSE:XCO)
WPX Energy (NYSE:WPX)
Cabot Oil & Gas
Range Resources
QEP Resources (NYSE:QEP)
Quicksilver Resources (NYSE:KWK)
Forest Oil (NYSE:FST)
Bill Barrett (NYSE:BBG)
Disclaimer: This article is not an investment recommendation. Any analysis presented in this article is illustrative in nature, is based on an incomplete set of information and has limitations to its accuracy, and is not meant to be relied upon for investment decisions. Please consult a qualified investment advisor. The information upon which this material is based was obtained from sources believed to be reliable, but has not been independently verified. Therefore, the author cannot guarantee its accuracy. Any opinions or estimates constitute the author's best judgment as of the date of publication, and are subject to change without notice.
Disclosure: I have no positions in any stocks mentioned, and no plans to initiate any positions within the next 72 hours. I wrote this article myself, and it expresses my own opinions. I am not receiving compensation for it (other than from Seeking Alpha). I have no business relationship with any company whose stock is mentioned in this article.