Arena (NASDAQ:ARNA) is finally shifting to a bullish stance just before an anticipated final scheduling and launch of its anti-obesity drug Belviq. Arena has been trading in a range that had it below several exponential moving averages. The bearishness has not been borne out of the finances of the company, but rather overall uncertainties in the overall sector and a correction of high expectations to something more realistic.
I have been writing for quite some time that it is imperative for investors to watch the sector closely. This of course would include competitor Vivus (NASDAQ:VVUS) that already has its anti-obesity drug on the market.
As crunch time nears for a launch of Belviq, the sentiment and expectations seemed to have calmed down a bit. Fellow Seeking Alpha contributor Chris Lau penned a great article on the expectation level of this equity. Lau uses the most bearish case to establish some numbers.
Assuming the most bearish case of just 0.1% and 0.2% of the obese population of 78 million treated with Belviq, Arena will have up to 156,000 patients.
What I like about this analysis is that it is something that considers the baseline rather than going off on a tangent about skyrockets, moon-shots, and blockbusters. It is important for investors to come to terms with whether or not even very modest expectations can deliver a result that allows for company success.
In my experience, Lau gets down to a level that is actually more reasonable than many think. Having operated a website for quite some time, I understand that .1% is actually a very realistic and meaningful figure. In the word of the web (and I know that pharma is a different world) getting to .2% conversion is actually quite good.
Not long ago I had a reader come to me with 30,000 doctors all writing just 10 scripts during a year and KABOOM, Belviq has the 333,000 patients that make it a possible $1 billion generator (assuming all 333,000 are on the drug for 12 months). It sounds easy and simple, but it is not. Consider Qsymia with 12,000 doctors exposed to the product. By that theory, Vivus and Qsymia should have 46,000 patients at the 5 month point. The company has slightly over 17,000. There have been 56,000 monthly scripts written, but as you can see the road is not easy.
Now let's consider the .1% method that Chris Lau outlined. At .1% of 78,000,000 the patient pool would want to be 32,495 at the 5 month point. Vivus is at about half of that (55%). In other words, Vivus is at .055% of the market.
Do Arena and Belviq have twice as much potential as Vivus and Qsymia? If so look for a .11% share of the potential market. Is the Arena potential three times that of Vivus? Then look for .165% share. Four times better? Look for .22%. Do you see why I have stated for months that Arena investors can and should use Vivus and Qsymia as a measuring stick?
There are indeed higher expectations for Arena. In many ways these higher expectations are reasonable given that the company has a marketing partner in Eisai and will be more widely available. Getting to blockbuster status would require Belviq to obtain about a .5% share of the pool of 78 million people impacted by obesity. Essentially, Belviq needs to average 333,000 patients for a year to obtain the proverbial blockbuster name. That day may come, but it likely will not be in year one.
This does not mean that Arena will not have very good sales. It simply means that there is a process to get there. Belviq needs to outperform Vivus by a factor of 10 to reach the status some want to see. Can you picture Belviq with 170,000 patients on the drug by the fifth month? That is the "ultra bull" situation.
Now to get this down to a more reasonable level, if Belviq can do three times what Vivus does, it will be a financial victory for the company as well as investors. That would be enough to deliver about $140 million in revenue for Arena and put the drug at a level that is 38% blockbuster. In my opinion, the Street would label this a success. Even at twice as much the Street would see success with drug sale revenues bringing in about $70 million in year one.
If you combine these numbers with other payments from Eisai, and the fact that Eisai is picking up a good portion of additional clinical trials, and the formula is a winning one.
With the equity action on March 9th Arena actually closed right at the 50 day exponential moving average after spending several weeks below that level. Over the past few trading days, Arena has erased a few technical indicators that were bearish and replaced them with neutral and bullish signs.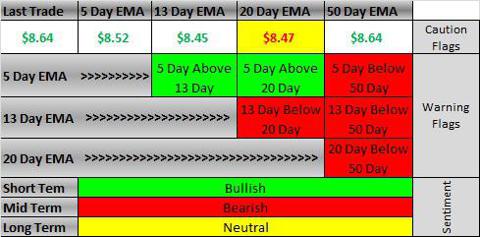 This is a critical time for the equity. It is on the cusp of breaking above the 50 day exponential moving average and aligning the 20, 13 and 5 day averages for what has the potential to be a bullish run. The downside is if the equity stops here and drifts back down to $8.45. Either way it appears as though it is preparing to make a run. A bullish technical stance combined with a product launch could deliver a nice potential upside in the equity.
As you can see by the charts here, and assigning reasonable expectations, there is a positive story here. That does not mean that you should ignore the risks or the sector sentiment. The anti-obesity sector, represented by only Qsymia at the moment, is under-performing. The key here is whether Belviq can navigate the launch hurdles at least twice as good as Qsymia. Stay tuned.
Disclosure: I am long ARNA. I wrote this article myself, and it expresses my own opinions. I am not receiving compensation for it (other than from Seeking Alpha). I have no business relationship with any company whose stock is mentioned in this article.
Additional disclosure: I have no position in Vivus.