Shares of Dell (NASDAQ:DELL) continue to trudge higher amid market speculation and increasing Street sentiment that the beleaguered company will be bought out for a price higher than the current bid from founder Michael Dell and financial backers Silver Lake Partners. In an article that I wrote on February 25, Why I'm Buying Dell at $14, I argued that even though there is a bid on the table for $13.65, the stock was a buy at the $14 level. Two weeks later the stock is trading at a 3% premium to its February 25 levels and is still a strong buy. In fact, despite the rising price, certain factors have made this stock even more attractive than it was at those lower levels. Here's why I'm still buying:
Carl Icahn's 6% Stake
Billionaire investor Carl Icahn recently built a 6% stake in the company founded on the thesis that the $13.65 per share proposed buyout vastly undervalues the stock. While the individual retail investor doesn't have much pull with regard to the overall direction of the company, the opposite can be said about a vocal 6% owner in Icahn.
After amassing the shares of DELL, Icahn's first course of action was to push the company for a $9 special dividend payable to investors in order for the $13.65 buyout to go through. Essentially, this would come close to doubling the proposed buyout price, from a total of $24.4 billion to $40.5 billion and, with this one-time dividend payment, would value the shares at $22.65, a significant premium (58%) to their current trading levels.
Other Major Investor Opposition
Icahn's 6% stake does not give him title of largest outside shareholder. That distinction goes to Southeastern Asset Management, which owns an 8.4% stake in the company and has been as vocal as Icahn at their dismay for the proposed buyout price. Since the LBO announcement, Southeastern has made it clear that they oppose the undervaluing of their shares. In a regulatory filing to the SEC, they noted that shares of the stock are worth $24. They have recently vowed to take all action to block the proposed deal, which will most likely end in litigation or a proxy fight.
T. Rowe Price is the second largest outside shareholder and they're backing Southeastern and Icahn. In a statement issued last month, Chairman Brian Rogers said that the company doesn't intend to support the buyout of DELL at the proposed price.
Hewlett-Packard Turnaround Bad for Dell
Meg Whitman has begun to turn around the slowing business at Hewlett-Packard (NYSE:HPQ). Since joining the team, she has implemented a process that will downsize the workforce and exit unprofitable businesses, and they'll continue on that process in 2013. Low and behold, it is working. HPQ announced earnings recently that sparked investor optimism in the company. Industry trends are shifting away from the PC and into mobile, and HPQ has not only realized that, it has begun to act on it.
In 2012 nearly 71% of its revenues came from outside of the PC market. Though DELL relies a bit more on the PC, it too is engaged in a broader range of businesses that are still profitable. The strong numbers posted from HPQ might be a strangle on the proposed LBO at DELL. If HPQ is turning it around as a public company, so to can't DELL?
Increased Pressure on Michael Dell
Michael Dell is no doubt feeling the heat. Since the proposed buyout on February 5, shares of the company have consistently traded at a premium to the LBO price. The Street not only believes that the deal will fail at the proposed level, it believes that the company will be taken private at a significant premium to said price, and that it will happen sooner than later. Nobody argues that privatization is the wrong course for the company - less stringent regulatory policy for private companies will allow DELL to restructure much more quickly and shift its focus from a PC maker to mobile devices/services.
Technical Analysis - Momentum Strength
In the run-up to the announcement of the LBO, shares of DELL saw a significant spike in not only stock price, but also momentum. Since then, momentum indicators have come down from their highs, but are still trading fairly consistently. A negative momentum trend coupled with the increasing stock price would be a scary divergence - it would indicate that not enough investors are bullish that this deal price will be increased. It seems, though, that the Street is bullish on this deal being increased, as momentum has held steady through all of these negotiations.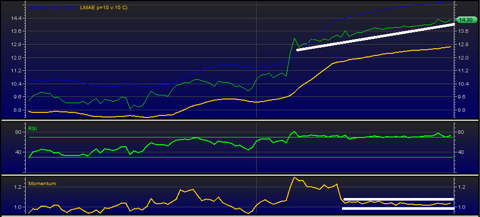 Click to enlarge
The Call
As shares of the company continue to move higher, the risk-reward scenario becomes less and less attractive. When I wrote the initial article, shares were trading at $13.91. At that level, had the deal gone through at $13.65, the downside risk was only 1.8%. Currently, the stock is trading at $14.30, indicating a downside risk of 4.5% if the deal goes through at the proposed price.
There is speculation from analysts that a deal of $15 per share will have a much easier time of getting passed than the proposed price of $13.65, and with the top three shareholders - Southeastern, T. Rowe Price, and Carl Icahn - all voicing opposition, I believe that there is a significant chance that the deal to take DELL private will happen soon at a premium to current trading levels.
Disclosure: I am long DELL. I wrote this article myself, and it expresses my own opinions. I am not receiving compensation for it (other than from Seeking Alpha). I have no business relationship with any company whose stock is mentioned in this article.