Abercrombie & Fitch Co. (NYSE:ANF) is a specialty retailer of casual apparel for men, women, and children. It operates under the brands: Abercrombie & Fitch, Abercrombie Kids, Gillie Hicks, and Hollister Co. ANF had 1,051 stores at the end of Q4 2012. This was down 16 stores from 1,067 at the end of Q4 2011. ANF intends to shutter 40 to 50 stores domestically this year. It plans to shutter about 150 stores by 2015. It plans to open 20 international Hollister stores in 2013. It also plans to open Abercrombie & Fitch flagship stores in Seoul and Shanghai. In other words, ANF is planning to close approximately double the number of stores that it will open in 2013. Further ANF had -4.4% comparable store sales in 2012. DTC (direct to customer) sales grew 3.2% in 2012; but it still seems highly doubtful that that ANF can grow sales in 2013. In fact its full year guidance calls for approximately flat comparable store sales, including DTC sales, with slightly negative comparable store only sales. ANF is predicting $3.35-$3.45 in earnings per diluted share for 2013.
Since it is now predicting a small loss for the first quarter, it is just that much harder to believe in growth for the whole 2013 year. Without such growth, ANF is overpriced. ANF is expecting a high single digit decrease in comparable store sales in Q1.
ANF obviously intends to save on inventory throughout the year. Inventory levels are down 36% from a year ago. However, savings on inventory will not really represent growth, and the market will see this eventually. In fact the stock fell from $52.07 to $45.17 (-13%+) when the guidance for an expected Q1 loss came out. Since then the stock has recovered to $48.82. This is probably more a factor of ANF's short interest of 8.30% and the continued uptrend in the overall market. In other words, ANF has been being short squeezed upward by HFT and momentum traders. This won't help longer term.
Longer term ANF will depend on its customers liking its wares. In my estimation is has improved its wares in the last year, but they are still lacking compared to many other retailers. Q4's sales trend is probably the closest one can get to an assessment of this. Comparable store sales, including DTC sales, were down 1% compared to the previous year. This does not sound as if the company has greatly increased customers' desires for its wares. Further this was during an up year with approximately +5.3% Consumer Discretionary EPS growth year over year in Q4 with 478 of the S&P500 companies having reported.
Since Q4 2012, the US Congress and President have raised payroll taxes +2.9% for the average US taxpayer. They have raised taxes even further for the "rich" with increases to dividend taxes, capital gains taxes, and a +3.8% ObamaCare surtax on investment earnings. These taxes took effect January 1, 2013. Mark Zandi of Moody's estimates these taxes will pare -1.4% from US GDP growth in Q1 2013.
On March 1, 2013, President Obama signed the executive order putting the sequester spending cuts into effect. The CBO, a notably conservative estimator, estimates that the sequester will knock 0.6% off the US GDP growth for 2013. Plus the sequester will lead to the loss of 750,000 jobs. Added together these two effects should cut US GDP growth in 2013 by approximately -2%.
The payroll tax hikes will likely be especially damaging to clothing retailers. Household budgets will be tighter, and many will decide they need fewer new clothes for the next year or more. If one simply estimates that US clothing retailers will lose approximately 3% of their business in 2013, one might be understating reality. This fall in retail sales may take some time. Taxpayers may be slow to give up their spending levels of 2012. Still it seems that it will inevitably come, and ANF as one of the weak US clothing retailers will be hit hard by the negative effects of these federal actions on its sales as 2013 progresses.
If you add the above to the negative guidance from ANF for Q1 2013, you see Q1 being more negative than originally predicted. Plus ANF's guidance for the rest of 2013 may be overly optimistic. The last recession led to a complete evaporation of ANF's EPS. It is too early to say if the same will happen again. However, a fall in EPS seems likely. This means ANF is a SELL; and I am not the only one who thinks this. Marc Faber singled out both ANF and Dillard's (NYSE:DDS) as two retailers that are troubled.
Further corporate insiders are selling six times more of all stocks than they are buying. This far exceeds the 2.5 threshold indicative of market weakening. Further, activist investor, Ralph Whitworth, who on September 30, 2012 owned 5.1% of ANF shares, owned 0% of ANF shares on February 14, 2013. If one of the biggest activist investors has sold his shares, you might consider following him before all others start to sell their shares. For the next year at least, the possibility of losses in ANF seem much higher than the possibility of gains. It may have a decent dividend of 1.64%, but that is not sufficient reason to keep owning the stock. The same could be said about the PE of 15.45. It still has short interest of 8.30%. It has a Beta of 2.04, which means it should sell off twice as quickly as the overall market.
The overall market itself is due for a pullback for both technical and fundamental reasons. That is without even considering the possibility of a US recession's effect on the overall market. The overall analysts' mean recommendation is still 2.2 (a buy), but the CAPS recommendation is only one star (a strong sell). It has been my experience that when this great a divergence in opinion occurs, the major brokerage analysts are usually behind the curve in updating their recommendations on a stock. The CAPS groups are the more likely to be correct. Of course, this may also mean that a fall in the stock price may be delayed for some time. It could also mean that a short of ANF will profit more as major brokerage recommendations are lowered.
The five year chart of ANF provides some technical direction for this trade.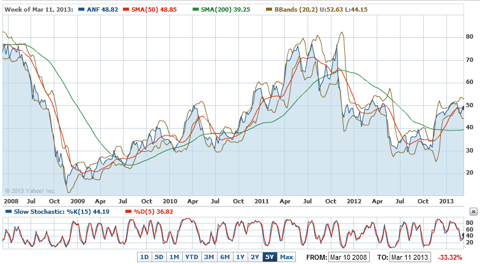 Click to enlarge
The slow stochastic sub chart shows that ANF is neither overbought nor oversold. The main chart shows that ANF may be about to start a new downtrend. The consumer fundamentals (less discretionary income for many in the US) mean a likely downtrend. Spain and Italy seem to be in increasing trouble too. ANF will likely have trouble in Europe too. Japan's machinery orders fell 13% in January 2013 to levels last seen after the Lehman crisis. Chinese retail sales growth dropped to 12.3%, the weakest reading since 2004. The lower US unemployment rate of 7.7% in February was entirely due to a fall in the participation rate to a fresh low of 63.5% as people dropped off the rolls. The Baltic Dry Index is at 2009 lows. The CRB Index has been slipping since September 2012. Copper futures have fallen 10% in the past month. "Dr. Copper" is famously prescient. There are a lot of reasons to believe in a global slowdown and a likely US recession.
Even without declaring that, Charles Dumas of Lombard Street Research believes tightening will hit 2.5% of GDP this year. He expects a 10% to 20% pullback in the S&P500. With ANF's Beta of 2.04, this means a huge pullback (20% to 40%) in ANF. Taking profits at this time is warranted. If you are an aggressive trader, you may wish to start averaging into a short position. It is hard to determine exactly when the next pullback in ANF stock will start. Often it is best not to fight the HFT/momentum traders. Still one doesn't want to miss the down move, which seems likely to come soon.
NOTE: Some of the fundamental financial data is from Yahoo Finance.
Good Luck Trading.
Disclosure: I have no positions in any stocks mentioned, but may initiate a short position in ANF over the next 72 hours. I wrote this article myself, and it expresses my own opinions. I am not receiving compensation for it (other than from Seeking Alpha). I have no business relationship with any company whose stock is mentioned in this article.