Back in May 30 2012, I wrote an article comparing James River Coal (JRCC) then-present situation against its previous 2003 bankruptcy, as well as against other competitors such as Arch Coal (ACI), Alpha Natural Resources (ANR), Peabody Energy (BTU) or Patriot Coal. This comparison, using the Altman Z-Score, allowed us to have enough confidence about JRCC's short term solvability to undertake a couple of successful long trades in the name.
At the time the conclusion was that JRCC's risk was similar to Arch Coal's or Alpha Natural Resources', but the stock discounted much higher risk. At the same time the risk was much lower than Patriot Coal's, something which was borne out by Patriot Coal going bankrupt.
In this new article, I will thus upgrade this risk analysis, since 10 months have passed and the coal market is not greatly improved.
Again, the methodology
I will be using the alternate Altman z-score, whose changes from the original consist of:
The alternate model does not include T5;
In the alternate model, T4 = Book Value of Equity / Total Liabilities;
The weights are different, with Z = 6.56T1 + 3.26T2 + 6.72T3 + 1.05T4 ;
The interpretation of the results is done according to a different set of values (Z > 2.6 is safe; 1.1 < Z < 2.6 is the grey zone; Z < 1.1 is the distress zone).
This z-score is more adequate for non-manufacturing companies, namely those that are capital intensive like the mining companies.
Calculation for James River Coal
The following data was sourced from James River Coal earnings reports: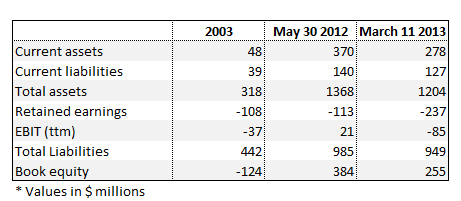 With this data we obtained the following results:

Interpretation
The 2003 data left no doubt, the Z-score was deep in the danger zone (Z = -2.00 < 1.11). James River Coal was on a straight path to bankruptcy and indeed filed during 2004.
In May 30 2012, the score revealed that even though we'd usually put JRCC in the same boat as Patriot Coal, its risk was really much lower. JRCC scored in the grey zone (Z = 1.35), a score similar to Arch Coal's or Alpha Natural Resources'. This was helped by James River's careful management of its working capital, with current assets largely exceeding current liabilities, and with James River holding a substantial amount of its current assets in cash.
However, today and with the continued fundamental deterioration, things have changed. Today JRCC's Altman Z-Score is -0.01. This puts JRCC squarely in the distress zone (Z = -0.01 < 1.11).
Conclusion
We can draw three main conclusions from this work:
First, the Z-Score would have been useful to predict James River's bankruptcy back in 2003;
Second, the Z-Score would have been useful to show, in May 30 2012, that James River's near-term solvency risk was similar to that of Arch Coal and Alpha Natural Resources and much lower than that of Patriot Coal. This would have been useful both to avoid Patriot Coal's demise, and to take some temporary long trades in JRCC;
Finally, now we can now conclude that James River Coal risk is greatly increased and indeed, if the coal market does not recover, James River might at some point face solvency risk. It would thus perhaps be advisable not to take long trades in it.
On a side note, James River Coal management of working capital still seems sound enough that very near-term insolvency is not yet at hand. Indeed, James River still holds $127.4 million in cash plus $36.5 million in restricted cash. Still, I believe the increased risk at this point should override speculative long endeavors.
Disclosure: I have no positions in any stocks mentioned, and no plans to initiate any positions within the next 72 hours. I wrote this article myself, and it expresses my own opinions. I am not receiving compensation for it (other than from Seeking Alpha). I have no business relationship with any company whose stock is mentioned in this article.