Knight Capital Group (NITE) is the latest addition to the ZachStocks Growth Model. The company offers execution services primarily to institutional investors and in the fourth quarter was actually responsible for executing a greater share volume than any exchange or securities firm. Despite the carnage in nearly all asset classes, NITE has experienced strong growth in sales and earnings over the last three quarters.
The majority of NITE's success this past year has risen from the company's push to expand and diversify its execution business. The goal has been to achieve a broader base of clients, products and services, order flow, asset classes, and geographies. Unfortunately, all five of these categories have likely been affected by the credit crisis and economic weakness, but as trading activity has remained robust, Knight has been able to capture a large portion of the market's available revenue.
Not all has gone smoothly for the company this year. The asset management division was a poor mark on an otherwise bright performance record. Not only did assets under management decrease as markets plummeted, the division also became a public relations nightmare. Late in 2008, the company enforced "gate rules" which essentially locked down investors and suspended redemptions and withdrawals. The division generated a loss for the fourth quarter and certainly didn't help the company's stellar reputation.
Late in January, Knight reached an agreement to sell its Deephaven hedge fund assets which were the source of the trouble. Now this line of business was not a significant part of the firm's revenue or earnings and had become a difficult asset to manage. The initial payment for these assets was of little consequence (just a few million). But the sale has some contingencies whereby Knight could receive attractive payments in the next 2 years if the division recovers. In a nutshell, it was a good move by management and allows the company to concentrate on its area of expertise.
While NITE as a stock has held up relatively well compared to peers in the finance industry, I still believe shares are undervalued. The company finished 2008 with a strong cash balance of $440.6 million as well as an additional $47.2 million invested in its funds. With long-term debt of just $140.9 million, the balance sheet is adequately capitalized and the company has flexibility to pursue growth strategies. In fact, I wouldn't be surprised to see Knight make an acquisition or two in the coming months. Book value was reported at $11.53 per share and the stock is trading in the mid teens.
The first quarter has been extremely volatile for the markets with trading volumes high in many asset classes. I expect that when Knight reports in April, investors will be pleased with results. Knight is also actively re-purchasing shares which should lead to better value for investors.
Volatility in financial markets should remain, regardless of which direction assets are moving. Knight has built a business that should be able to not only weather, but thrive in a financially dynamic global economy. At just 10 times current earnings the stock appears to be a great value with strong potential future growth.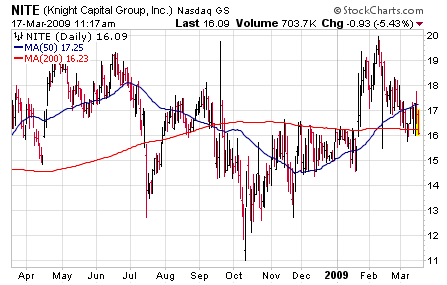 Disclosure: Author has long position in the ZachStocks Growth Model - no personal position.