By Murray Coleman
The last time we did a scorecard of how the first set of active stock exchange-traded funds was performing came just after the trio had hit the ripe old age of three months.
Since that time, one other has appeared—the PowerShares Active U.S. Real Estate Fund (NYSE: PSR). But the beat remains the same. Namely, the active stock ETFs are still running ahead of their closest passive competitors, in some cases by as much as 5 percentage points.
That comes after similar patterns of outperformance in the second half of 2008. (See earlier "Active ETFs Opening With A Bang" here.)
Although the period studied this time—the past three months and yearly through last Friday—is quite short, we intend to keep monitoring the emergence of active portfolios in the ETF marketplace. As such, this report isn't intended as a summary of these funds' pluses and minuses. Instead, we're trying to keep a running tally of how they're doing using different snapshots in time as reference points.
No doubt the list will grow. But for now, PowerShares remains the only provider so far to venture onto the market with actual "active" monikers (although several new filings have come out).
With this week's news that SPA is going to close its MarketGraders funds, six of the most quasi-active ETFs with quantitative methodologies are soon to disappear. (See related story here.)
That leaves more active quant-based families such as the PowerShares Intellidex series and First Trust's AlphaDex enhanced index ETFs as the closest competitors in the active field.
But they still don't match the four street-legal PowerShares funds in terms of freedom to trade. And they also still track some sort of benchmark, which the PowerShares portfolios don't directly try to do. So let's take a glimpse at how these active ETFs are faring. (See table below.)
Mega-Cap Land
Since its inception, the PowerShares Active Mega Cap Fund (NYSE: PMA) has leaned less heavily to the biggest of the big in mega-cap land. Those tended to be the best performers in large-cap stocks last year, and that outperformance has continued into 2009.
So far this year through March 13, PMA had outdone its two closest index-based ETF competitors by around 2-3 percentage points. In the past three months, PMA's margin of victory ranged from about 3.5% to 5%. In particular, its two most direct competitors in terms of passive index-based ETFs seem to be the iShares S&P 100 Index (NYSE: OEF) and the Vanguard Mega Cap 300 Index (NYSE: MGC).
The PowerShares Active Mega Cap Fund is run by parent Invesco's institutional managers. Their favorite 30 or so mega-cap stocks go into the portfolio, which tries to outperform the Russell Top 200 index. For the year, it's down about 18%—nearly 5 percentage points more than PMA—and almost 17.50% in the past three months, about 4.5 percentage points worse.
But a direct comparison to passively run mega-cap ETFs might prove difficult. As is the case with actively managed mutual funds, style drift seems to be a factor here. In the case of PMA, its average market cap size is much below that of both OEF and MGC. (PMA is at slightly more than $48 billion, while PMA's around $53.3 billion and OEF's at $65.6 billion.)
Interestingly, the Russell 2000 Top 200 Index has an average market cap of about $82 billion. All are still much bigger than the SPDRs S&P 500 ETF (NYSE: SPY), which sits at about $31.7 billion.
Comparing the smaller-sized MGC to PMA shows some sector weighting differences. In particular, PMA has significantly more exposure to: Energy (21.7% vs. 14.40%); Health Care (25.17% vs. 16.40%) and Tech (31.77% vs. 17.90%). PMA has much less exposure than MGC to: Consumer Staples (6.56% vs. 13.80%); Financials (6.84% vs. 9.90%) and Industrials (1.79% vs. 8.70%).
So clearly, if you want a mega-cap fund that actively can slide up or down the market-cap spectrum a bit within mega caps, PMA fits that bill.
Multi-Cap Exposure
The other active ETF to debut last April has also continued to show an ability to use its flexibility to an advantage during its short lifetime.
As its name implies, the PowerShares Active Alpha Multi-Cap Portfolio (NYSE: PQZ) has a mandate to range where it wants. As such, perhaps the most direct way to measure its performance is to compare how actively managed multi-cap mutual funds are weathering conditions. Along those lines, the average multi-cap core mutual fund lost 13.75% so far this year through March 13, according to Lipper data. In the past three months, the Lipper multi-cap index was down 10.20%.
During the same time frames, PQZ was ahead in shaving its losses by more than 3 percentage points in each case.
A breakdown of sectors tells part of the story. PQZ has slightly less in energy and telecom than VTI. But it has significant overweights in: Tech (40.04% vs. 17.40%) and Materials (15.72% vs. 3.50%). Meanwhile, PQZ is heavily underweighting: Consumer Discretionary (1.90% vs. 9.20%); Consumer Staples (3.43% vs. 11.70%); Health Care (9.67% vs. 15.40%) and Industrials (3.76% vs. 10.20%). PQZ also has no significant exposure to Utilities, while the broader-market as represented by the Vanguard Total Stock Market Index has some 4.60%.
Tech-Heavy Portfolios
On the one hand, the PowerShares Active AlphaQ Fund (NYSE: PQY) seems this year to be trailing its most popular passively run rival. That's the PowerShares QQQ (Nasdaq: QQQQ). But while the latter includes stocks from the Nasdaq 100 index, the active ETF selects most of its names from the broader Nasdaq composite benchmark.
And there's a big difference, both in terms of sector weightings and performance. While the QQQ's have no exposure to beaten-down Financial stocks, the Fidelity Nasdaq Composite Index Tracking ETF (Nasdaq: ONEQ) has more than 9.2%. PQY holds even less—about 6.5%.
The active PowerShares fund, which is run by AER Advisors, limits its portfolio to about 50 of the managers' top-ranked names from a universe roughly similar to that of the Nasdaq Composite.
PQY, as a result, tends to make more concentrated subsector bets than the passive ONEQ. Earlier in 2008, the active fund had a modest overweight to Energy. Later, it shifted more toward Health Care. Right now, a big difference seems to be PQY's stake in Tech. As of March 16, that was some 49.82%. By contrast, the ONEQ had about 40% in Tech. That's significant since Tech has been outperforming this year. In particular, PQY has heavily been investing lately in software companies.
Also, PQY had virtually no Energy exposure. That's a change from when it opened in April 2008 when one of its biggest sector weightings was to Energy.
Real Estate Showing Same Pattern
The fourth active ETF, which is focused on real estate investment trusts, came out at the end of last year. In its very brief existence, it's handily beating more broad-based index tracking funds such as the Vanguard REIT Index ETF (NYSE: VNQ).
Most of PSR's investments are in REITs, although it can invest in real estate operating companies as well. That means its managers can select stocks of non-REITs with large real estate holdings that don't have to distribute earnings to shareholders. In other words, they're free to plow profits back into their businesses.
Also, PSR can look much different from its passive peers in other ways. For example, although its portfolio will emphasize attractively priced REITs of stocks in its underlying benchmark, it does have the mobility to look elsewhere. Another interesting wrinkle is that the fund's managers, while expected to remain fully invested at most times, are being given the flexibility to temporarily invest heavily in cash under extreme market conditions.
But with an expense ratio of 0.80%, PSR has a heavy load to bear coming out of the starting gates. How much that will weigh it down going forward against competitors such as VNQ—which has an ER of 0.10%—will be a development to watch.
click to enlarge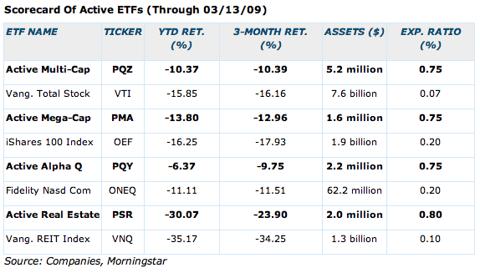 Click to enlarge