Amazon's (NASDAQ:AMZN) current stock price of $272 (at the time of writing this article) is trading at an astonishing P/E (forward) ratio of 186.74. That is approximately seven times eBay's (NASDAQ:EBAY) P/E ratio of 26.62 and Wal-Mart's (NYSE:WMT) P/E ratio of 14.53. Amazon's TTM P/E ratio stands at a freaking 1,015.52!
Matching the data above with the graph below, something seems to be amiss. The spread between the P/E ratio (TTM) and the diluted EPS seems to have increased in the last eight months. Interestingly, for the first time since last November, the P/E ratio seems to have stalled going upward.
The question is how the company can trade at such high P/E ratios. If you look at the price-to-sales ratio of 2.04, it is clear that the company is being valued not on its earnings, but on its growth of revenue. Compared to the price-to-sales ratios of 4.9 of eBay and 1.54 of Groupon Inc. (NASDAQ:GRPN), it seems to be pretty low to me.
But that leads us to another question. If revenue is the basis of the current valuation, will the future revenue growth be sufficient to justify and carry it forward? And more importantly, is revenue a good way to judge a company's value?
Wall Street expects Amazon's operating margins to rise, but slowly to 1.8 cents per revenue dollar next year and 2.7 cents in 2014, according to FactSet consensus data. Over time, earnings will get a lift from Amazon's web services and third-party retail businesses, which have higher margins than its core online store and are growing faster.
The present biggest obstacle to that are the high expenses related to technology and distribution centers. If customer service is the name of the retail game, Amazon is probably ahead of the rest. With faster delivery systems and better customer-friendly online setup, Amazon will probably be creating a huge economic moat for the companies thinking of entering the online retail business.
Moreover, there is the Fulfillment Service by Amazon, by which third-party sellers are given the physical infrastructure and technical support required to sell their stuff through Amazon. During the last quarter of 2012, a full 39% of the "product units" sold on Amazon during the most recent quarter were from third-party sellers, up from 36% a year earlier. This creates a whole new business model for Amazon.
If you look at the current business coverage of Amazon, it is certainly amazing to see that the company competes with almost every other company in somewhat tech related niches. When it sells Kindles, it is directly competing with Apple's (NASDAQ:AAPL) iPhone and Barnes & Noble's (NYSE:BKS) Nook. When it is selling products and letting third parties do the same, it is directly competing with eBay. When it is providing technology support to other businesses, it is directly competing with cloud computing companies, including Hewlett-Packard (NYSE:HPQ).
Nonetheless, Amazon is not a start-up anymore. And to expect double digit or triple digit revenue growth from it is absurd at best. That probably shows in the tanking quarterly revenue of the company, I guess.
The rising taxes on online retail companies, the competitive cloud computing sector and the unsteady global economic condition - all these can have a toll on the revenue growth, thus affecting the future bottom-line of the company.
Moreover, it must be kept in mind that Amazon operates primarily in the tech sector, which is a highly competitive industry. Lower net margins can have a negative effect on the working capital of the company, further inducing fresh debt into the system. That will further push down return on equity (ROE), which is already going down with the tanking net margin as it seems.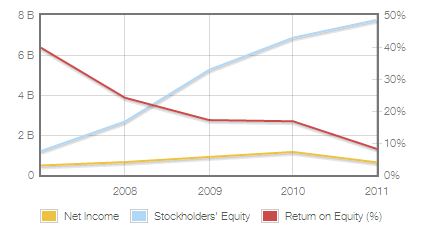 Having said that, it is also to be reminded here that online retail sales are expected to grow by 6.9% in the U.S. this year, according to the BDO USA survey based on the opinion of 100 chief financial officers from top retailers in the country. Shop.org, National Retail Federation's online division, estimates that e-retail sales will increase between 9% and 12% in 2013 over 2012, much higher than the estimated 3.4% for total retail sales. In other words, the total e-commerce market is expected to reach $250 billion this year. And Amazon continues to lead the e-retailers pack in popularity. So, there is a high potential of revenue growth for Amazon in the coming one year or so.
Another interesting thing to note is that the book value has been stagnant for the last couple of years. This is intuitive since book value will decrease with a continuous fall in net margin. Strangely, price-to-book ratio has also been pretty much consistent over this period. This leads me to the conclusion that if book value does not appreciate or fall in the future, it will result in the downturn of stock price.
Let us get to the next question. Are the increasing capital expenditures making any positive impact on the gross margin? Gross margin, as a matter of fact, is the proxy of revenue expenditure during any financial period. And if you look at the graph below, the high capex did not have any significant impact on the gross margin.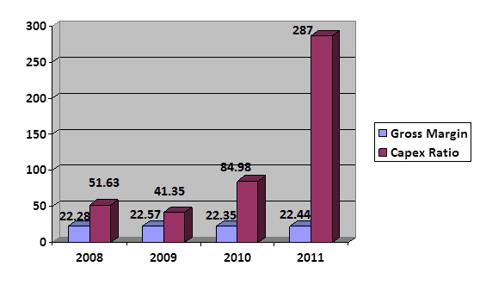 (Click to enlarge)
(In percentages)
Last but not least, Amazon still considers itself to be a growth stock, as many young tech companies do. It does not have any dividend history. Its current valuation is based on the revenue and net growth of the company, which concerns me as an investor.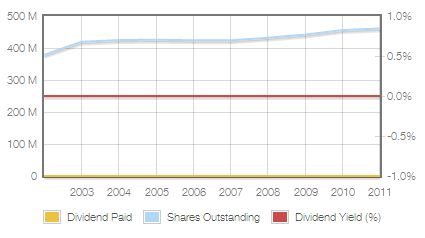 So, the last question that faces us is whether Amazon will be able to grow so much as to justify its current valuation or not.
Revenue is expected to grow rapidly through the next couple of years, but profitability margins will probably not rise up as much, though.
And if margins do not improve, it will probably have an effect on the P/E ratio as well. Currently, eBay's gross margin of 70.04% and net margin of 18.54%, and Wal-Mart's gross margin of 24.87% and net margin of 3.78%, are still better compared to Amazon's gross margin of 24.75% and net margin of 0.19%.
It is also a fact that net earnings determine the book value growth. In short, if earnings suffer, none of the valuation ratios will sustain at the current level.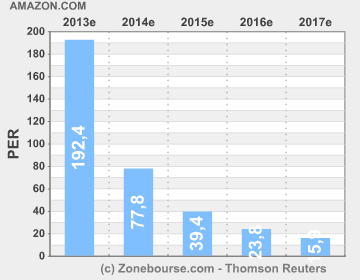 Conclusion
To sum it up, revenue growth does not justify the current price level. There should be significant growth in profitability margins to justify the current price level or else the company should initiate distribution of profits among shareholders as dividends. That would keep the price sustained at the present level.
In other words, there is a strong chance that Amazon is overvalued at the moment, and without any stupendous results in the coming few quarters, I expect the price to go down.
Disclosure: I have no positions in any stocks mentioned, and no plans to initiate any positions within the next 72 hours. I wrote this article myself, and it expresses my own opinions. I am not receiving compensation for it (other than from Seeking Alpha). I have no business relationship with any company whose stock is mentioned in this article. Numbers are for comparison only. Numerical data vary according to sources.