China's social networking giant Renren (NYSE:RENN) has recently released its quarterly results, in which its sales increased from last year due to a boost from online games. The company swung to a quarterly loss from a profit in 2011 as it increased its spending on core products but earnings topped analysts' estimates. The near term remains challenging but the company is investing heavily in its future, which will make it more competitive in the long term.
The company's total net revenues have increased by 48.81% from the same quarter last year and dropped by 3.08% from the previous quarter to $48.8 million coming on the back of higher internet value added services (IVAS) revenues, which include services such as online games and daily deals website Nuomi. However, online advertising remains a cause of concern as the segment's sales dropped by 16.67% year-over-year and 26.33% sequentially to $12.49 million, as a clear indication of slowdown in the domestic economy.

Click to enlarge
The considerable increase in IVAS revenues came on the back of 116.5% increase in online game revenues to $25.9 million. In other words, "China's Facebook" generated more than half of its revenues - 53.06% -- in the previous quarter from online games while advertising formed just 25.56% of the total net revenues. The business, also known as China's Facebook, had 178 million members on its platform by the end of 2012, up from 147 million a year ago.
Renren's gross margins have fallen from 2011 levels mainly due to increase in bandwidth costs related to its video sharing website 56.com and the increase in direct costs associated with launching games.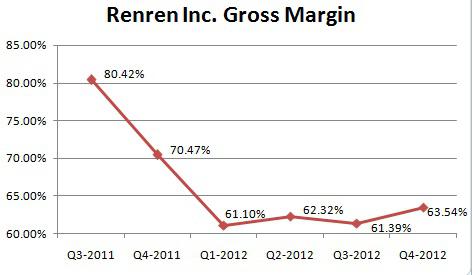 As revenues increased significantly from last year, operating expenses also increased by 38.44% to $59.34 million due to increased expenditure on software development. The business's R&D spending increased by 84.17% from last year and 22.52% from last quarter to $25.54 million. As a result, Renren swung to a quarterly loss of $21.08 million from a profit of $44.29 million last year and a loss of $15.40 million in the previous quarter.
Although the loss is disappointing, Renren needs investment to develop new services amid tough competition from local rivals such as Sina Corp's (NASDAQ:SINA) Weibo and Tencent's (OTCPK:TCEHY) pengyou.com. In terms of unique visitors, Weibo is China's biggest social networking platform, followed by pengyou.com at second spot and Renren at third.
With better sales, Renren ended up beating analysts' earnings estimates by recording losses that were $7.1 million less than market's expectations due to the boost in IVAS sales. But for the current quarter, Renren is expecting revenues of $44-$46 million, which would still show a growth of at least 37.16% from Q1-2012 but is $1 million less than analysts' estimates even at its higher end while at its midpoint ($45 million), the revenues would show a 7.79% sequential decline. This indicates that online advertising will remain weak while the robust growth shown by IVAS - through online games - is going to slow down.
Moreover, Renren will continue with its spending spree to develop mobile, Nuomi and 56.com, which means that the coming quarters are also going to be difficult. Renren considered 2012 as a "year of investments and transition". The near term would remain challenging but significant uptake will come when the investments in 56.com and mobile start paying off, which will also drive advertising revenues.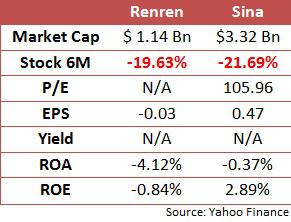 Overall, in the last six months, Renren's stock has fallen by 19.6% at NYSE while its bigger rival Sina has dropped by 21.7% at NASDAQ. Renren generates negative return on assets and equities.
The company's stock is currently trading at $3.03. Barclay's Capital has recently lowered its price target on the stock to $3.90; Zacks has a $3.60 price target, Bank of America has suggested $3.50 while Jefferies has lowered it to $3.00. If you own this stock then it is better to hold it at the moment.
Disclosure: I have no positions in any stocks mentioned, and no plans to initiate any positions within the next 72 hours. I wrote this article myself, and it expresses my own opinions. I am not receiving compensation for it (other than from Seeking Alpha). I have no business relationship with any company whose stock is mentioned in this article.