After delivering blow-out returns to investors in recent years, Apple's (NASDAQ:AAPL) stock has had a rough past few months. Apple's supposed decline is mostly attributed to the company's maturing revenue growth due to the saturation at the top end of the smartphone market. Analysts also contend that Apple faces pressure on its extremely healthy gross margins from increased competition with Google's (NASDAQ:GOOG) Android powered smartphones and tablets. Moreover, investors also fear that Apple has lost its ability to innovate after the death of the iconic Steve Jobs. All this has generated renewed pressure on CEO Tim Cook to come up with a strategy to revive Apple's growth, and speculation is rife that the company is about to launch a low-priced iPhone to grab a share of the huge mid to low-end smartphone market where Android powered devices from Samsung (OTC:SSNLF), ZTE (OTCPK:ZTCOF) and Huawei dominate. Many analysts have touted the launch of such a device as inevitable given Apple's recent woes combined with the charm of the potentially huge market. However, in my opinion, Apple will not launch a low-priced smartphone, and if it does, I would be the first to sell my long-term holding in this stock. I explain my reasoning below:
Age Old Rumor
The rumors of the imminent release of a low-end iPhone are not new; they date back to at least 2009 when such a device dubbed as the 'iPhone nano'. However, Tim Cook had the following to say about these rumors in early 2009:
"We're not going to play in the low-end voice phone business. That's not who we are, that's not why we're here. Goal is not to lead unit sales, but to build the world's best phone."
Quite a way to sum up Apple's strategy of milking the top end of the market with extremely high margins while ignoring the dog fight at the lower end. However, today the dynamics of the smartphone market are very different from those in 2009 and there are some very strong arguments for entering the lower half of the market; therefore, the pros and cons of this decision need to be reconsidered.
High-End Smartphone Market Saturating
One of the primary arguments for Apple launching a new low end smartphone is that the high end smartphone market, where Apple dominates market share, is starting to mature. The smartphone penetration in developed countries in North America and Western Europe is very high, with smartphone penetration having crossed 50% in the US and expected to rise to 80% in 2014. This means that the proportion of first time buyers in these markets would be very low as most of the consumers who were able and willing to buy a premium smartphone would have already done so. Therefore, Apple's future revenue growth would be increasingly dependent on the success of new product cycles. Respected industry analyst IHS estimates that the high-end smartphone market will grow at a Compound Annual Growth Rate (OTCPK:CAGR) of just 12% from 2011 to 2016 as compared to a CAGR of 51% for low-end smartphones over the same period. Piper Jaffray estimates that Apple would have a 50% share in this market in 2013, which implies that Apple's revenue growth from the iPhone segment would be just 6% assuming that the Average Selling Price (ASP) and the market share remain the same. Apple also intimated a slowdown in growth in its dampened guidance for the March quarter which widely missed analysts' expectations.
Gain Entry into the Emerging Markets
With smartphone growth slowing down in developed markets, emerging markets are expected to be the primary drivers of future growth. According to IDC forecast, smartphones shipments in India, Brazil and China would grow by 460%, 129% and 52% respectively from 2013 to 2017. However, most of the growth in these regions is expected to comprise of mid to low-end smartphones. This is because the average disposable income in developing countries is much lower as compared to the developed markets. Moreover, unlike the practice in the West, the cost of the smartphones in developing markets like China and India is not subsidized by the telecom carriers. This means that a top end smartphone like the 16 GB iPhone 5, which requires an initial outlay of just $200 in the US, costs more than $870 to own in China. Therefore lower incomes combined with high initial cost for unlocked smartphones makes the high end iPhones unaffordable for the majority of the customers who then turn to more affordable low-end devices. Thus analysts argue that by hesitating on introducing a low end iPhone, Apple is essentially missing an enormous growth opportunity.
Apple is quite aware that its top class products are sometimes out of reach of the average consumer in emerging markets like China. That's why it has recently rolled out an installment payment plan for its products in China. To me, this suggests that Apple will not launch a separate segment of low-end phones just to target price sensitive customers in emerging markets; rather, it will work to make its existing products more affordable for Chinese and Indian customers.
Strategic Boost?
Proponents of a low-priced iPhone argue that Apple is engulfed in a war to attract users to its iOS ecosystem rather than just a fight to sell the most hardware devices at profitable margins. The introduction of such a device would give Apple's iOS platform a strategic boost in its fight against the dominant Android, as well as the upcoming challenge from Amazon (NASDAQ:AMZN), Microsoft (NASDAQ:MSFT) and even Facebook (NASDAQ:FB) in the future, they say. By lowering the entry price to its platform, Apple would be able to grab a chunk of the lucrative emerging markets where incomes are rising rapidly and smart devices penetration is still low. The idea is that once Apple attracts a user to its iOS platform through a low margin but affordable smartphone, it is highly likely to retain that user when he or she upgrades to a high end smartphone or purchases a tablet which would be sooner rather than later given the trend of strong growth in disposable incomes among the emerging market consumers.
Where have I seen this strategy before? Yes, from rivals Google and Amazon, who adopted this strategy because they were struggling to compete with Apple on the basis of product quality alone, so they had to drop prices and sacrifice their margins on hardware products in hope of future profit growth from selling content. If Apple imitates this strategy, it would be equivalent to admitting defeat in its own strategy to sell top quality innovative products at high margins in favor of its rivals'.
Damage to Apple's Premium Brand Image
Apple is, and has always been, a luxury brand selling premium products at extraordinary margins. And Apple's top executives insist that their corporate strategy to milk the top end of the market isn't going to change any time soon. In comments made to Shanghai Evening News in January this year, Apple's marketing chief Phil Schiller asserted that a "cheap" iPhone is not in line with Apple's strategy. "Apple has always focused on providing the best products for its consumers, we've never blindly chased market share," he said. In the recently held Goldman Sachs conference on Internet & Technology, CEO Tim Cook reiterated the same view when questioned about the persistent rumors, insisting that the tactic of lowering the price of earlier generation iPhones to target more price sensitive consumers is working quite well. He also hinted that merely making a less expensive version of an existing top class product is not how Apple operates. "For years, people asked, "Why don't you have a Mac that's less than $500 or $1000?" And we worked on this, but we concluded we couldn't do a great product at that price. But what did we do? We created iPad, which starts at $329," he said.
These comments emphasize Apple's continued focus on creating innovative products rather than chasing market share. Apple understands that entering the mid to low-end smartphone market could potentially damage its image as a premium brand which is an important factor that currently differentiates Apple from it major smartphone rival Samsung. Therefore, Apple would think twice before entering the low-end market as it must ensure that it does not lose its brand-conscious customers by losing its appeal as a luxury brand.
Cannibalization of the Legacy iPhone Sales
One thing that we know for sure is that even if Apple makes a low-end smartphone, it would not be a typical 'cheap' device; it would still be a 'premium' product in the low-end category. However, this means that such a phone could possibly cannibalize the sales of the high-end iPhones as consumers who want quality Apple products would be able to get them at a lower price. Those who would have earlier saved money to buy the higher-end iPhone 4S or 5 would start off with the lower-end device.
However, proponents would argue that the possibility of cannibalization did not prevent Apple from launching the iPad mini. While that is true, I think that unlike a low end iPhone, the iPad mini is not intended to be a low-end device targeted at emerging market consumers; rather the iPad mini is still very much a premium product that caters to a specific need in the market for smaller sized and more portable tablets. Moreover, the gross margin for the iPad mini is estimated to be just 5% lower than the 10 inch iPad, whereas in case of a low cost iPhone the gross margin could be lower by 15-20% as compared to the legacy high end iPhone.
What is the Economic Incentive?
Almost every sell-side analyst insists that Apple must enter the huge low-end smartphone market to turn around its supposed decline and add to its growth; they all cite the low-end emerging market growth vs. high-end developed market saturation as the economic rationale for such a move. They acknowledge that a low-end iPhone would have considerably lower gross margin and could possibly cannibalize high-end iPhone sales; however, they insist that the scale of the market would justify such a move. Scott Craig of BoFA/Merrill Lynch believes that a low-priced iPhone "would nicely compliment Apple's ongoing international expansion." Such a device would have a final price tag of $250-$300 with a gross margin of 35%, he says. Piper Jaffray's Gene Munster argues that the current iPhone prices are too high for emerging market consumers and expects Apple to release a low end iPhone in the September quarter this year priced at $199. Morgan Stanley analyst Katy Huberty is also very bullish on the prospects of a $330 'iPhone Mini' proposing that "even in a scenario of low 40% gross margin and 1/3 iPhone cannibalization rate (flattening legacy iPhone shipment growth), which we view as conservative, the iPhone Mini adds incremental revenue and gross profit dollars."
In light of all these views, I decided to determine the incremental profitability if Apple goes ahead with this project in light of the assumptions from these very bullish sell side analysts. Following are the assumptions for my financial model.
Global smartphone shipment forecasts are taken from IDC
Assumed that the low end smartphone market accounts for 60% of global smartphone market as per Piper Jaffray's assumption
Assumed that such a phone would be introduced by Apple in the September quarter this year
Assumed Apple's share of the low-end market as 8%, 12% and 16% in 2014, 2015 and 2016 respectively. Note that a low priced iPhone would still have a high price relative to the overall low-end market and gaining market share would not be very easy given the increased competition in this very crowded segment.
Assumed an average selling price of the low-end iPhones at $310, $300 and $290 for 2014, 2015 and 2016 respectively. Assumed the average selling price of the legacy iPhones at $570
Assumed a gross margin of 40%, 39% and 38% for 2014, 2015 and 2016 respectively for the low end iPhone segment. Assumed a gross margin of 55% for the legacy iPhone segment
Assumed an operating expense ratio of 8% and tax rate of 26% across the board
Legacy iPhone shipments are assumed to grow at 6% per year based from 2013 onwards on industry growth of 12% according to IHS and Apple's market share of 50% according to Piper Jaffray. 2012 legacy iPhone shipments taken from IDC
Assumed a generous 10% EPS cannibalization from the legacy high end iPhone segment. Note that most of the cannibalization will come from earlier generations of the legacy iPhones that have lower gross margins, so the revenue cannibalization would have to be more than 10%.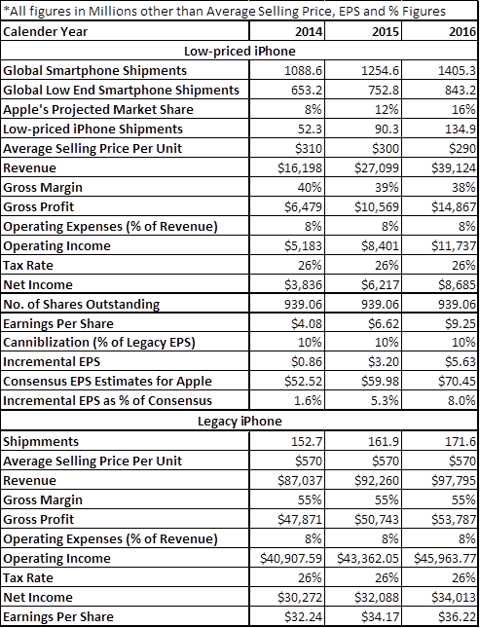 As you can see from the table above, the economic benefit from the introduction of a low cost iPhone would be minimal, with the projected incremental EPS for 2016 expected to be just 8% of the consensus EPS estimate for the year, which is not bad for your typical run of the mill company but as a long-term Apple investor I would expect the company to aim much higher.
Conclusion
Apple is smart company with top management that is intelligent enough to decide on the best strategy to create maximum value for the company's owners. Yes, the low-end smartphone market is very big and growing but you'd think that Apple knows that already. I'm sure that Apple's management has done a complete and comprehensive analysis of the pros and cons of introducing a low priced smartphone and has very actively decided against it so far. The company does not need all the sell side analysts thrusting the company's management to make what according to them is an incontrovertibly right decision by launching a low priced iPhone. In my opinion, the economic incentive to go for a low priced iPhone is generally overstated and is actually very small as you can see from the model above. To me, the strategic rationale of a low-end iPhone to expand the iOS user base and fend off Android's dominance makes much more sense. However, sacrificing profitability and brand image to attract more users sounds more like Google or Amazon, and would require a huge shift in Apple's corporate strategy. A complete turnaround in strategy for a company that has performed extremely well in the recent past is never a positive signal. Therefore in my opinion, Apple would resist the pressure to introduce a phone whose only purpose is to target price sensitive consumers. The only reason Apple will succumb to such pressure is if the management really feels that its existing strategy of growth in high margin products through consistent innovation has started to fail and Apple does not see its R&D efforts bearing fruit to introduce viable and innovative products (like the expected iWatch) in the intermediate future. To me, such a move would finally signal the end of an era of innovation by a great company which would then be forced to resort to blindly chasing market share of a mass-produced commodity just like every other company. This would be the time I would sell Apple.
Disclosure: I am long AAPL.
Business relationship disclosure: This article was written by Dividend Pro's technology analyst.