A while ago, I wrote a piece about my positive experience with BB&T Bank (NYSE:BBT). BBT is a regional bank located primarily in the Southeast U.S. with a $9.7B market cap. The stock is trading at approximately $17.42/ share with a not-likely-to-be-sustained yield of 10.88%. The P/E is 6.4.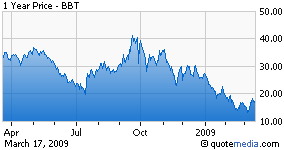 Yesterday, Standard and Poors put BBT on credit watch from neutral to negative, citing the potential for increasing losses in loan portfolios.That said, Standard and Poors mentioned that BB&T has not been hurt as significantly as other banks. Furthermore, BB&T was praised for recent adjustments in risk management and loan practices that may serve the institution well in the future. On the downside, BB&T is still not out of the woods and its credit rating will almost certainly be cut to negative if the bank tanks into the red.

My opinion of BB&T remains positive. Shortly after the S&P pronouncement towards the end of trading Tuesday, BB&T stock rose from $17.00 to $17.42/share on heavy volume. Perhaps some close observers of the banking sector are pouncing on this stock as a potential winner in the sector.

I expect the dividend to be cut somewhat by summer. I also expect BBT to continue refining business practices to consistently replicate what my experiences have been to date - exemplary loan and business banking services.

When I can reach an employee and receive service on a Sunday afternoon, be contacted by phone, e-mail and fax with data and term service by Monday and closure to financial requests on Tuesday, I am prone to be prejudiced in favor of this bank. Each employee I have dealt with has been gracious, thorough and on top of things.

Peter Lynch (Mr. Magellan) would probably bless BB&T in spite of the financial sector's overall uncertainty and recent run up if his experiences were like mine. Keep an eye on BB&T as a potential winner for the long term.