Excluding Joe DiMaggio's 56-game hitting streak, records are made to be broken. On Wall Street last week, records were broken, and the one that caught every media outlet's attention was the Dow Jones Industrial Average hitting a record high.
It has been some ride for the Dow, which has gone everywhere and almost nowhere over the last five-and-a-half years. To be succinct, the Dow hit an intraday high of 14198.10 in October 2007, fell to an intraday low of 6469.95 in March 2009, and then rose from those ashes to an intraday peak of 14413.17 on Friday.
The S&P 500 has followed a similar course over the same period, but it still has some work to do to take out its prior intraday high of 1576.09 registered in October 2007. At Friday's close, it was just 25 points, or 1.6%, from doing so.
A lot of the media's attention has been rightfully focused on these record-setting attempts. They are exciting to discuss. Still, in the midst of it all, we can't help but play our broken record and repeat the reminder that investment portfolios need to be prepared to deal with market setbacks that can, and will, occur for any number of reasons both known and unknown.
Most eyes are understandably trained on the performance of the major indices at the moment. We recently diverted our attention to the latest data on margin debt, however, and what we saw was illuminating from a risk-management standpoint.
Walking the Line
A lot of pundits are singing the stock market's praises and are highlighting the likelihood of further gains that will be driven in part by the fear of missing out on further gains. Other pundits, meanwhile, are expressing a note of caution that the stock market has gotten ahead of itself when measured against the tepid performance of the real economy.
We have walked the line of those respective viewpoints for a while now. We have acknowledged that there can be a large opportunity cost in fighting the Fed. At the same time, we have highlighted the increased risk of speculation that can prove costly when riding a Fed-induced liquidity wave without a life preserver.
Our consistent message has been to participate in this market, but to do so in a prudent fashion by making sure your investment portfolio is hedged for downside risk -- risk that can build in a hurry when sentiment shifts.
That last warning doesn't always get heard, but it is certainly worth repeating today knowing that the use of leverage to capitalize on expected market gains is accelerating. We know as much based on the latest report on margin debt levels from the NYSE, presented in chart form below.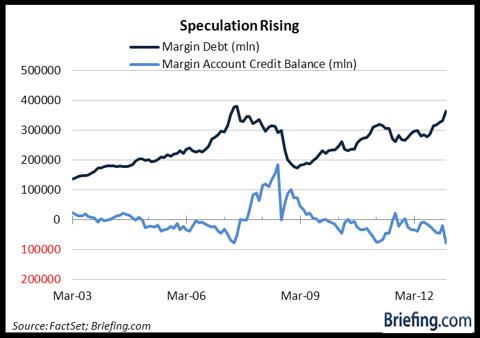 Click to enlarge
(Click to enlarge)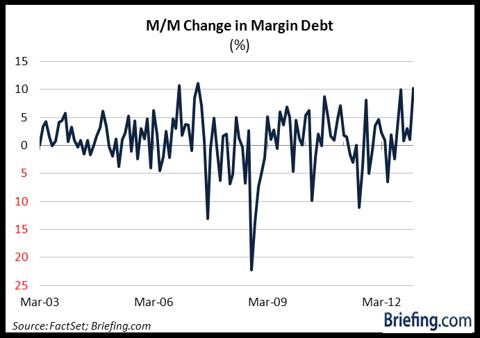 Click to enlarge
(Click to enlarge)
It is important to note that the "current" data is for the month of January when the market sprinted out of the gate relieved that a deal on tax rates would help the economy avert the full force of going over the so-called fiscal cliff.
In reviewing the NYSE data for the last ten years, the January report stood out for the following reasons:
Margin debt in January was at its highest level since July 2007.
The month-over-month rate of change in the use of margin debt in January (10.2%) was the highest since May 2007.


Over the last 15 years, the month-over-month rate of change in the use of margin debt has increased 10% or more only four times: November 1999 (13.2%), December 1999 (10.8%), November 2006 (10.7%), and May 2007 (11.0%).

The margin account credit balance (i.e. trading net worth) in January was -$77.2 bln, indicating there is a large deficit of cash on hand to meet margin calls.

The margin account credit balance deficit hasn't been this high since March-April 2011, which was just a short time ahead of a 19% correction in the S&P 500 in response to the 2011 debt ceiling debacle.
Prior to 2011, the last time the deficit in margin account credit balances exceeded $70 bln was June 2007 (-$79.0 bln). The S&P 500 peaked four months later.
Deficit Attention in Order
Regular readers will recall that we highlighted margin debt levels in our January 14 note, "Complacency and Speculation on the Rise."
In that note, we observed that a rising level of margin debt in and of itself speaks to increased confidence in the market outlook, so it isn't to be viewed independently as a contrarian indicator. When paired with an increasing deficit in margin account credit balances, though, it is something to be watched more closely as a harbinger of market risk.
The connection is that a deficit in margin account credit balances indicates there isn't cash on hand to meet margin calls. That doesn't always mean the market is due to collapse. As the chart above shows, there was a deficit in margin account credit balances for much of the 2003-2007 bull market and there has been a deficit for much of the recovery rally off the 2009 lows.
However, the acceleration in the use of margin debt and the recognition that margin account credit balances are at a level that is comparable to prior periods when notable market setbacks occurred, or would soon occur, is informative today for the purposes of portfolio risk management.
What It All Means
It is evident in the charts above that speculation is increasing. It is possible that some of the speculation was reined in during the month of February. We won't know until the NYSE releases its report later this month.
Nonetheless, the message embedded in the January data is that market losses could accelerate in a hurry in the event there is a shock to the market's belief system that leads to emotional selling responses. The reason being is that there isn't cash on hand to meet margin calls; hence, a forced liquidation of stocks could occur to meet those calls, creating a domino effect of selling.
What that shock would be, we don't know. It could be Iran; it could be North Korea; it could be Italy; it could be the deferred debt ceiling debate; it could be a wave of protectionist trade policies; it could be anything.
The overriding point is that the pickup in market speculation is contributing to a pickup in market risk that can adversely, and materially, affect investment portfolios or single-stock positions in the event something wicked this way comes.
Remember, records are made to be broken ... and then there are some records that just break.
In the event there is a market fracture, the rising level of margin debt and the deficit of cash on hand to meet margin calls suggest it will be costly picking up the pieces of an investment portfolio surfing the liquidity wave without a life preserver.
Disclosure: I have no positions in any stocks mentioned, and no plans to initiate any positions within the next 72 hours. I wrote this article myself, and it expresses my own opinions. I am not receiving compensation for it. I have no business relationship with any company whose stock is mentioned in this article.