US futures are pointing lower this morning as we write this article and we remind investors that there is little economic news out today and there was none to speak of yesterday, however tomorrow we shall have a bevy of data to trade on. Asia finished lower today and in Europe markets are trading mixed with very little direction; it is simply a choppy session across the continent.
We are hearing a lot of the bears coming out and discussing how the market is heading lower for a guaranteed correction in the amount of 5-10%. Saying stuff like that simply indicates that your book has been obliterated in recent weeks and you are getting desperate. Yes we were in the camp thinking that a pullback was in order and still find ourselves leaning heavily that way as it pertains to certain sectors, however we would never use verbiage to insinuate that a move was guaranteed or certain for we have been investing in the market too long to be foolish enough to think anything is guaranteed.
Chart of the Day:
We have discussed Australia as a way to play a commodities rebound and we were looking at Asian markets this morning and realized just how strong the market has been since we started discussing it as a way to play a rebound in China, Japan, the US and EU. Take a look at the following chart of the past six months for the Australian benchmark All Ordinaries: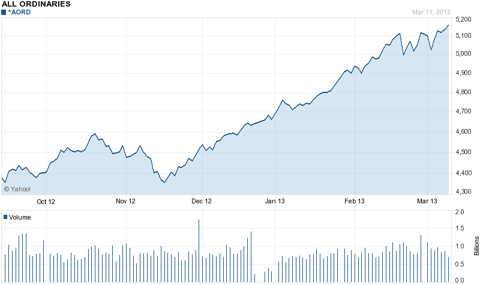 Chart courtesy of Yahoo Finance.
We have economic news due out today, and it is as follows:
Treasury Budget (2:00 PM EST): -$205.0 Billion
Asian markets finished lower today:
All Ordinaries - down 0.61%
Shanghai Composite - down 1.04%
Nikkei 225 - down 0.28%
NZSE 50 - up 0.28%
Seoul Composite - down 0.50%
In Europe markets are trading mixed this morning:
CAC 40 - down 0.26%
DAX - down 0.04%
FTSE 100 - up 0.08%
OSE - up 0.18%
Consumer Goods
Yesterday saw a judge strike down New York City's law, which was to go in to effect today, banning sugary drinks over a certain size for sale within their jurisdiction. It had been the butt of many jokes and seemed an overstep of government powers into the lives of Americans, but constitutional law aside this should be good news for those who sell sugary drinks as they will now not have to adjust their product mix for the city alone or worry about other cities trying to mimic the law. Mayor Bloomberg took a shot at Starbucks (NASDAQ:SBUX) over their objection to the law but at the end of the day we do think that this will be bullish for the company even if they do begin to take some heat over their objecting to this so-called 'health law'. Readers know we have been bullish of Starbucks for over a year now and we are back up near the yearly highs which could be tested if the stock could break through the $60/share level.
Housing/Home Improvement Retailers
Yesterday Stephan Schwarzman, the Chairman and Chief Executive Officer of Blackstone Group, went on CNBC and told them that the hedge fund was betting big on the real-estate market, specifically as it pertains to the single-family dwellings (see link here for article summarizing the segment and a video player to watch it). The hedge fund is now the single largest owner of individual houses in the United States, which is pretty impressive if you think about it (lots of hassles managing a portfolio the size of what these guys have put together and not necessarily a lot of efficiencies either).
If the big, smart money has decided to stick their necks out this much into the real estate market, then we believe it only further adds to our thesis about housing prices increasing and helps to explain where the extra supply went so quickly which has subsequently left the market supply/demand ratio out of balance and favoring sellers right now. The key will be whether these are long-term investments or short-term, however one thing we do know. Both Home Depot (NYSE:HD) and Lowe's (NYSE:LOW) will be beneficiaries of this new housing boom and if these houses are sold rather than rented then one can expect even more business as there would be some remodeling done as the dwellings change hands. In our opinion, the two home improvement warehouses represent two of the most compelling plays in retail for 2013 - even after their magnificent runs.
Technology
We saw shares of Blackberry (NASDAQ:BBRY) moving higher yesterday on the back of a few news stories. The shares finished higher by $1.84 (14.09%) to close at $14.90/share on volume of almost 93 million shares. We get the euphoria over the new phone launch in the US which is upcoming and the news about AT&T, however we are a bit taken aback by the whole potential buyout talk. We find it confusing as to why investors would think that someone wants to buy the company at this point for anything other than their patents and the network they have. If one thinks about all of the mergers and acquisitions over the past few years involving players in the industry, when has one of those mergers worked out? We thought about it and had trouble coming up with a name other than the Motorola deal and the jury is still out on that one as Google has been cutting back at the unit and just announced another reduction in headcount. We find it difficult to buy the hype and speculative at best, definitely steering clear of this one.
Shares in Zynga (NASDAQ:ZNGA) continue to trade in a volatile fashion, but mostly up, with the hopes that the company can break into the online gambling business. We see it as a long shot, but the news yesterday of Intrade shutting down immediately provided a spark that when coupled with rumors of Yahoo looking to buy the company helped push shares up $0.36 (10.08%) to $3.93/share. The stock is now trading at 6 month highs and gaining serious momentum as this online gambling story gains traction in New Jersey and the "story" makes its way around to investors who all seem to be rushing into Zynga shares. Yes the company has expertise in making online games, but the casinos have expertise in clients, client lists and VERY deep pockets. It is simply our thinking that they would fend off a new competitor from moving in rather than risk losing those casual visitors to their properties as they simply gamble via their mobile device or computer at home. If Zynga is going to be a serious player here, they need a deal with a big name to be able to offer packages for real world and online gaming, that is where the real success if going to be - unique offerings such as trips to tournaments and free stays in Atlantic City, Las Vegas and numerous other locations across the country.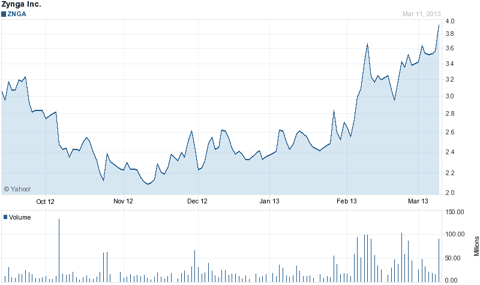 Chart courtesy of Yahoo Finance.
Disclosure: I have no positions in any stocks mentioned, and no plans to initiate any positions within the next 72 hours. I wrote this article myself, and it expresses my own opinions. I am not receiving compensation for it (other than from Seeking Alpha). I have no business relationship with any company whose stock is mentioned in this article.