See the Monday report for current SPY and Q trading strategy.
For the most part, Tuesday was an uneventful day for the market. However, a good entry was provided for those who want to short SPY. Also, another "clue" was given that increases the odds of a pullback.
Early strength provided a good entry for getting short if using Friday's doji stick to set up the trade (I entered Tuesday--see trade tracker and blog post). The "moving average" setup still requires more bounce.
Tuesday's failure to hold strength and poor close, while not yet confirming the doji stick, does increase the odds of a pullback, especially considering how oversold the market is. Stochastic levels are near 90 and beginning to crossover.
click to enlarge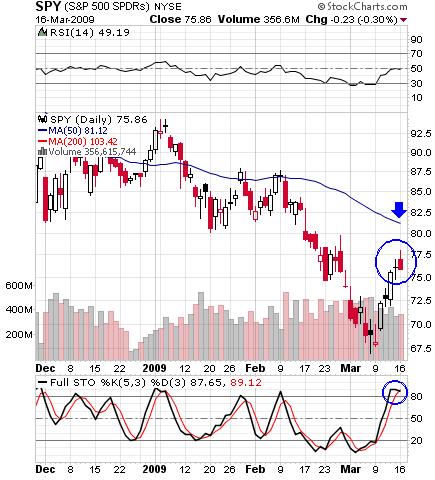 Trade Tracker:
SDS: Entered Tuesday, 400 shares at $88.15, currently at $90.64. See Tuesday's blogpost for entry.
SRS: Still holding (entered Friday, 300 shares at $61.55, currently at $72.22)
USD: Still holding partial position with stop at entry (entry at $10.72, currently at $13.63)
X: Still holding partial position with stop at entry (entry at $14.25, currently at $18.40)
Real estate did much worse than the market Tuesday, which helped my SRS trade (inverse real estate ETF). I was conflicted about whether or not to take partial profits Tuesday, since I've already booked a 10 point move, but decided against it. Since it was still early and the market had yet to pull back, I could have made a really big gain if the market did in fact pullback.
A reader asked me why I was still long USD and X if I expect a market pullback. Once I set my stops and targets, I no longer "think". I've already booked a partial profit, moved my stop up to entry level, and now it's time to step back and let the trade do what it will do. A plus with these two trades is they will act as a hedge if the market continues to bounce and my shorts don't work. If the market does tank and I get stopped out, by moving my stops up to entry I still have my original partial profit.
I had planned to have updated trade results Tuesday, but haven't completed the analysis. I hope to have it ready Wednesday.
Game Plan:
Possibly add to SDS position, or enter QID. Wait for pullback to enter longs from the focus list.
Focus List:
New additions:
SSI shows a strong volume pattern which is confirmed by OBV. A number of oil services stocks show this type of pattern. I would like to enter on a pullback to $20. If a stop is placed at $18, this would give me a 3:1 or 4:1 risk ratio, depending on which resistance area is used as a target.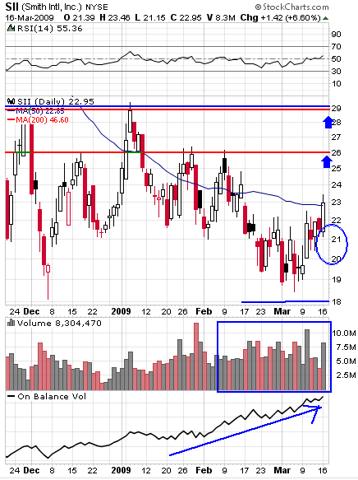 Longs are not actionable yet. I am waiting for pullback.
BIG, FCX, RTP, X, SIGM, JOYG, DNR, AKAM, AMZN, USD, TRA, EAT, CTRN, UYG.
I am only using index ETFs to play shorts right now. SDS, QID, TWM and SRS.
Disclosure: All information and opinions expressed in this report are to be used for entertainment purposes only. The author of this report is not an investment adviser and does not give buy, sell or hold recommendations. Trading stocks is a risky undertaking, and due diligence is required before making a trade. Consult an investment professional before making a trade. The information in this report is not verified and may be incorrect. The author of this report may or may not hold a position in stocks mentioned in this report.