Click here for Part III
An Interest in the Insurance Industry
Sardar Biglari burst onto the investment scene in 2008 with his successful proxy fight for The Steak n Shake Company. While only 35 years old, he has assembled an outstanding investment record over the past sixteen years that is largely unknown and unappreciated. Biglari Holdings, Inc (NYSE:BH): Sardar Biglari - Bet The Jockey is a series of eight articles to investigate Biglari's investment results since inception, the strategies he has used to achieve these results, analyze his concentrated investment decisions and the likelihood that he can achieve outlier status and outperform the market over the long term. Part III in this series reviewed the Steak n Shake takeover battle. Part IV looks at Biglari's investments in the insurance industry.
With Steak n Shake's operations largely restructured, Sardar Biglari turned his attention to investing the company's growing excess cash in the insurance industry. His takeover attempt of Fremont Michigan Insuracorp prompted the media to suggest that Biglari had wasted no time in transforming Steak n Shake into a mini Berkshire Hathaway, while some insurance industry veterans were puzzled how a hamburger chain could take over an insurance company. Biglari's interest in the insurance industry continues to this day, with the company recently announcing that it held a 9.48% interest in Unico American Corporation (NASDAQ:UNAM).
Fremont Michigan Insuracorp
Fremont Michigan Insuracorp traced its roots back to May 1875 when prominent farmer Louis Reinholdt proposed that local farmers form their own farm fire insurance company given the difficulty and cost in obtaining coverage. By 1932, the company was getting so many inquires from farmers outside their territory that the charter was revised to cover the whole state of Michigan. In 1952, Fremont was reincorporated as a general mutual insurance company to enable it to write not only farm fire, but also farm wind, dwellings and commercial property insurance. Over the years, the company added commercial products, workers compensation, marine, personal auto and umbrella protection. In October 2004, the company demutualized and converted to a stock insurance company via an initial public offering. By 2009, Fremont was a full service property casualty insurance company serving Michigan policyholders through 172 independent insurance agencies in four primary business segments: personal, commercial, farm and marine.
Fremont was proud of its Michigan heritage and maintained a very conservative financial profile. The company had no debt, provided plain vanilla insurance products in easy to understand lines, maintained ample liquidity and a conservatively managed investment portfolio, and enjoyed outstanding underwriting discipline and reserve practices as detailed below:

Click to enlarge
Insurance companies estimate their ultimate liability for losses, including losses incurred but not yet reported, which is an inherently uncertain process reflecting management's best estimate at the balance sheet date. Each year those losses are re-estimated as more information becomes known about the frequency and severity of claims for individual years. The redundancy (deficiency) exists when the re-estimated liability for each reporting period is less (greater) than the initial estimates. Fremont demonstrated very conservative reserving with net cumulative redundancy/ (deficiency) -aggregate change in initial estimates detailed below.

Click to enlarge
Biglari's Buy Analysis
Fremont Michigan Insuracorp was a sleepy insurance company trading on the NASDAQ pink sheets with minimal daily volume. Based upon Biglari's initial purchase price of $18.825, the company was trading at just 73.7% of book value, a common measure to value insurance companies. He would eventually accumulate 172,500 shares representing 9.9% of the company's outstanding shares. His total average purchase price of $20.53 was just 80.4% of book value. The company's enterprise value totaled $35,919,452. Meanwhile the company had reported solid historic operating performance and free cash flows.

Click to enlarge
Biglari's interest in Fremont was two fold. First, unlike his previous concentrated investments, the company generated solid free cash flows and would not require a turnaround. Fremont was selling at 9.2 times 2009 adjusted free cash flow at the depth of the financial crisis. Looking past the company's short term challenges and using more normalized adjusted free cash flow from 2006, Fremont was selling at 5.5 times adjusted free cash flow.
More importantly, Biglari was interested in the float generated from insurance operations that could be used to fund investments. Insurance float arises because premiums for insurance policies are paid upfront while losses are paid out over a period of time, some times many years into the future. Float is considered to be a wonderful thing as long as it does not come at a high price. Its cost is determined by a company's underwriting results, or combined ratio, meaning how expenses and losses are covered by premiums received. When an underwriting profit is achieved, as had been the case with Fremont over the last six years, float is better than free money. In those years, the company was basically being paid for holding other people's money because of the investment returns that could be earned on those funds. In aggregate, the property-casualty industry almost invariably operates at an underwriting loss and Fremont's results were quite strong.
While Fremont was well managed, it was an obscure, under appreciated micro-cap stock with no Wall Street coverage and no catalyst to realize the company's true value. Management was comfortable and entrenched with a legacy shareholder base from the demutualization that was largely uninterested in the stock's performance. Biglari realized that his best option for change was to launch a takeover for the entire company.
On December 21, 2009, Shake n Shake announced its intent to acquire 100% of Fremont Michigan InsuraCorp's outstanding shares of common stock that it did not already own for $24.50 per share. Fifty percent of the purchase price would be paid in cash, and fifty percent of the purchase price would be paid in shares of the common stock of Steak n Shake. The offer represented an 11.3% premium. Steak n Shake's stock jumped 10% on the announcement.
Fremont quickly rejected the offer two days later indicating that they believed the, "hostile takeover attempt was not in the best interests of the company, shareholders, policyholders or the community." The company also moved on another front to remain, according to its marketing slogan, "Pure Michigan." Late in December 2009, Senate Bill No. 1174 was introduced to the Michigan legislature that would make the takeover of certain insurance companies- those with 200 employees or fewer- more difficult. Fremont had 75. The bill would require a vote by a super-majority of two-thirds of shareholders, instead of the current 50 percent threshold, in order to approve the sale of an insurer when the Board of Directors opposed the deal. The restriction, as amended in the House Insurance Committee, would apply only to Michigan domiciled property/casualty insurers who write 100% of their premiums in the state of Michigan and have 200 employees or fewer. Fremont was the only company that met this strict definition. State Senator Gerald Van Woerkom drafted the bill at the request of Fremont executives according to his Chief of Staff Jeff Cobb, "We want to address only Fremont if we can."
Biglari criticized Fremont executives for going to the Michigan legislature in an attempt to block the takeover- a move he said would provide "not accountability, but immunity" for management. Biglari announced in April 2010 that he had already selected a CEO he planned to install and indicated that he had no intention to dismantle the firm or move its 75 jobs out of state, he just wanted to eliminate one job, the CEO's. "We are in the first inning," Biglari said. "A hostile takeover of an insurance company is no cakewalk."
Governor Jennifer Granholm signed the bill into law on May 4, 2010. Fremont issued a press release crowing about its passage. "We support this new law and appreciate the hard work of legislators and the governor to make this bipartisan effort a reality," said Richard E. Dunning, Fremont Insurance President and CEO. "This is an important measure for the preservation of Michigan jobs. This is especially important to our shareholder base which is concentrated in the state. This is a common sense approach to defending Michigan companies and jobs from unsolicited takeovers that may not be in the best interests of shareholders, employees, agents and policyholders." Dunning had declared victory.
After the passage of the Michigan bill, Fremont's shares fell steadily over the summer, closing at $20.50 on October 11, 2010. After the market close, Biglari increased his bid for 100 percent of Fremont's stock to $29 per share in cash, representing a 41 percent premium. Biglari implored the Board to the table to fulfill its fiduciary duties to shareholders and reach a mutually satisfactory transaction. Fremont confirmed the Board had received the offer and would review it in due course. Richard Dunning stated, "Our Board takes its fiduciary duty seriously, and we will carefully review this matter in light of its impact on our shareholders, and all our stakeholders, as well as current laws and regulations."
On December 30, 2010, Biglari increased his buy out proposal to $31.00. Two weeks later, Fremont issued a press release announcing that it was forming a special committee to consider the new offer. In addition, the company disclosed that it had retained Philo Smith Capital Corporation as its financial advisor to explore a "broad range of strategic alternatives to enhance shareholder value. These alternatives included, a revised business plan, operating partnerships, joint ventures, strategic alliances, acquisitions, recapitalization and the sale or merger of Fremont." Management had effectively thrown in the towel and was now shopping the company to the highest bidder.
Final Analysis
On April 17, 2011 Dearborn, Michigan based Auto Club Insurance Association announced that it would acquire Fremont for $36.15 per share, valuing the property and casualty insurer at $67.7 million. Knowing that it is always good to sell to over-optimist buyers, Biglari voted his shares in support of the transaction. "I have enjoyed working with Fremont's Chairman of the Special Committee in our effort to realize the full value of Fremont for shareholders," Biglari was quoted in the press release announcing the deal, "The merger with Auto Club Insurance Association represents a victory for all Fremont stockholders." In two years Biglari realized a 77% return on his Fremont investment.
Realizing his fight for Fremont was winding down, Biglari quickly moved on to his next insurance company target, acquiring 18,382 shares in Penn Millers Holding Company in March 2011.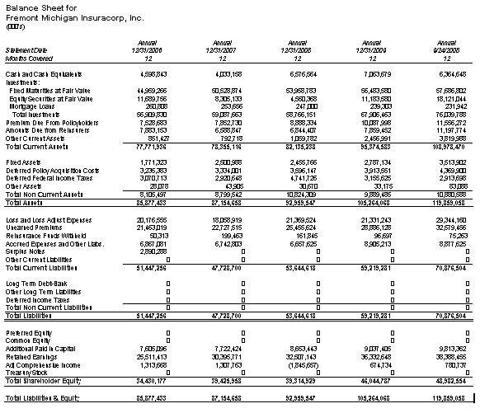 Click to enlarge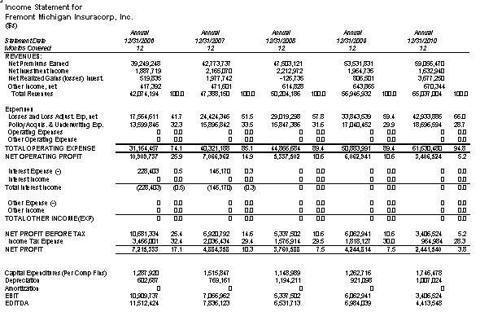 Click to enlarge
Penn Millers Holding Corporation
The Penn Millers Insurance Company was started in 1887 in Huntington, Pennsylvania by 57 mill owners as a result of their difficulty in obtaining insurance at an affordable price. Insurance companies of the day refused to write insurance on grist mills because they were dangerous and risky to insure due to the explosive nature of grain dust. The original mill owners found that by a policy of careful selection, strict underwriting, regular inspection and careful risk management, losses could be reduced and rates kept low.
By 2010, Penn Millers was a regional property casualty insurance company licensed to operate in 39 states. Its primary business, Agribusiness (60% of premiums) covered middlemen operations and not product producers or farms. Agribusiness policies were written in 33 states. Its commercial segment (40% of premiums) typically wrote business owners packages for small business in 8 states.
In April 2009, the company adopted a plan to convert Penn Millers Mutual from the mutual to the stock form of organization. On October 16, 2009, the company completed the sale of 5,444,022 shares of Penn Millers common stock at an initial offering price of $10.00 per share in a concurrently-held subscription and community offering.
The Mechanics of a Mutual Insurance Company Conversion
When a mutual insurance company converts, it goes from being owned by its policyholders to being owned by a holding company, which, in turn, is owned by the general public. The conversion process usually starts with a subscription offering, through which the policyholders, employees, officers and directors of the institution are given the right to buy shares in the new holding company. If there are any shares remaining after the subscription offering the remaining shares are usually then offered first to people in the local communities that the insurance company serves, and then to the general public.
Unlike any other type of initial public offering, in a mutual insurance company conversion, there are no prior shareholders; all of the shares in the institution that will be outstanding after the offering are issued and sold on the conversion. The conversion proceeds are added to the preexisting capital of the institution, which is indirectly handed to the new shareholders without cost to them. In a real sense, investors in a mutual conversion are buying their own money and getting the preexisting capital in the insurance company for free.
In March 2011, Penn Millers' stock price was trading at a 30% discount to the company's net book value as a result of a recent history of poor underwriting results, mediocre operating performance and industry wide challenges.

Click to enlarge
While a review of the company's historic underwriting results do not inspire confidence with the combined ratio in excess of 100% in each of the past seven years, a deeper analysis reveals that most of the losses in recent years were driven by poor performance of several lines within the commercial segment which had been discontinued. More importantly, with proceeds received from the recent initial public stock offering, the company anticipated that it would be able to significantly reduce the amount of reinsurance purchased going forward, which had been a considerable drag on underwriting results in recent years. Based upon the reduction in reinsurance costs and the elimination of losses from the discontinued lines, Biglari felt that the company would be consistently profitable on a go forward basis.
Management had done an adequate job in estimating projected losses and loss reserve adequacy in recent years.

Click to enlarge
The adverse development in the years 2000 through 2003 was primarily attributable to changes in estimates based upon frequency and severity of claims and the adequacy of premium pricing levels. Beginning in 2003, actuarial consultants were engaged to provide an additional reserve analysis three times per year. In addition, new policies and procedures were introduced to the claims function and more rigorous analysis of pricing data was undertaken. The resulting improvements to claims reserving, underwriting and pricing processes led to the improved results starting in 2004.
Penn Millers stock traded in a fairly tight range from $10.35 to $14.95 in 2010. On March 9, 2011, Biglari Holdings acquired 18,382 shares in Penn Millers at $13.78 per share. By April 29, 2011, Biglari and his related entities would acquire 416,598, or 8.4% of the outstandings shares in the company at an average price of $14.72. Biglari's total average purchase price was just 69.8% of the company's book value of $21.08 at March 31, 2011. Enterprise value for the company totaled $69,314,448.
While the company may have traded at a discount from a balance sheet perspective, financial results had been inconsistent over the past four years. Biglari felt that future operating earnings would be significantly better as a result of the company's reduced losses, decreased reinsurance costs and an improved operating environment. If the company's historic loss rate was reduced to 67%, resulting in a 100% combined ratio over the past three years, adjusted free cash flows would be as follows:

Click to enlarge
With the company trading at a lofty 21.4x multiple of 2010 adjusted free cash flow, the case for investing in Penn Millers was not as readily apparent as the Fremont investment.
Biglari's interest in the company was twofold. First, the commercial business was in the midst of an operational restructuring/turnaround and earnings were on track to rebound in the coming years. Poor results in the commercial business had masked the solid performance of the company's crown jewel, the agribusiness insurance segment. Penn Millers operated the third largest agribusiness insurance company in the United States, which represented one of the more attractive niche markets in the insurance industry. The segment had favorable long-term fundamentals, limited competition, an improving pricing outlook and substantial opportunity for profitable growth going forward. Penn Millers was well positioned to capitalize on various expansion opportunities.
Second and more importantly, Biglari was interested in the float generated from insurance operations that could be used to fund future investments. Penn Millers' had a $173 million investment portfolio that had historically been very conservatively invested in fixed income securities. Given the company's excess reserves, Biglari felt that the portfolio could be repositioned with a meaningful allocation to equities. Assuming a successful buyout, Biglari would assume investment management responsibilities for the portfolio.
Final Analysis
Biglari never had an opportunity to launch a proxy contest. Sensing a brewing takeover battle, the Board acted swiftly to sell the company. On September 7, 2011, Penn Millers announced that it had agreed to be purchased by ACE American Insurance Company for $20.50. Biglari Holdings realized a 39.3% gain in six months on its holdings.
William L. Johnson, former Vice Chairman of the Board of Fremont Michigan InsuraCorp, Inc., (and Fremont's Chairman of the Special Committee in the sale of that company to Auto Club Insurance Association) joined the Biglari Holdings, Inc. Board of Directors in 2012. Johnson's experence has been invaluable as Biglari works to invest in the insurance industry. On November 2, 2012, Biglari Holdings, Inc. disclosed that it had acquired 505,100 shares, or 9.5% in Unico American Corporation at an average price of $11.85. The Securities and Exchange Commission 13D filing indicated that Biglari had communicated with the company's management and Board of Directors concerning ways to maximize shareholder value.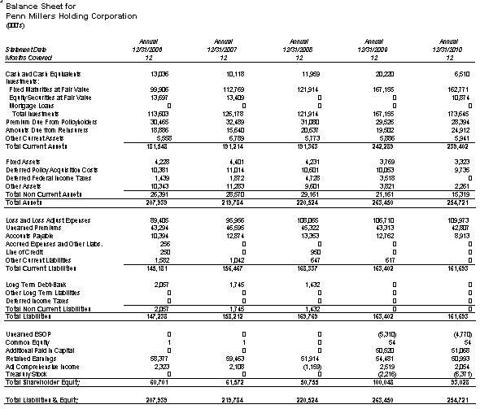 Click to enlarge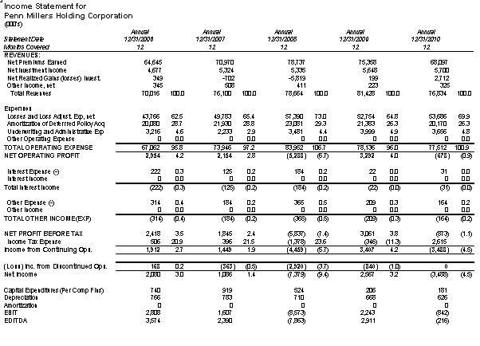 Click to enlarge
Disclosure: I am long BH. I wrote this article myself, and it expresses my own opinions. I am not receiving compensation for it. I have no business relationship with any company whose stock is mentioned in this article.