The stock market is in the midst of a strong rally that has been the recipient of strong monetary policy (the stimulus of 85 billion a month in a combination of mortgage backed securities and treasury purchases) from the Federal Reserve. In recent articles I attempted to outline the effect that a QE program would have on specific asset classes such as SPY - S&P 500, $WTIC - oil, JJC - copper, JJG - soft food commodities, and GLD - gold. From this I wanted to create some expectancy based on prior QE returns and potential returns under the current QE3 program, to see just how long the stimulus programs would endure with their effect on asset inflation.
Below are the various QE programs and the returns exhibited, prior to announcement (front running), and at the time of the announcement to end of the program, or in the case of QE3 continuing program.
| | | |
| --- | --- | --- |
| YTD Prior to QE1 | QE1 11/25/08 | During QE1 03/31/10 |
| -41% | SPY | +52% |
| -47% @45 | $WTIC | +68% |
| -45% | JJC | +113% |
| -35% | JJG | -9% |
| -2% | GLD | +38% |
| YTD Prior to QE2 | QE2 11/3/10 | During QE2 06/30/11 |
| +9% | SPY | +12% |
| +7% @85 | $WTIC | +12% |
| +11% | JJC | +10% |
| +19% | JJG | -5% |
| +23% | GLD | +10% |
| QE3 09/13/12 | QE3 09/13/12 | During / Ongoing QE3 |
| +9% | SPY | +7% |
| -7% @96 | $WTIC | -6% |
| -1% | JJC | -7% |
| +44% | JJG | -17% |
| +1% | GLD | -11% |
From the table above, notice that oil, copper, and precious metals - [GOLD] all increased during QE1 and QE2 with the only exception being the (NYSEARCA:JJG) the soft commodity food index. But forward to QE3 thus far, $WTIC, JJC, JJG, and GLD have depreciated in price since the launch of QE3 in September of 2012. Looks like the stimulus has had a positive effect on stocks without raising the prices of other asset classes, unlike QE1 and QE2. Also note, that from QE1 to the present QE3 program, the effect of stimulus has lessened in the commodity sector from past to most recent. I guess you can say that monetary policy is working superbly if you did not want to create any additional inflationary pressures outside of equities, or at least in the assets that I have chosen to focus on.
Below is a chart of the asset classes since the launch of QE3 in September 2012.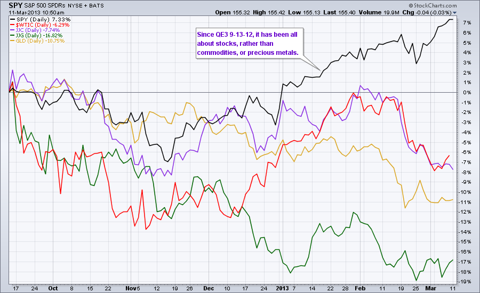 During the last Federal Reserve meeting Ben Bernanke defended his record regarding inflationary pressures during his tenure as some dissenters were calling for an early ending to the monetary policy stimulus programs because of the risk of high inflation.
Also from the January 30, Fed release statement "Although strains in global financial markets have eased somewhat, the Committee continues to see downside risks to the economic outlook. The Committee also anticipates that inflation over the medium term likely will run at or below its 2 percent objective".
So continued stimulus with inflation expectations at or below its 2 percent objective over the medium term.
Bottom Line: I expect the fed to reinforce his conviction for QE3 during the next FMOC meeting on Wednesday March 20, primarily due to the fact that outside of equities, other assets have had a muted response to the QE3 program thus far. Also, as stated over the medium term, inflation is likely to run at or below its 2 percent objective. I expect the stimulus programs to continue indefinitely or until the fed acknowledges that continuing the current programs would be a risk to higher inflation expectations. For now the place to be is in stocks as other riskier assets have underperformed since the QE3 launch. Thank you for reading.
Disclosure: I have no positions in any stocks mentioned, and no plans to initiate any positions within the next 72 hours. I wrote this article myself, and it expresses my own opinions. I am not receiving compensation for it (other than from Seeking Alpha). I have no business relationship with any company whose stock is mentioned in this article.