India is an economy that marches to the beat of its own drum.
The country's development depends heavily on its government's ability to enable investment (both foreign and domestic) and create conditions for enterprise to develop. It is a formula followed by many successful emerging markets. Yet, India has struggled to implement effective pro-growth policies.
Its potential is enormous. Over the period 2005-2025, India will contribute one-third of the net increase in the world's working age population according to some estimates. So while China's (and the developed world's) workforces start to decline, India's will grow significantly.
Not very cyclical
Although India's exports depend on a healthy global backdrop, the country depends heavily on oil imports. Oil imports represent over one-third of the country's total imports, and are worth more than one-half of the value of the country's total exports. Higher oil prices, normally a sign of global growth, create a negative cycle driving up inflation and deficits that diminish scope to lower interest rates and erode confidence in the currency.
As a result of its commodity dependence and uncertain policy outlook, India's equity market and currency are volatile and depend heavily of foreign fund flows. Welcome to India.
Equity market structure is relatively diverse and unique
India's investable market offers some relatively unique sector exposure for an emerging market. These include a large global IT services sector, industrial companies involved in engineering, construction and automotive assembly, and pharmaceutical manufacturers. There is also a high energy component to the investable universe and financials are the largest sector open to investors.
India ETFs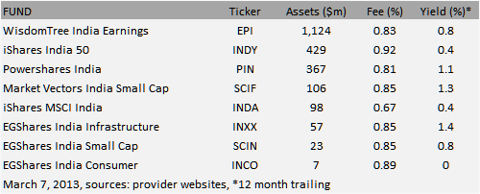 Fund composition differs slightly
There are several ETFs investors can consider for exposure. The differences between the funds are fairly small and are outlined below.
Wisdom Tree India Earnings (NYSEARCA:EPI) is based on a proprietary earnings index that weights constituents by invest-ability (shares available to foreign investors) and absolute net profits. This results in a portfolio with greater exposure to financials (26%) than the other India funds. Energy and IT are also large sector exposures of the fund. EPI is the deepest India ETF, with over 150 holdings, so it has the lowest concentration of holdings and includes many smaller cap companies in its portfolio.
Powershares India (NYSEARCA:PIN) follows the Indus India index, which is a market cap-driven index, and therefore holds among the largest 50 Indian stocks listed on the Indian exchanges. PIN's portfolio more concentrated in energy (26%) and IT (19%) relative to the other Indian funds.
iShares India 50 (NASDAQ:INDY) follows the CNX Nifty index which is the headline index on the National Stock Exchange of India. It also has 50 constituents. Banks 21% and IT 16% are the largest sector exposures. The fund has relatively high exposure to consumer goods/tobacco company ITC, which represents almost 9% of the total portfolio, whereas in PIN and EPI it's below a 2% allocation.
iShares MSCI India (BATS:INDA) follows the MSCI India index and is a broader portfolio than INDY with 73 holdings. Consumer sector exposure is higher in this fund relative to EPI and PIN, but otherwise the portfolio is not materially different that the larger funds. It also has the lowest expense fee of the group.
Market Vectors India Small Cap (NYSEARCA:SCIF) is concentrated in the consumer discretionary, financial services, basic materials, industrials, and IT sectors. SCIF is a deep and broad fund with around 100 holdings that are mostly around $1bn market cap and below.
EGShares India Infrastructure (NYSEARCA:INXX) offers exposure to the country's developing power sector and other companies that could benefit from increased infrastructure investment. The fund includes companies associated with engineering and construction, materials, power utilities and telecom operators. INXX is concentrated with 30 holdings.
EGShares India Small Cap (NYSEARCA:SCIN) and EGShares India Consumer (NYSEARCA:INCO) are other small targeted funds. INCO, with around $7m in assets, offers an alternative with its focus on the Indian consumer. Mid to larger cap personal goods, food and beverage and media are the main exposure of the fund. These sub-sectors should see growth as the population matures. Since its inception in August 2011, INCO has had an above average, positive return.
Liquidity varies and fees are higher in India
Fund liquidity varies with size generally. EPI is very liquid trading over $70m/day. PIN trades around $15m/day and INDY close to $5m/day. SCIF trades $3m/day, INDA $1.5m/day. For a small fund INCO trades a reasonable amount over $400k/day and INXX trades around $285k/day.
India ETFs generally have higher management fees than other emerging markets. This stems from complexities and costs foreigners face accessing the market. Tracking error may also be higher due to limitations placed on foreign investors. India is not the easiest place to do business.
Some variation in performance
Two year chart: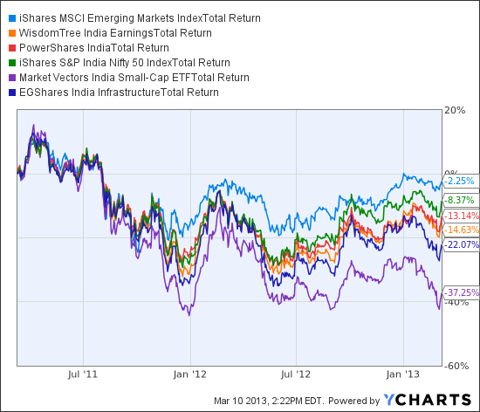 The major India ETFs have lagged broader emerging markets represented by iShares MSCI Emerging Markets (NYSEARCA:EEM). INDY has been the best performing fund in part thanks to its overweight in tobacco conglomerate ITC which has been a strong performer. The larger strategy funds have lagged, particularly small cap fund SCIF.
India's investment case
The investment case for India depends heavily on government policy and reform. Recent progress on liberalizing the retail sector has been positive but much more legislative reform needs to be done. The government has a busy calendar this year. It is expected to address the Land Acquisition Act, a pension reform law, laws to improve corporate governance standards, and implement a new cabinet initiative on investments designed to fast track clearances for large infrastructure development projects.
Global conditions could hardly be better for India this year. Growth looks slow but steady. Commodity prices are relatively stable and may help keed a lid on inflation which will be a key determinant of the central bank's ability to ease monetary policy.
Needs more growth
The internal macro picture, however, has not been very inspiring recently. GDP growth in the fourth quarter was a sluggish 4.5% and the current account deficit increased to an unprecedented 5.4% of GDP in 3Q12. Government will need to deliver economic growth and fiscal tightening in order to stave off a rating downgrade and downward pressure on the currency.
Watch for progress
Watch for progress on the legislative front, potential downward inflation trends, fiscal consolidation and a pick-up in the investment cycle. Any positive developments on these fronts would likely be received well by the market.
For ETF exposure to India, INDY and INCO offer compelling alternatives thanks to their higher consumer sector exposure. EPI offers the best liquidity and is the deepest fund; INDA is the lowest cost fund. A pick up in the investment cycle could also support INXX. But don't hold your breath.
Disclosure: I have no positions in any stocks mentioned, and no plans to initiate any positions within the next 72 hours. I wrote this article myself, and it expresses my own opinions. I am not receiving compensation for it (other than from Seeking Alpha). I have no business relationship with any company whose stock is mentioned in this article.