Stocks got the green light for a St Patrick's day rally courtesy of a big move in tech names. Apple (NASDAQ:AAPL) rose on mounting excitement on the new Apple OS upgrade for iPhone and the apps store now offering 1,000 new applications for the iPhone.
Cisco (NASDAQ:CSCO) was put on Goldman's conviction buy list who talked about the potential for their new server to boost profits.
Chip makers & tech stocks Altera (NASDAQ:ALTR) (+5.3%), Texas Instruments TXN) (+4.7%), Archer Daniels (NYSE:ADM) (+11%) and Intel (NASDAQ:INTC) (+4.56%) were up strongly citing news that chip orders are up. Some in the industry are tentatively raising their March outlook after demand from China has picked up for 3G wireless products.

Today's Market Moving Stories
And this morning, the big question for the tech space is will the sun turn blue? The WSJ is carrying a report that "Big Blue" aka IBM is in talks to buy Sun Microsystems (JAVA) for $6.5bn in CASH and that this would represent a 100% premium on yesterday's closing prices.
Most of the comment this AM is crediting yesterday's rally in stocks on the unexpected 22.2% jump in US housing starts. But the data was almost certainly inflated by unseasonably warm weather during the month. And is it just me, but I would have thought more SUPPLY was the last thing a housing market whose prices are still in free-fall requires.
Overnight the Bank of Japan kept its target rate stable but announced that it is to step up its JGB purchases to Yen 1.8tn per month from Yen 1.4tn as the government prepares its third stimulus package. The accompanying assessment of the economy remained bleak, citing worsening economic conditions and ongoing stresses in the financial markets.
The World Bank is predicting that the Chinese economy will grow by 6.5% over 2009, significantly lower than potential, but adds there is still plenty of space for policy stimulus. Local press reports suggest that the country's FX reserves dropped by $30bn over January, which would mark a second decline in four months.
BoE's Mervyn King was speaking overnight, his most interesting comments revolved around QE where he noted that Central Bank balance sheets will have to contract at some time and that the CPI outlook will determine the reversal of asset buying.
The ECB's Weber said that default concerns for Euro countries were unfounded, but that the 'no bailout' clause is indispensible.
Irish Banks: Finance minister saying that any bad bank structure will not be using Anglo Irish (OTC:AGIBY) as the receptacle. Seems like the establishment of a property company is more likely to manage out the bank's property lending or some form of insurance scheme. The decision will probably hinge on the ability to fund any new vehicle. Lenihan also saying he will not force banking mergers (presumably with the benefit of 20:20 hindsight of HBOS/Lloyds (NYSE:LYG)).
Early Sunrise Equity News from Europe. RBS is up about 5% after its new chairman, Hampton, told the FT that they benefited from "buoyant" corporate banking activity since the start of the year.
Strategically proactive as ever, Ryanair (NASDAQ:RYAAY) has reported that its pilots are taking a 12-month pay freeze along with productivity increases as the airline looks to a target of 5% unit cost reduction in the coming year. It recently announced a move to completely eliminate airport check-in desks as it seeks to reduce airport and handling charges. It is also aggressively cutting capacity at certain airports – notably Dublin, where total weekly rotations will be down 20% this summer. Should leave the firm as one of the big winners & survivors, emerging more lean & mean when the upturn finally comes.
Drug problem in Japan for Roche (OTCQX:RHHBY). Roche's Japanese unit Chugai stated that 15 deaths have been directly linked to its Rheumatoid Arthritis drug Actemra. Apparently it was already known that there are more side effects with this drug than other competing drugs, but this is not particularly good news nonetheless.
Not good news for Smurfit (OTCPK:SMFTF): Stora Enso issued another profits warning this morning - the Group expects that Q1 profits will be "clearly down" on the Euro 28m generated in Q4. In addition to the weak economic environment, production cutbacks at a round 20% of capacity have had an additional negative impact on earnings as the Group has tried to control working capital. Stora also plans to manage capital expenditure down from Euro 500M to Euro 400M with the emphasis clearly on cash retention.
Bloxham's are carrying a piece about a possible bid of between euro 11-15 by Moonduster for ICG. A fast developing economic recession in ICG's home market, with associated declines in car, passenger and freight volumes, is the primary reason for a bid at this level. Since the €24 bid in 2007 by the management group Aella, the ISEQ has collapsed by 80%. Other shipping companies have also suffered with Maersk's share price down 60% in the last six months. A key attraction in any bid is the cash component at a time when liquid resources are tight and bank credit lines difficult to access though Bloxham's doubts a bid as low as 11 euro would work. Developer Liam Carroll owns 29.2% of ICG.
Tim Geithner's days may be numbered at the Treasury!
Chit chat on the huffingtonpost that Tim Geithner's days may be numbered at the Treasury. Mmmmmmmm, maybe someone should start a book on this. Know any good bookmakers? While the FT reports that the for-now incumbent US Treasury Sec. may unveil a toxic asset plan "as early as tomorrow". Obviously this is a new previously unheard definition of the word "early". He's also promised Congress that the wind down of problem child (read out of control teenager) AIG(reed) (NYSE:AIG) will be accelerated & executive bonuses recouped. The negative press from this has been a PR fiasco for the Geithner, particularly when it was revealed that, ahem, "retention" bonuses of $1m plus were paid to people not even now with the firm. Talk about extracting the Michael. Geithner has also vowed to trim errant nasal hair. Mind you he is to get a new little helper.
More seriously though, these developments require a tad more thought & analysis as today's FT (p1) writes that Treasury Secretary Geithner's unveiling of plans to transfer toxic assets off bank balance sheets "could be within days". Clearly if such a plan were credibly delivered, it would be the final prong in the Administration's attempts to support the financial sector, and could therefore be positive for markets. However, the FT report also cited "several senior Democratic figures" as questioning whether Mr. Geithner had sufficient credibility with the markets and Congress to push through a request for more funds. Roger Altman, a former Treasury official, commented, "The main question is, can anyone, including President Obama himself, persuade Congress to give more money in this climate?"
In my view, it seems that new policy initiatives are being brought forward by governments as they attempt to make the April 2 G20 meeting a confidence-boosting success. While there might have been some disappointment that last Saturday's meeting of G20 finance ministers did not achieve anything concrete, it might have nonetheless been that finance ministers went back to their governments with the intention of agreeing on new measures to build positive momentum ahead of the G20 heads of state meeting. For example, yesterday we had the announcement by the Bank of Japan that it intended to buy up to Y1trn of subordinated bank debt. Today the BoJ announced that it would raise its purchases of long term JGBs (Japanese government bonds) to Y1.8trn per month, from 1.4trn previously (having raised this purchase rate from 1.2trn/mth in December). Such a move will tend to be regarded in international circles as a form of quantitative easing.
If the US Administration is able to deliver a credible "private public partnership plan" ahead of the G20, then, in the context of other measures (including possible new interventions by the FOMC tonight), it will step up the pressure on Europe to deliver new initiatives. All we have so far on that front is the reminder by ECB officials that new "non-standard" measures are under investigation. The ECB's next mid-month, non-policy meeting, this Thursday, will be an opportunity for the Governing Council to prepare the ground for a possible announcement
on April 2nd (ground also prepared by the decision to hold that meeting in Frankfurt rather than in Rome as had previously been scheduled).
Therefore, putting this together, markets should be alert to the possibility that the ECB MIGHT also come up with some new announcement on April 2nd, even though that is not our current baseline case. (Since the Governing Council operates by consensus, and since there is clearly a sizeable faction opposed to pushing interest rates down too low, I have tended to think that the "hawks" would resist a speeding up in the pace of interest rate decreases, in the hope that by the summer there would be some signs that the monetary/fiscal easing, in the context of financial support measures, was having some traction in the real economy, thereby avoiding the need to go down the QE route).
To QE or Not to QE, That is The Question
The key event today occurs after close of business in Europe, when the FOMC makes its policy announcement. The focus however will not be on the interest rate level, which we now assume will remain rooted in the 0.00-0.25% range throughout this year and next, but rather on any additional credit easing measures to combat the economic downturn. The burning question is whether the FOMC will announce that it will move to buying US Treasuries outright.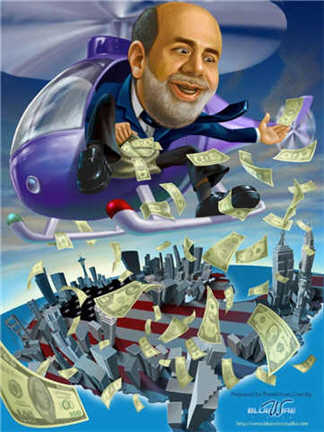 ….and finally
United Minds Ireland
Disclosure: None