BlackBerry (NASDAQ:BBRY) has been a very volatile stock over the last 5 months as evidenced by its stock chart below: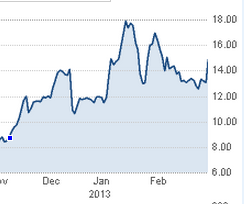 The volatility has been caused by unusually high short interest which we track on a regular basis. Fellow SA contributor George Kasarios wrote last night, "...BlackBerry shares shorted has reached a new record of 147 million. I don't know what these guys are thinking, but this is a crazy number that has no justification as far as I'm concerned." Well said George. The volume has also been erratic (in millions):
One of the points made in the comments on George's article is that the shorts may have covered since February 28th, the date of the last NASDAQ reported 'short interest' and 'days to cover' with declining volume. The one variable that you need to know is the cost to borrow shares which must be done obtained manually because it is not a transparent number reported anywhere. This cost gives you the sense of demand for shorting shares together with the availability of shares to borrow required for shorting. Our check this morning revealed that this cost, the negative rebate, which we reported over the weekend at 7.5% annual has remained stable. This means the outstanding short position has not changed dramatically. One institution did say they saw early short covering indications today.The beginning of the thawing process for the short interest "ice". This translates to us the shorts are starting to believe the two independent positive trends for BBRY: sales of Z10 are real and rising and there is real interest in strategic deals for BBRY. In our opinion, the BlackBerry short covering has begun this time and is not just a boy crying, "Fire".
Some say BlackBerry is on fire,
We say nice.
We've heard bad from many a crier
We hold with those who seek higher.
But if we could not run like mice,
I think we heard enough of 8
They say diamonds resemble ice
Ripened BlackBerries are delicious, great
Accompanied by the 6 x 6 roll of dice.
Disclosure: I am long BBRY. I wrote this article myself, and it expresses my own opinions. I am not receiving compensation for it. I have no business relationship with any company whose stock is mentioned in this article.