Opexa Therapeutics, Inc. (OPXA) is a small biotech company developing cellular therapies for the treatment of autoimmune diseases.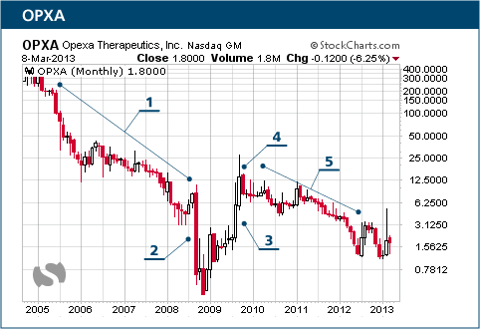 The company experienced an erosion of shareholders' value -
throughout the initial clinical trials followed by a collapse of the share price;
on September 19, 2008, after the announcement of the top-line results from the Phase IIb clinical trial of Tovaxin for the treatment of Multiple Sclerosis. The 95% loss experienced within days of the announcement represents a typical market overreaction to the test results, which are usually subject to many future revisions. The drop also ignored the potential of other technologies developed by the company. Short sellers received margin calls in August 2009;
when shares rose 450% in one day. Opexa announced an agreement with Novartis (NYSE:NVS) for the development of Opexa's novel stem cell technology with the potential of huge payout in licensing fees.
I will never understand the rationale of anyone shorting a small bio company at such levels, after a collapse in price (2). There are many good reasons to enter a short position in other companies: stocks with stratospheric evaluations, companies producing gadgets nobody wants, or companies with debt levels suffocating any recovery potential.
Investors on the long side can afford to wait for a long time, even after (2) events. Stocks often recover, and the losses are limited to the initial investment. A $50K short trade in a $200K account at (3) would result in an overnight package from the Margin Department with a short note: your account shows a negative value today, please deposit more funds. Short squeeze is a completely different event: it's like a bomb explosion to one's portfolio, followed by dramatic demands from a broker. The losses on the long side are limited to 100% of the initial investment; the losses on the short side are unlimited, and the intensity of market reaction matches a sheer panic developed by a short squeeze event.
The nightmare for the short sellers continued in September 2009 (4) when the revised TERMS Phase IIb data showed completely different results; it is very common for small bio companies to follow awful test results with revised data painting a completely different picture. That announcement resulted in a 350% jump in one day, completing a violent phase for the stock.
The company experienced almost 3 years of slow downward movement (5), closing various stock offerings and convertible notes to fund operations. The saga of Tovaxin continued, from hopes for Phase 3 clinical studies in January 2011 to the fast track designation by FDA in November 2011. The patience of investors evaporated slowly in 2012 until it reached the bottom in July. The name Tovaxin was changed to the new brand name of Tcelna and new note and equity financing were announced.
The investment in small biotech companies in phase (1) is exceptionally risky. If the product is successful, there is a limited upside to our investments, since it's already built into the price. The balance changes in our favor after the capitulation (2).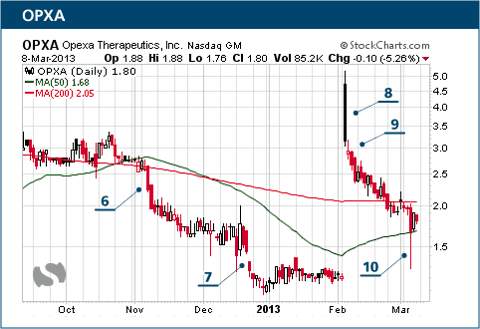 The company announced another round of funding, diluting existing shareholders at (6). The reversed split at (7) was the last straw to many long term stockholders. Although it is a market-neutral event, it is considered by many as a sign of extreme weakness, and the stock dropped on the news.
I like to wait for such companies to enter the later stage of consolidation (5) followed by one more news-triggered event (7). When the message boards are full of venom and disparaging comments about the CEO's mother, it's a clear sign of old shareholders' departure. We need these shareholders to move on because, if they hold on to their shares, they will continue to sell on any price spikes to recover past losses.
Things heated up recently. In February the stock exploded into an approximately 300% gain on news about a deal with Merck Serono for the development of Tcelna (8).
This spike in price was quickly followed by a new stock and warrant offering (9): it's only natural for a company to raise money when the excitement of a new deal leads to a frenzy of buying. The further consolidation was completed with a bear raid to scare new shareholders at (10). It was a dip without any volume, reversing quickly to the previous level.
So where are we today? I think the company is slowly turning the corner. The licensing potentials are amazing if the tests are successful. Old shareholders left a while ago, swearing never to return. New shareholders show substantial profits, leading to a usual tendency of buying on dips. The company regained compliance with NASDAQ listing requirements and the recent fund raising improved the liquidity position. The deal with Merck Serono shows real interest in a market potential of Tcelna which is manufactured in-house at Opexa's facility using a proprietary process, ImmPath.
Opexa's March 2013 presentation provides the most recent financial highlights. As per the 3Q12 Earnings Release, the cash position was $2.2M on 9/30/12. The company raised an $5.0M upfront option fee as per the 2/5/13 option agreement with Merck Serono and a sum of $3.2M from their 2/7/13 private placement. At the current monthly burn rate of $885K we can estimate the current cash position at approximately $6M, or $0.40 per share, based on 14.8M fully diluted shares. The company has some breathing room before additional funds will be required. The potential of a $15M to $25M option exercise fee from Merck Serono and up to $195M in development and milestone payments (a total of $14.8 per share) should help in stabilizing the share price.
I believe the company belongs in a basket of well diversified, high-risk / high-reward small caps. For those who consider shorting the company at these levels may I leave you with a word of advice: small biotech companies often stampede into spectacular runs without any news, like in last week's Affymax (OTCPK:AFFY) run.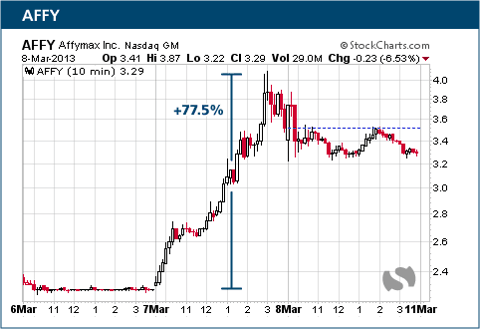 Biotech companies don't need to announce substantial news to initiate such gains. They just need to reach the level of exhaustion. I believe Opexa completed the long cycle of boom and bust and the risk/reward ratio favors long term investors at this time.
Disclosure: I have no positions in any stocks mentioned, and no plans to initiate any positions within the next 72 hours. I wrote this article myself, and it expresses my own opinions. I am not receiving compensation for it. I have no business relationship with any company whose stock is mentioned in this article.
Disclaimer: Past performance is no guarantee of future results. Investments involve risk, including the risk of loss of principal. Any opinions related to markets or publicly traded securities expressed above do not represent trading recommendations and any attempt to employ them in any form is the sole responsibility of the party involved in such operations. The author and Santoren Inc. takes no responsibility for any trading activities by any party attempting to follow any theories or opinions presented above. There can be a substantial risk of loss in trading stocks, ETFs and other instruments. You should, therefore, carefully consider whether such trading is suitable for you in light of your financial condition and your risk tolerance. The information provided above is based on sources believed to be reliable, but it is not guaranteed to be accurate. The clients of Santoren Inc. may maintain long or short positions in securities mentioned above in investment accounts managed by the author.