"It gets late early out there." - Yogi Berra
As I referenced in my last writing, it appears the correction case got dramatically altered last week as various intermarket trends reversed following the strong ADP report. The improvement was enough to push our ATAC models used for managing our mutual fund and separate accounts into "risk-on in stocks" mode, with the focus on U.S. equities given positive relative momentum. It is unclear if the signal holds given the speed with which intermarket trends changed. If indeed it does and the bull market continues unabated, the next fat pitch trade I believe likely occurs in overseas markets given the duration and magnitude of underperformance in countries most sensitive to cyclical growth.
We ourselves are nearing an aggressive rotation into emerging market stocks with enough confirmation on a broad level, potential in the next two weeks. Thus far, it appears that Brazil may be the first to move. Take a look below at the price ratio of the iShares Brazil ETF (NYSEARCA:EWZ) relative to the S&P 500 (NYSEARCA:SPY). As a reminder, a rising price ratio means the numerator/EWZ is outperforming (up more/down less) the denominator/SPY.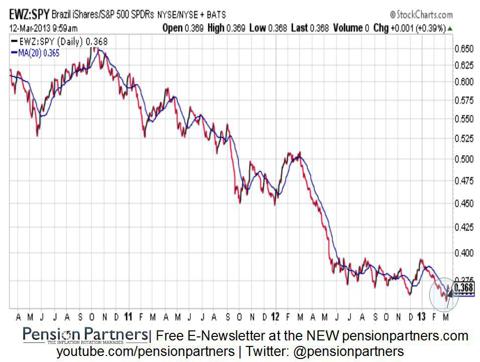 Note that Brazil peaked out relative to the S&P 500 around early October 2010 (as QE2 in the U.S. was impacting risk assets), underperforming in an unrelenting way with fits and starts upwards which failed to materialize into meaningful strength. Low growth combined with high inflation have been major headwinds for Brazil, which has pushed investable money out of the country in favor of countries like Mexico (NYSEARCA:EWW). A lot of bad news may be priced in, however, and there could be a good trade coming should the most recent spike of outperformance result in a trend of leadership. Furthermore, the Real (NYSEARCA:BZF) appears to be in a strong uptrend, which from a currency conversion standpoint adds an additional kick to investing in non-currency hedged country ETFs.
And so we wait to see which scenario plays out. We are either on the edge of risk-off again should intermarket trends deteriorate and last week be a false positive, or risk-rotation out of the U.S. In a world of currency wars, Brazil is losing - and that might be okay for U.S. investors looking to position into overseas equity markets which money has fled.
Disclosure: I have no positions in any stocks mentioned, and no plans to initiate any positions within the next 72 hours. I wrote this article myself, and it expresses my own opinions. I am not receiving compensation for it (other than from Seeking Alpha). I have no business relationship with any company whose stock is mentioned in this article.
Additional disclosure: This writing is for informational purposes only and does not constitute an offer to sell, a solicitation to buy, or a recommendation regarding any securities transaction, or as an offer to provide advisory or other services by Pension Partners, LLC in any jurisdiction in which such offer, solicitation, purchase or sale would be unlawful under the securities laws of such jurisdiction. The information contained in this writing should not be construed as financial or investment advice on any subject matter. Pension Partners, LLC expressly disclaims all liability in respect to actions taken based on any or all of the information on this writing.