L&L Energy, Inc. is a $67MM market cap stock trading on the NASDAQ under the ticker LLEN. It is a U.S. based coal holdings company with all of its operations in China. I was looking through screens on high ROE (+10%), low PE (<10) low P/FCF (<5), and as a result, I came across LLEN which at the moment has several of the characteristics I find appealing when window shopping. This doesn't mean I buy something on looks alone, only as a means to find stocks to research.
Looking through the last 10 years of L&L Energy's financial reports, I found the volatility that raised prices then slammed the stock down to today's levels to be legitimate. However, current reports and developments should have been driving this stock up, but have failed to do so. Let me brief you on key developments over the past couple of years.
The optimism surrounding the company when revenues soared both in FY 2010 and then again in FY 2011, coupled with net profit rising at similar levels, lead to lofty expectations. This can explain why the stock could get listed on the NASDAQ, have it shares rise to $8-14/share, and have growth projections of 10+% YoY (see table below).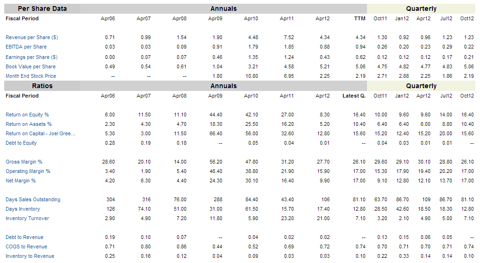 [Income Statement - GuruFocus]
However, in early 2011, several problems started exacerbating tensions between the shareholders and the company (3 of which I will highlight and explain):
Coal prices from the highs of 2008 had collapsed and subsequent fears of oversupply reigned.
The "coal consolidation policy" being implemented in select provinces in China hit the Guizhou province, which is where L&L Energy, Inc. does the majority of its business.
Lawsuits against the company.
1. Coal prices from the highs of 2008 had collapsed and subsequent fears of oversupply reigned.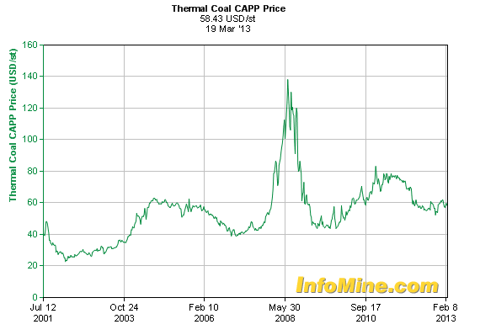 [Thermal Coal Pricing - InvestmentMine]
As you can see, the highs of 2008-2009 laid the groundwork for contractual coal prices which the company could exploit to higher revenues and profits. Coal mining margins for LLEN are historically around 45% gross. When coal prices slid, it took some time from a contractual point of view for the results to show up in the income statements. They did, however, starting in late 2011. Coal prices since have, for the time being, bottomed out and this gives a decent window into the next 3 or 4 quarters of revenues. Also, China still is around 70% energy dependent on coal which will keep demand, at worst-case, a constant for the foreseeable future.
The Guizhou government states:
The Guizhou Coal Bureau has projected in-province demand growth at 11.5 percent per year from 2010­-2015 to approximately 170 million metric tons, driven largely by the electric power plant construction program discussed in Section 4.5.2. The Bureau estimates that power plant demand will jump to as much as 58 percent of the provincial total by that time (Guizhou Government, 2011).
The next 2 charts will further help demonstrate the steadily increasing dependence on coal in China. In fact, since 2000, it has risen from 68% of the energy mix to 2012 of 70%.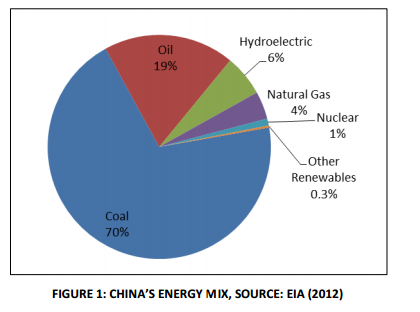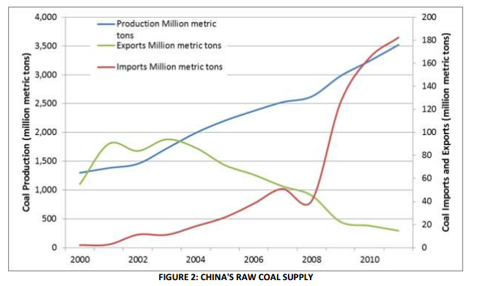 2. The "coal consolidation policy" being implemented in select provinces in China hit the Guizhou province, which is where L&L Energy, Inc. does the majority of its business.
When I was reading through the annual reports, when word starting coming up that Guizhou was going to be a target for coal consolidation, I about gave up on my efforts due to the then levels of coal production and what the policy was calling for (as a note, I read reports from past to present). For the condensed version of the consolidation policy: if you are a coal holding company, or a mine owner, you have to meet a minimum level of production per annum to be able to do business in the region of consolidation. If you cannot meet this, you will be forced to either shut down or be absorbed by a larger holding company. The minimum level of coal production is 1 million tons per annum for the holding company in that region for 2014. The company was nowhere close to this number in 2011 and early 2012. Then, in November of 2012 they purchased the rights of two mines (Luozhou and Lashu) that, when included with the Weishe mine already under their control, put them over the minimum needed to be considered an operative coal holdings company under the new policy. The company was also able to acquire these mines at 2 x FY EBITDA, which is in my opinion a great deal considering the estimated reserves of these 3 mines.
| | | | |
| --- | --- | --- | --- |
| Mine | Reserve (tons) | Annual Permitted (tons) | Life (years) |
| Weishe | 19,000,000 | 450,000 | 42 |
| Luozhou | 27,000,000 | 450,000 | 60 |
| Lashu | 7,200,000 | 300,000 | 24 |
Table 1. Guizhou province coal mine data
This allows them to be a major player in the Guizhou province where energy consumption growth is above that of China's GDP growth. This was a major hurdle the company needed to clear and it has for the time-being. Now cleared, it will only let them be a larger acquirer as time gets closer to 2014 when the consolidation policy starts taking effect. They are currently doing due diligence in both inner Mongolia and Shanxi where they are targeting mines over 1,000,000 tons/year.
3. Lawsuits against the company.
In late 2011 and throughout 2012, a group of investors had filed a class-action lawsuit against the company as they felt the company had divulged incorrect and misleading information to shareholders on current holdings and total revenue. They went on to claim that the company didn't even legally own the mines they reported on, and this was a catalyst for a large drop in the company's stock price. It was all too familiar with several companies 'shadow-investing' in companies and never did due diligence to see if what they were investing in was legitimate. On December 2012, the courts dismissed the case.
I will not get into details on financials, as I feel like each person should do their own due diligence on any investment they make. What I will say is all 3 major problems that really affected the company's performance, future and perception seemed to have been either stifled or cleared for the moment. The income statements over the last several quarters have been appealing and with the acquisition of the two new mines, their bottom lines are in a good position, considering the company's historical margins on coal supply.
The downside of this investment is unrealized production rates or safety issues with the mines. Although LLEN has had no fatal incidents at any of their work sites, a good percentage of mines were shut down in 2012 due to a fatal accident at a nearby mine where the Chinese government shut them down in that area until each area were re-examined for safety. LLEN passed each review with no recordables.
For a worst case scenario, the company sits on about $3.7MM cash, $3.6MM in ARs, and $4.7MM in inventories. This gives a net current asset value of $.81/share. Its tangible book value is $5.03/share. For efficiency measures, the actual coal production rates against allowable coal production rates has historically been at a ratio of about 80-85%. The current and quick ratios are 2.49 and 2.41, respectively. Debt levels are almost non-existent.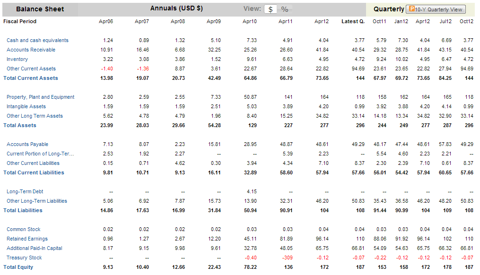 [Balance Sheet- GuruFocus]
EPS (TTM) was $.62/share (see chart).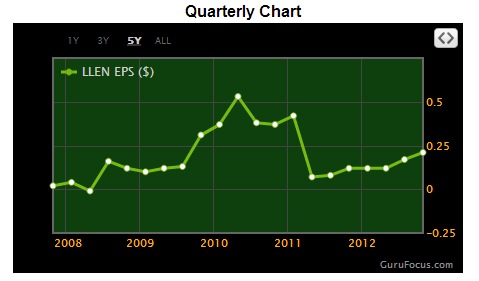 [EPS Chart - GuruFocus]
View versus stock price: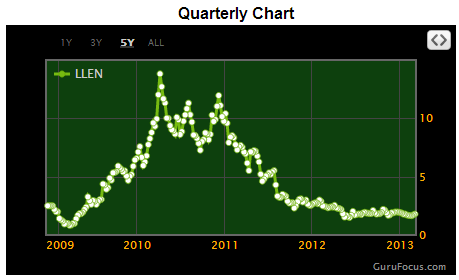 [Stock Price - GuruFocus]
The Guizhou mining segment alone, assuming a lower-end coal price of $55/ton for the year, their expected efficiency of 80%, and permitted output of 1.2MM tons of coal, will earn revenues of $60MM in FY 2013. With historical gross coal mining margins of 45% gives gross profits of $27MM. And we are not yet including the Yunnan province where they are targeting 600,000 tons/year. This gives a total mining gross profit target of $41MM. This compares with 2012 and 2011 gross mining profits of $17MM and $19MM.
And this is just their mining segment where coal wholesale has lower margins but the revenues are compelling.
I bought in for $1.64/share. My fair value assessment of LLEN is at $4-5/share. Please do your own research when considering a purchase.
Disclosure: I am long LLEN. I wrote this article myself, and it expresses my own opinions. I am not receiving compensation for it (other than from Seeking Alpha). I have no business relationship with any company whose stock is mentioned in this article.