General Electric Company (NYSE:GE) is a diversified technology and financial services company and a leader in all markets in which it competes. GE was down 0.63% and closed at $23.62 on March 11, 2013. GE had been outperforming the market with 15.56% gain YTD (vs. 11.66% increase for Dow Jones).
Downgrade
On March 11, 2013, Nomura Securities downgraded GE from buy to neutral with a price target of $24.00 saying the positives are already reflected in the stock. Analyst Shannon O'Callaghan commented,
GE has made key positive steps in the last few years and sentiment has turned more positive. We applaud these positives, but we think they are now reflected in the valuation adjusting for accounting differences. The P/E (adjusted for accounting differences) is now in line with premier industrial peers despite GE still getting 40-45% of its earnings from GE Capital. On a comparable GAAP pension basis, we estimate GE's 2013 P/E is 15.7x, which is a slight premium to peers EMR, UTX, and MMM. Given the 40-45% of GE's earnings still coming from GE Capital, this implies GE's industrial earnings are already being awarded a premium P/E. GE has made a lot of progress in the last few years, and we think portfolio moves such as these could be important next steps. At this stage we think a lot of the good news is priced into the stock, and we see more potential for outperformance elsewhere in our sector.
Analysts Estimates
Analysts currently have a mean target price of $25.07 and a median target price of $25.00 for GE. Analysts, on average, are estimating an EPS of $0.35 with revenue of $34.84B for the current quarter ending in March, 2013. For 2013, analysts are projecting an EPS of $1.68 with revenue of $149.59B, which is 1.50% higher than 2012.
EPS Growth
GE's EPS is expected to grow in the next three years. By 2016, GE is estimated to achieve EPS of $2.30, as seen from the chart below.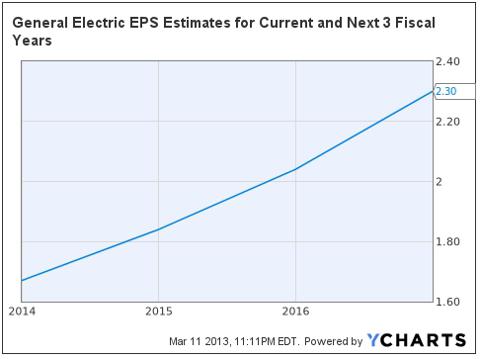 Source: YCharts.com
Recent Developments
On March 11, 2013, Former Securities and Exchange Commission Chairman Mary Schapiro was nominated as a GE director, where the election will be carried out at the company's annual shareholders meeting on April 24. GE's CEO, Jeff Immelt, stated, "Her understanding of corporate governance and financial regulation will be of great benefit to GE and its shareowners." According to CNN Money's report, Schapiro took over as head of the SEC in 2009, at a time when the agency is criticized for not doing enough to prevent the financial meltdown. Under Schapiro's leadership, the SEC went after several financial firms that broke rules.
On March 8, 2013, the competition between GE and Caterpillar Inc. (NYSE:CAT) had picked up as both companies scramble to develop liquefied natural gas (LNG) powered models as a result of the possible shift from diesel to natural gas. As reported by Shauna O'Brien from Dividend.com, "Building natural gas powered models would create a whole new level of competition for GE and CAT as this new technology would completely change the industry by lowering railroad expenses, and reducing greenhouse gas emissions." U.S rail carriers including Berkshire Hathaway Inc. (NYSE:BRK.A), Burlington Northern Santa Fe LLC (BNI), Union Pacific Corp. (NYSE:UNP), and Norfolk Southern Corp (NYSE:NSC) have been attempting to find a way to operate trains on an alternative power.
On March 7, 2013, GE Aviation signed an agreement with The Boeing Company (NYSE:BA) to provide inertial navigation technology for its next-generation satellite communications systems. The contract reinforces the long-term relationship between the two behemoths of the respective industries and is likely to augment the revenue of GE Aviation, where GE Aviation provides advanced technologies for superior aircraft performance and aims to take aviation to the next level in the long run.
Fundamentally, there are a few positive factors for GE:
GE will emerge as a leader in the power infrastructure market, which will be the backbone for the firm's growth, according to Morningstar's report
Higher net margin of 9.3% (vs. the industry average of 8.8%)
Lower P/E, P/B and P/S of 17.1, 2.0, and 1.7 (vs. the industry average of 21.0, 2.7, and 1.5)
Lower Forward P/E of 12.2 (vs. the S&P 500's average of 13.9)
GE generates an operating cash flow of $31.33B with a levered free cash flow of $27.83B
GE currently offers an annual dividend yield of 3.22%
Bottom Line and How to Invest
By refocusing on the industrial end, GE continues to improve its fundamentals. GE remains a long-term buy with increasing EPS and solid cash flow. With the recent downgrade from the analyst, it creates a buying opportunity for GE after the recent run-up. For GE stock investors, a better entry price will be around $22/$22.5 based on the technical support. The author continues to wait for a safer entry price around $22/$22.5 to set up a credit put option spread of May 18 $20/$21 put.
Note: All prices are quoted from the closing of March 11, 2013. Investors and traders are recommended to do their own due diligence and research before making any trading/investing decisions.
Disclosure: I have no positions in any stocks mentioned, but may initiate a long position in GE over the next 72 hours. I wrote this article myself, and it expresses my own opinions. I am not receiving compensation for it (other than from Seeking Alpha). I have no business relationship with any company whose stock is mentioned in this article.