Improving fundamentals? On the surface this title sounds ludicrous. YRC Worldwide (NASDAQ:YRCW) has $1.3 billion in long-term debt, it pays $151 million in annual interest expense, and it has significant pension obligations. However, the facts don't lie and the facts are that trends in operating income and gross margins are improving dramatically.
While YRCW hasn't really participated in the rally this year, I stand by my belief that this could potentially be one of the best performers in the market over the next couple of years as the economy continues to gradually improve and as management maintains its focus on improving ontime deliveries and removing unnecessary expenses from its network. The turnaround going on with YRCW is similar in many ways to recent turnarounds at Sirius (NASDAQ:SIRI), Nexstar Broadcasting (NASDAQ:NXST), Hovnanian (NYSE:HOV) as well as the turnaround at Foster Wheeler (FWLT) back in 2004, all of which provided investors with astronomical returns. Every one of these companies had huge debt loads and negative equity right when the stock began rallying hard.
Let's take a look at recent operating statistics.
Gross Profits:
Gross margins are calculated by taking net sales and deducting operating expenses and supplies and purchased transportation. Below is a list of the gross profits of the company for the past 8 quarters.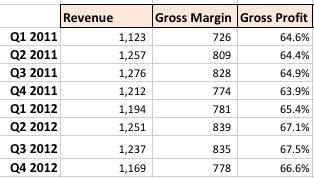 Gross profits as a percent of sales were steadily in the 63 to 64% range in 2011. In 2012, they improved dramatically to 66 to 67%. This resulted in an increase in gross profit of $96 million while sales dropped $37 million.
Operating Profits:
Over the past 8 quarters the company has gone from $(68) million in operating loss in Q1 2011 to $30 million in operating profit in Q4 2012. This was due in large part to rising gross margins but also due to a strict focus on expense reduction. Selling, general, and administrative costs dropped by $30 million from Q4 2011 to Q4 2012.

What about NET Profits?
Ok so this is all fine and dandy but what about NET profits? That is, in the end, the key driver of gains in the stock market. The company had $151 million in interest expenses that completely wiped away operating profits and then some, turning an operating profit of $24 million for 2012 into a net loss of $127 million, excluding one time non-recurring items.
Well, I'm going to do some forward math here to assess what level of comfort I have with the company being able to pay interest expenses going forward and generate positive net income. First, some assumptions:
(1) Q4 and Q1 typically are the weakest quarters for the company and experience the lowest gross margins.
(2) I'm assuming that gross margins from Q4 2012 can be maintained going forward.
(3) While net revenues shrank in 2012, the figures from 2011 included $99 million in revenues from a disposed truckload division. Excluding this figure resulted in a sales increase of 1.7%.
(4) I'm assuming sales growth of 2.4%, which takes into account a slight improvement over 2012 figures as a result of an improving economy and a return to a focus on sales growth after rightsizing the company.
(5) I'm assuming a drop in SG&A of $54 million in 2013 primarily hitting the 1st half of the year as the company's cost reductions took greater hold in the 2nd half of 2012 (as shown in drastic improvement in operating income from Q1 2012 to Q4 2012) and therefore the room to cut costs on a relative basis gets more difficult in the 2nd half.
(6) Quarterly depreciation expense of $45 million, which is the average expense in Q2 to Q4 2012.
(7) Quarterly other operating expense of $54.3 million, which is the average expense in Q2 to Q4 2012.
Below is a chart of the company's profits assuming a 2.4% topline growth, which is a slight improvement over the 1.7% growth (excluding disposed operations) in 2012. Again, I'm assuming the company can grow slightly faster than in 2012 due to an improving economy and a focus on growing sales now that they have rightsized the company for the past 18 months. I am applying the gross margin percentages (66.6%, 67% and 67.5%) from the last 3 quarters of 2012: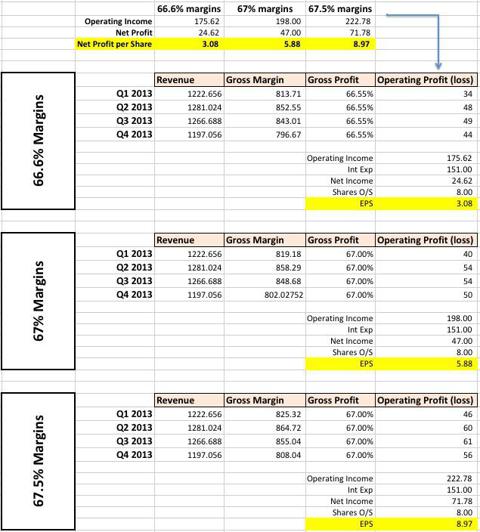 As you can see above, assuming a 2.4% revenue growth rate and 66.6% margins, net income would be $24.6 million. If margins stayed at the upper range of 2012 numbers, then it would yield $71.8 million in net income. Assuming fully diluted shares of 8 million would result in EPS of $3.08 on the low end and $8.97 on the high end.
I also wanted to run the same calculations assuming a 3% growth in revenues to get a sense of just how much operating leverage there is with this company. Here is how the results look: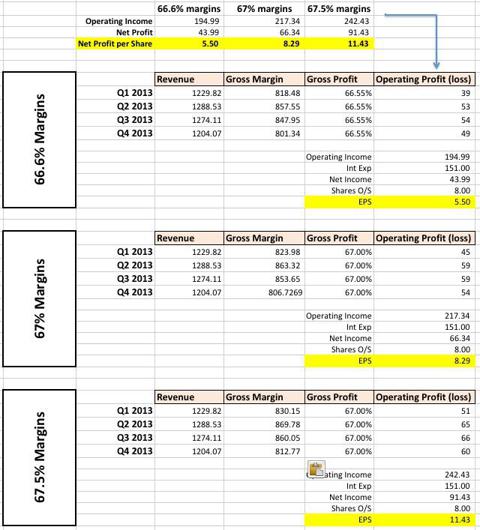 As you can see above, assuming a 3.0% revenue growth rate and 66.6% margins, net income would be $44 million. If margins stayed at the upper range of 2012 numbers then it would yield $91.4 million in net income. Assuming fully diluted shares of 8 million would result in EPS of $5.50 on the low end and $11.43 on the high end.
This gives you a sense of just how much operating leverage this company has. An improvement of just 0.6% in sales increases EPS by over 60%. The above also gives you an idea of just how close this company is to experiencing exploding net income and EPS numbers.
Ahhh…but what about Share Dilution?
As always with any potential turnaround company, you have to consider any potential share dilutions going forward. Most turnaround companies have some sort of convertible bond issuance from their dark past that scares investors away. This is no different with YRCW.
YRCW currently has a share count of roughly 7.8 million shares. There are two convertible notes: (1) the series B notes are convertible at $14.5 (roughly 7 million shares), and (2) the series A notes are convertible at $34 (roughly 6 million shares).
Assuming the stock does manage to get to $14.50 per share, the diluted share count would grow to 14.8 million shares. This would roughly cut in half the projections above. So on the low end with 2.4% growth and 66.6% gross margins, you would see EPS of about $1.60. If revenues grew 3.0% and margins averaged 67.5%, then diluted EPS would be $6.20.
Now let's assume the stock gets as high as $34 and the series A notes are converted. This would bring total share count to 19.8 million and would drop EPS down to $1.24 on the low end and $4.62 on the high end. The company's stock currently trades at 5.4 times the low end and 1.45 times the higher end (i.e., 3% growth and 67.5% margins).
One thing that is not included in this calculation, though, under the assumption that both share conversions kick in, is the reduced interest expense as a result of the debt associated with those convertible notes going away. If both notes convert, then this would reduce annual interest expense by roughly $24 million (or $1.21 EPS fully based on fully diluted shares of 19.8 million). If you add those to the above estimates, you would get a range of $2.45 to $5.83 EPS.
And keep in mind that if the company can hit these levels of profitability, they will be in a very good position to renegotiate their loans and significantly reduce the interest expense they pay on their remaining debt, which would again help EPS figures. For example, a 10% reduction in the remaining annual interest expense (excluding interest on convertible notes) would yield $13 million in cost savings which on a fully diluted share count would result in another $0.67 in EPS.
Some Other Interesting Things to Note:
About a month ago the company did a presentation at the BB&T Transportation Conference and there were some interesting things mentioned in this presentation by Jeff Rogers, head of YRC Freight. During Q&A, the topic of debt and how they're going to repay it came up. Mr. Rogers talked about how they have some things in the works without giving any hint at what he was referring to and he also talked about how upcoming pension reform in 2014 should be at least neutral if not positive for them.
While I have no idea what he was hinting at, I found an SEC filing on February 20th to be very interesting. The company just did a deal with a company called MAEVA, which specializes in turnarounds. In this filing it states "As set forth more fully below, MAEVA will advise the Company with regard to one or more potential value enhancing events, transactions and/or strategic initiatives involving the Company." Perhaps Rogers was hinting at this in his presentation?
I also find it interesting that the founder of MAEVA is Harry J. Wilson, a specialist in turnarounds including Chrysler/GM and Hostess, who also is a director at YRCW and purchased shares of YRCW on the open market back in August 2012 (he is not allowed to purchase any shares while the agreement between MAEVA and YRCW exists).
Network Improvements
Rogers also mentioned during the BB&T presentation that they are looking at ways of reducing costs in their linehaul (generally speaking linehaul refers to shipments between two locations at least 1,000 miles apart) and today YRC issued a press release that YRC Freight proposed a set of network improvements that could greatly enhance delivery times and reduce operating expenses. YRC Freight mailed to union leadership a proposal for a new set of network improvements.
Once implemented, the network improvements will be another step in YRC Freight's efforts to continuously improve customer service, optimize linehaul density and load average, reduce empty miles and reduce shipment handling.

By realigning our network, YRC Freight will reduce the number of handling and relay locations in order to build network density," saidJeff Rogers, president of YRC Freight. "These network improvements will be seamless to our customers and when implemented will improve our service. The ongoing effort to optimize our network is also a key part of our sustainability efforts as we reduce mileage and emissions. Better density means fewer empty miles and less emissions.
If implemented this could greatly reduce costs and improve operating and net profits in the future.
CONCLUSION:
Turnarounds are always difficult to time correctly because the amount of negativity surrounding the company is pervasive. Disgruntled employees post on internet message boards about how the company is going down the tubes (if you haven't read the Yahoo message board for YRCW then I'd recommend doing it to get a sense of just how bad sentiment is), the stock tends to lag the overall market for a while as the turnaround begins and all technical aspects of the chart point to more selling. Just look at how much the company has underperformed even the transportation index (NYSEARCA:IYT) in 2013. It is significantly underperforming peers like Arkansas Best (ABFS), Swift Transportation (NYSE:SWFT), and Con-way (NYSE:CNW).
Yet a funny thing happens when the company returns to profits and shows the potential to grow net income. The stock comes roaring back. Just take a look at the chart of FWLT, for example, back in 2005. In May of 2005, the stock was floundering, down over 30% from rally highs off its bottom in October 2004. The technicals were signaling a lot more pain to come. Yet the stock did an about face as the market became aware that the company's turnaround was actually strengthening and it went up from $6.50 to $85 in 30 months.
Over the next 2 to 3 years, I believe YRCW could have a move similar to the move in FWLT from 2005 to 2007. I do believe the turnaround is gaining strength, as evidenced in a big turnaround in operating profits and gross margins, and I think there will be an "aha" moment where the market collectively realizes it was too bearish. It all starts with a turnaround in operating profits, though. And YRCW has done that. There are still a lot of risks with the company - from high debt levels to pension obligations associated with a unionized work force. But it's hard to ignore the improvement in the underlying operating trends of this company. At some point, the market will wake up to this fact.
Disclosure: I am long YRCW. I wrote this article myself, and it expresses my own opinions. I am not receiving compensation for it (other than from Seeking Alpha). I have no business relationship with any company whose stock is mentioned in this article.