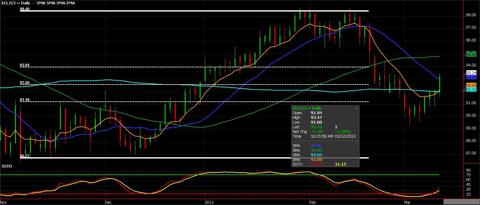 Five out of the last 6 sessions, crude oil has traded higher. As of this post, April futures are $4 off their lows from last week. Prices are currently above their 18 day MA -- identified by the dark blue line on the chart above. Some of my more aggressive clients have bullish exposure a few months out. My favored play currently is to be long futures while simultaneously selling out of the money calls 1:1. This leg higher in April futures is capable of lifting prices back above $95/barrel, in my opinion.
Looking at outside market influence, RBOB and heating oil may have turned a corner, and it appears risk is back on. Throw into the mix that the U.S. dollar is exhibiting signs of an interim top. After the 5% appreciation in the last month, we may see some back and fill on the greenback. I think this could further throw fuel on the fire, no pun intended.
Embrace the fact that we will likely be paying higher energy prices moving forward. I myself am dreading a lunch today that is 50 miles from my office. Driving my SUV that gets roughly 12 miles per gallon, I figure even if I choose not to indulge in the food, which is higher because of rising commodity prices, I'm still spending a good amount. You figure 100 miles door to door at $4/gallon, we're talking $35 in fuel. Of course, there is no inflation, excluding food and energy, but a lunch meeting that would've cost me $50-75 5 years ago tips the scale closer to $150 today all in.
Risk Disclaimer: The opinions contained herein are for general information only and not tailored to any specific investor's needs or investment goals. Any opinions expressed in this article are as of the date indicated. Trading futures, options, and Forex involves substantial risk of loss and is not suitable for all investors. Past performance is not necessarily indicative of future results.
Disclosure: I have no positions in any stocks mentioned, and no plans to initiate any positions within the next 72 hours. I wrote this article myself, and it expresses my own opinions. I am not receiving compensation for it. I have no business relationship with any company whose stock is mentioned in this article.