Shares of Genworth Financial (NYSE:GNW) have soared recently, and have continued that uptrend through Monday's trading session, trading intraday at $10.47. The stock is up over 100% in just four months thanks in part to a new CEO at the helm. Thomas McInerney has held the top spot at ING and Aetna and joined the GNW team in January. There is hope that McInerney can lead the company back to where it was prior to the financial meltdown. From CFO Martin Klein:
"We're working under a new strategy for the turnaround over the next two years. First, we need to improve earnings, simplify our portfolio, generate capital and build flexibility by, for example, deleveraging. Then we can think about the best ultimate combination of businesses."
Shares of GNW have responded well to the new leadership team. Additionally, they've been helped along by various analyst upgrades, the most recent coming Monday morning from Scotia.
The Playing Field
GNW is trending upward during the past 150 trading days, currently 155% above its trading levels when the trend began. From a macro perspective, the company has benefited greatly from the resurgence in the housing industry in the United States. While GNW is engaged in three main businesses - life insurance, domestic/international mortgage insurance, and international payment protection - it has taken the largest hit on the mortgage insurance business given the crisis in 2008 and its highly leveraged position at the time. Housing starts are finally coming back online; growth of 25% is expected domestically this year. Additionally, Moody's Analytics cites that existing-home sales will rise 12%. While it might not be fully back to where it was at its height, the housing industry is gaining significant traction, and GNW is poised to capitalize on the comeback.
A recent Barron's article also noted that the Federal Housing Administration is lowering their exposure to mortgage insurance, giving way for private lenders to gain more market share. GNW is currently 4th amongst the competition in terms of market share. The larger playing field coupled with the industry growth should be a catalyst for GNW's resurgence.
Tangible Asset Book Value
From a fundamental perspective, shares of GNW are trading at a significant discount to their Tangible Asset Book Value. This means that if the company were to be liquidated, they'd be more valuable than what the stock price currently tells us the company is worth. In fact, GNW is trading at one of the highest discounts to its TABV in the financial industry - over 65%. TABV for this company is $30.30 per share but the stock is only trading at $10.47. There is significant room to grow. Hence we pose the question: will GNW triple?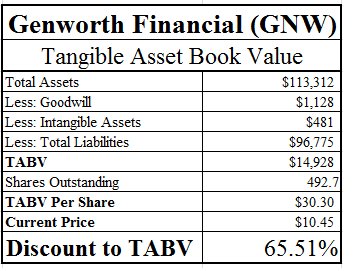 Strong Earnings Growth
A company's TABV is significant, but without continued growth and value-added moving forward, the balance sheet will soon whittle away and the company will be worthless. So in order for TABV to be a functional indicator of the company's strength, let's take a look at the earnings forecast.

GNW is currently trading at a Forward P/E of 8.65x given analyst forecasts for FY 2013 earnings of $1.21 per share (49% growth, year over year). Prior to the financial meltdown, the industry average ranged from 12-18x. Looking forward to 2014, analysts forecast further growth for GNW. Consensus EPS estimates for FY 2014 are $1.45, a growth of 20% year over year. The company shows strong prospects for growth given broader industry trends mentioned above. Additionally, their long-term healthcare business, which has gone stagnant recently due to increasingly high costs, is due for a revamp and McInerney is leading the charge. He's pushing various state governments for regulatory approval on rate increases. A success here would generate further growth and significantly and positively impact both the top and bottom line.
The Risks
With any investment come risks. There are no certainties in the market, and none especially with the financial institutions. As investors, we learned that lesson in 2008 and 2009, and we're vigilant to not experience the losses we saw during that crash. Perhaps we're too vigilant - this could be a catalyst for stocks like GNW trading so far below their TABV with strong earnings growth forecasts. The major risks to this company are a slumping housing market and lack of regulatory approval for long-term care insurance rate hikes. The former is much more significant an issue, though, as GNW does roughly one third of their entire business in mortgage insurance. If the housing market sees a double dip and doesn't achieve the levels of growth that are forecast throughout the next year, GNW could be at the front of the pack of the financial losers.
A Beautiful Chart
The GNW chart looks attractive to the bulls. We've seen a continuous positive uptrend for the past 150 days with the stock making higher highs and higher lows along the way. The stock has traded primarily within its moving average envelope during this time, but has recently broken out on news of the Scotia upgrade. The Relative Strength Index chart is a bit worrisome at first glance, spending much of the run over the 'overbought' level of 70 and seeing resistance at levels close to 80. One intriguing note about RSI, though, is that the significant dips in RSI from those 'overbought' levels to a support level of 40 have been accompanied by only small dips in the underlying stock price. This pricing action has held true four times over the past 150 days on all four downturns in the stock price. Overall, the trend continues to be positive.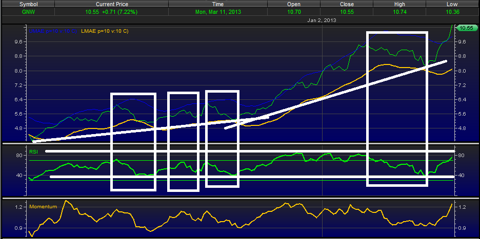 The Call
I'm not arguing for this stock to triple so to reach its TABV. I'll be much more conservative and say that the stock will double by year's end. With McInerney at the helm, broader market conditions improving, and the trend continuing north, now is the perfect time to begin building a position in GNW. With a one year investment horizon you'll double your money, as the stock will be trading at $21+ by year's end.
Disclosure: I am long GNW. I wrote this article myself, and it expresses my own opinions. I am not receiving compensation for it (other than from Seeking Alpha). I have no business relationship with any company whose stock is mentioned in this article.