In looking at the returns of dividend strategies, we must ask, have dividend growth investing styles moved out of favor over the last four years? Consistent growth in dividends can be a good value metric, but determining which stocks to buy out of that group can skew results significantly.
A few weeks ago, Canada's Globe and Mail, ran a Number Crunchers article seeking:
steady dividend growers with a dash of momentum…[in order to] reflect a couple of investing styles that are very popular right now.
They sought U.S. and Canadian companies that had consistent dividend growth over five years and paired that by companies that have enjoyed strong recent stock returns. The names were sorted and presented with the 20 stocks that had the greater year-to-date returns. Names such as Best Buy (BBY), Pitney Bowes (PBI) and Heinz (HNZ) topped the list. I wouldn't call that group a dividend-investor's dream. That is just a momentum strategy for companies that happen to pay a consistent dividend.
Using Bloodhound's point-in-time simulation tool, we evaluated a number of dividend investment strategies using the factor of five years of consecutive growth in dividends as the primary criteria (we also limited it to companies greater than 300 million in market cap). The algorithms and high performance computing that the Bloodhound System utilizes, allows us to fine-tune our strategy analysis quite quickly to evaluate different ranking mechanisms. There are 471 candidates in that pool today. What we immediately learned was that the ranking of stocks in that candidate pool has a major factor in variability of returns.
For instance, over a 10-year time horizon, a 10-portfolio of stock ranked by 5-year cash flow growth per share yields a 16.5% average return. A similarly sized portfolio ranked by 5-year dividend growth returned a slightly less 15.6%. However the difference between the two is in variability of returns is quite great. The average standard deviation of returns over that period for the dividend-ranked portfolio is 18.2%, whereas the cash flow growth portfolio is 26.5%.
The eight years beginning in 2000, were a strong run for the strategy with the cash flow growth rank. But for 2002, when it still outperformed the S&P, the returns averaged in the 40 percent range, consistently. However, the results are become compelling when viewed in the context of the last few years. In 2008, the cash-flow ranked strategy was decimated. The strategy lost 66% that year, including 37% in the month of October alone. After a common rebound in 2009, the strategy has failed to do much in the last four years, and has lost money in the last two, declining by almost 11%.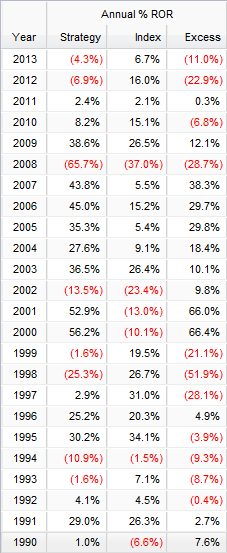 The strategy ranked by dividend growth has had much more consistent growth with less swings. Like most equity strategies, 2008 was a significantly down year, but it beat the S&P 500 by over 1400 basis points. The 5-year track record has an excess return of double the S&P 500, but has significantly underperformed the index in the last three.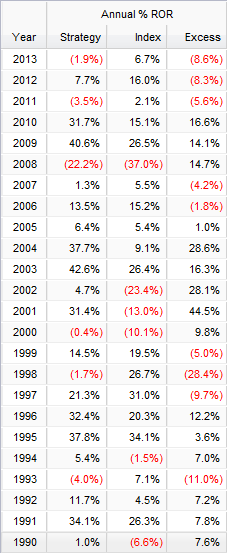 Additionally, we looked at a strategies ranked by dividend yield, highest dollar change in dividends, and dividend payouts, and they all had similar looks.
Despite the investing public's insatiable need for yield, targeted dividend payers not only does not seem to benefit the portfolio, it appears to detract from it. A side-by-side comparison of the cash flow growth strategy above with one equally constructed but not limited to dividend grower shows a different story. And the results are not skewed by the concentration of the portfolio. Although not as dramatic, the effects remain the same.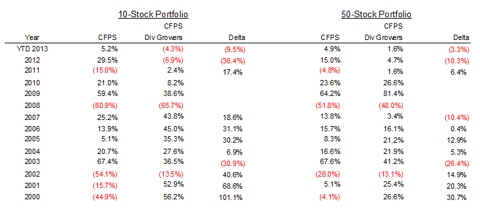 Interestingly, we found one ranking factor that actually lead to some consistently good returns over time. It has beaten the S&P by at least double in each of 1-, 3-, 5-, 10- and 20-year periods. It generated successfully double digits returns during the early 2000s, and has maintained that run in the nearer years. Since 2000, when it beat the S&P 500, it did so handily, whereas in the three years it failed to outperform, it only misses by a maximum of 300 basis points including 2008 when it lost 39.3%.

What was that factor? Dollar change in dividends over the last five years, but ranked low to high. In other words, companies that have grown their dividends consistently over the previous five years, but at marginal increments. The key is the consistency of growth. If one removes the criteria of consecutive dividend growth, the long-term results are halved, and the variance spikes. Year by year, the sectors adding to performance versus detracting rotate with little consistency. In the last 10-years, Financials have contributed more to the losses than they have to the gains. Yet, the 2013 portfolio rebalance was heavily weighted with stocks from that sector. First Defiance Financial (FDEF), Legg Mason (LM) and National Penn Bancshares (NPBC) join Ethan Allen (ETH) and Newell Rubbermaid (NWL), among others. Maybe this is the year for Financials to contribute.
Seemingly, interest in dividends isn't completely dead, yet the one constant in value attribution appears to be on stability in, not necessarily growth of dividends.
Disclosure: I have no positions in any stocks mentioned, and no plans to initiate any positions within the next 72 hours. I wrote this article myself, and it expresses my own opinions. I am not receiving compensation for it. I have no business relationship with any company whose stock is mentioned in this article.