There is an old market adage, "Sell in May and go away." This strategy is based on a number of factors, one of which is the fact that the stock market often sees a "January rally" and that can easily continue to build up as optimism carries into the Spring months. However, when the stock market gets to lofty levels and the month of May arrives, many investors and fund managers like to take profits by cashing in on the big gains.
This makes sense for a number of reasons: Fund managers like to "lock-in" profits before the end of the first half of each year. Fund managers and individual investors also like to limit risk exposure before Summer because they don't want the stress of being as fully invested before vacation time. Plus, the markets typically see much lower trading volumes since many traders and investors are on vacation between the June to August timeframe. Lower volumes also means less liquidity and that often leads to more volatility. Let's take a look at the chart below to see the recent gains made in the S&P 500 Index (NYSEARCA:SPY):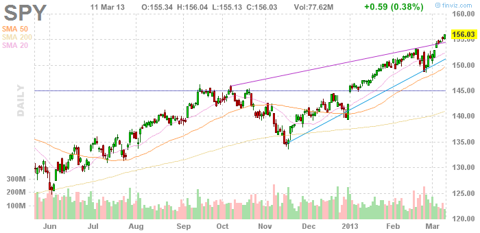 The sell in May and go away strategy did not pay off last year, however, it worked very well in 2011, as concerns about Europe and a U.S. debt downgrade took the markets significantly lower. After the major rally we have seen in 2013, there is a good chance that at least some investors and fund managers will want to lock in gains for the first half of the year. The S&P 500 Index is up about 9% in the first months of 2013, and that is a gain that many are happy take, especially in a low rate environment.
The stock market cannot grow to the moon, and with gains of about 15% in 2012, followed up with gains of 9% for 2013, the risk to reward ratio is not what it once was. While corporate profits have been good in general, there is not a lot of corporate revenue growth, and the U.S. economy is barely seeing any growth. The market is going to be hard-pressed to keep rising at blistering speeds when GDP growth is lucky to be coming in at about 2%. There are other reasons why investors might want to consider the sell in May strategy a bit earlier this year:
1. The quality of the recent rally seems dubious. The stock market appears to be rising because the Federal Reserve has been continuing with loose money policies. The Federal Reserve recently affirmed that this will continue and the markets have been in rally mode ever since. Stocks are rising because there are very few places to invest and still achieve a reasonable yield. Money market and savings accounts earn next to nothing, and that is forcing investors to accept the risks of stock ownership or get paid almost nothing. This is dangerous, because it can create a bubble that could burst when investors believe that Bernanke is about to reverse his policies and eventually, he will.
2. The quality of the "recovery" also seems dubious. Many investors seem to be convinced that the U.S. economy is now in recovery, however, it looks very fragile at best. If this was truly a strong recovery, the Federal Reserve would not need to be so significantly involved in keeping it from falling completely apart. There is a strong case to be made that if Bernanke pulled out of the market now, this "recovery" would collapse almost immediately. Is the economy really good when unemployment remains stuck at nearly 8%, and the only thing that seems to keep it from coming off the tracks is constant intervention by the Federal Reserve, money printing, artificially low interest rates, and manipulation of the housing market through a variety of housing programs?
3. The U.S. Government was the main cause of the housing crisis, and it continues to manipulate real estate prices in this country. Canada has similar home ownership rates, and it got there without manipulating the housing market as the U.S. does. Canada and its banks did not have the housing crisis we experienced. The United States has made efforts to make housing affordable for more people, but in the process of doing so, it eventually made home prices rise to levels where many were completely shut out of the market. It offered (and still offers) programs like Fannie Mae, which allowed banks to make loans with just around 3% down. By setting artificially low and manipulated interest rates through the Federal Reserve, it allows you to buy a home with a ridiculously low rate for the next 30 years. Once you are a homeowner, the U.S. Government subsidizes your loan, allowing you to write off the mortgage interest. If that is not enough, the U.S. Government gives you another incentive to buy real estate, because once you decide to sell your house, you can keep $250,000 in gains tax-free or a whopping $500,000 if you are married, as long as you have lived in it for at least two years.
Those massive incentives are what sparked a housing bubble, and the U.S. is continuing to use these incentives to get the real estate market back up. This seems great when prices are going up, but what happens if some of these incentives disappear? The U.S. may not be in a position to continue with these policies forever, and there is serious talk about ending or limiting the mortgage interest tax deduction. If markets turn on U.S. Treasury bonds, the Federal Reserve might lose control of interest rates, and that could mean a big spike in mortgage rates. If mortgage rates were to rise a point or two in the next couple of years, it could bring the housing market recovery back down and take financial stocks like Bank of America (NYSE:BAC) with it. Bank of America shares were trading around $7 last August and have surged to over $12 on optimism that the housing market is back. That's a huge run in the share price for one of the largest banks in the world.
4. There are still major risks outside the U.S. which could bring our markets down significantly. While the chance of a full-blown financial crisis in Europe seems to be declining, there is no reason to sign the all-clear signal. Countries like France, which were showing relative strength a year or two ago, are now reporting the type of economic data that indicates a recession. While the markets seem to appreciate that policymakers have prevented a banking-induced financial crisis, there could be an even bigger challenge looming. Unemployment in some European countries is well over 20%, and the rate of unemployment amongst the youth is around 60% in certain regions. We have already seen violent protests against austerity, but those may have just been the tip of the iceberg. How long will unemployed youths and even older people wait for a job before revolting? The high unemployment rate is impacting everything from auto sales to "Le Royale" cheeseburgers. Car makers like Ford (NYSE:F) and General Motors (NYSE:GM) have been reporting substantial losses in Europe. Analysts recently raised the loss estimates for Ford in Europe to $2.4 billion (up from $2.1 billion) and raised losses for GM to $1.5 billion which was up from $1.3 billion. Even value meals are a tough sell as McDonald's (NYSE:MCD) recently reported that revenues declined in February.
5. While China seems to have avoided a "hard-landing" for now, many are concerned that the real estate market is in a bubble. There have been reports that many new real estate developments are basically "ghost cities" that no one lives in. Iron ore and copper prices have been weak, and that is a telling sign that the economy in China is not out of a potential danger zone. A recent report states that China's economic data is now at the weakest level since 2009. Stocks like Caterpillar (NYSE:CAT) have also been relatively weak considering the market rally and that is another potential sign of Chinese and global economic weakness. Caterpillar bulls think that emerging market countries like China will boost revenues, but that may not happen if China sees a real estate and construction decline in the coming years.
While I don't advocate a sell everything approach, I think profit-taking and caution is warranted after the run this market has had. If just one major thing goes wrong in this world, it could be enough to set off a negative chain-reaction and take the global economy into a recession. Taking profits is rarely a bad idea, and staying fully invested at these levels seems foolish. That is why it might pay to raise some capital now, before the sell in May strategy comes up. Having a core position of equities along with some dry powder and keeping a look out for short-term trading opportunities is how I plan to play this market through 2013.
Disclosure: I have no positions in any stocks mentioned, and no plans to initiate any positions within the next 72 hours. I wrote this article myself, and it expresses my own opinions. I am not receiving compensation for it (other than from Seeking Alpha). I have no business relationship with any company whose stock is mentioned in this article.