Introduction
Telecom stocks such as AT&T (NYSE:T) and Verizon (NYSE:VZ) are frequently talked about and considered by dividend investors. T and VZ are the largest telecom companies in the US with very good yields and consistent dividend increases. Canadian investors tend to be aware of these stocks and are further exposed to Rogers Communications Inc (NYSE:RCI), Bell Communication Enterprises (NYSE:BCE) and TELUS (NYSE:TU) as these are the three major telecom companies in Canada. They also have good yields and offer dividends. Following this article in which I looked into RCI (here) following a dividend increase announcement, I thought a more in-depth analysis into these telecom companies is warranted to determine which one I should invest in. As a new investor attempting to build and identify strong dividend stocks for my portfolio, this reflects my efforts to analyze stocks for that purpose. My objective would be, if possible based on this quantitative analysis, to hold either T or VZ and either RCI, BCE or TU and feel confident about these picks. This article is the first part in which I will evaluate the current situation of these telecoms.
Analysis
For the reader's information, the industry numbers provided represent the telecom services - domestic industry. RCI and TU are classified under the wireless communications industry. I have still included the industry numbers as a point of reference for comparison. I found while comparing these two industry numbers that the wireless communications industry figures had a tendency to be better given certain metrics (e.g. lower P/E, higher sales, net income). These differences could very well be reflected in a better valuation of the specific company. The "best" row identifies which company looks best on the particular metric.
Although there are several other telecom companies in the US that could be considered such as CenturyLink (NYSE:CTL), Frontier Communication Corporation (NYSE:FTR), Windstream Corporation (NASDAQ:WIN) and Sprint Nextel Corporation (NYSE:S), these companies do not appear to have received much positive fanfare and even less so since CenturyLink cut its dividend. Therefore, T, VZ, RCI, BCE and TU are the contenders for this analysis since they appear more stable (to be determined) and are most often seriously considered or found in dividend portfolios.
A comparison of some of the common metrics used in evaluating a company is found in Table 1.
Table 1: Valuation Metrics (as of March 1, 2013)

Source: MSN Money
From a value perspective, RCI (14.70) and BCE (13.40) are the only two companies with a P/E below 15 which I have found to be the common consensus for desired P/E. TU is slightly above 15 but not as "overvalued" as T or VZ. BCE overall has the lowest P/E.
On the other side, forward P/E is much more comforting particularly for VZ which dropped nearly 100%. TU is the only contender with a forward P/E above 15 however all contenders are pretty much near each other. RCI (13.14) has the lowest forward P/E just beating out T.
T (0.35), RCI (0.97) and BCE (0.75) have attractive PEG ratios below 1 suggesting that these companies could have growth potential not currently being appreciated by the market or that the stocks are "undervalued." TU has a considerably higher PEG ratio (2.17) which may suggest that it is "overvalued" and VZ has a negative PEG due to erosion in its EPS following the 2008 financial crisis.
P/CF is another metric that I have recently learned about that provides some indication regarding the value of the company. It is similar to the P/E ratio in that the lower the ratio, the better the value or "undervalued" the company may be. In this case, we find that only TU exceeds a P/CF ratio of 10 which is considerably higher than the other contenders. Although the other contenders have fairly good P/CF ratios, VZ (4.80) has the lowest.
Verizon had the lowest P/S ratio with 1.12 suggesting that we will pay only 0.12x for every dollar worth of sales. They are also the only contender with a P/S below 1.5 however T is close with 1.56 and BCE is a little farther at 1.77. However, TU has a P/S currently at 3.05 which may suggest that it is "overvalued" or that it may have something worth investing. However given the other metrics at this point which show an "overvaluation," this may be more the case.
Looking at the P/B metric, the market appears to value each company fairly high with RCI being considerably higher than the other contenders. Most of the contenders have a P/B over 3.0. Only T (2.16) has a P/B below 3.
Telecoms appear to reduce the volatility in a portfolio since each contender has a beta lower than 1.0. Any of these contenders would make a nice fit in a portfolio to reduce. VZ has the lowest beta out of all the contenders with 0.46.
One of my major considerations is debt. Debt has the capability of destroying companies, forcing dividend cuts, selling assets, etc… Although it appears widely accepted that it is good for some companies to hold some debt, I am of the opinion that the lower the debt the better and would prefer absolutely no debt. I also want to ensure that whatever debt the company holds can be paid off easily should circumstances arise. Table 2 presents some common debt metrics.
Table 2: Debt Metrics (as of March 1, 2013)

Source: MSN Money, Morningstar
The debt to equity ratio measures the company's financial leverage. The higher the value the more aggressive a company has been in financing its growth with debt. RCI (2.86) has the highest and is considerably higher than the other contenders suggesting that its growth may be leveraged using debt. TU (0.87) and T (0.76) are the only contenders with a ratio below 1.0 which I consider to be my evaluation point.
The current ratio measures the company's ability to pay short-term liabilities with it short term assets. The quick ratio measures whether a company can meet with short-term financial liabilities. Although Verizon has the highest ratios for both metrics (0.8 and 0.7 respectively), none of the contenders have ratios above 1.0 which I have found to be the minimum.
The interest coverage ratio measures whether a company can meet its interest payment obligations. A minimum of 1.0 is desired but I have found that a ratio of 8.0 is preferred. None of the contenders exceed 8.0 however they are all at least 4x above 1.0 meaning that they have some ability to meet their obligations. RCI and TU have the highest interest coverage ratio currently at 6.4.
The debt to capital ratio provides an idea of the company's financial structure, or the way in which it is financing its operations. It further provides some insight into its financial strength. The higher the value the more debt than equity the company has. Each contender here exceeds the minimum desired level of 60 however TU (62.30), T (66.08) and BCE (66.13) are not that far off. VZ, which has done well in most other valuations, has the highest debt to capital ratio (85.28) beating RCI (80.79) by a few points. I would want to explore VZ debt and income trends more closely to be certain that their debt does not drown them down the road.
Table 3 shows several common growth metrics for each contender.
Table 3: Growth Metrics (as of March 7, 2013)

Source: MSN Money, Reuters
The sales growth proportions favor TU (5.00%) in the last 12 TTM and VZ (4.39%) for the past 5 years (see Table 3). In both cases T has the lowest sales figures which means that it has some work to do in the future in order to continue to grow particularly since its 12 TTM is less than its 5 year average. These sales figures will be analyzed with more depth another time.
T did however have the best income growth in the last 12 TTM (84.20%) however it has posted a negative 5 year income growth average just like VZ and BCE. RCI has the highest 5 year income growth proportion at 11.97%. TU also deserves mention since it was the only other contender to post positive growth in the past 5 years, albeit a small growth.
T which had a considerably higher 1 year EPS growth ratio compared to the other contenders (83.35%). Only VZ posted a negative 1 year EPS growth. When looking at the 5 year EPS growth, T, VZ and BCE posted negative growth. RCI has the highest 5 year EPS growth ratio (16.70%). This is not surprising given the income figures that were just reviewed. TU is estimated to have the highest EPS for 2013 and 2014 out of all the contenders. I would rate this but since it is estimated, these figures may change but it does provide some food for thought that TU is allocating its profit to shareholders nicely.
Overall, it may appear that T was hit hard in the last five years. However things may be improving of late given the income and EPS growth. The most consistent contenders in terms of growth metrics appear to be RCI and TU since they posted no negative values in any of the metrics evaluated in Table 3.
Finally, Table 4 presents the proportional difference between the stock price and the 20 day, 50 day and 200 day simple moving averages (SMAs). Figure 1 shows the actual charts for the SMAs. From the table we find that each contender is trading above each of the SMAs suggesting that they each have short-term, mid-term and long-term uptrends. However, TU is close to falling below its 20 day SMA which may suggest that the short term uptrend is at risk of reversing. This could be further supported by TU having the lowest 50 day SMA. Verizon appears to have the best short-term and mid-term uptrend spread while RCI appears poised for a good long-term uptrend.
Table 4: 20 day, 50 day, 200 day Simple Moving Averages Proportional Differences (as of March 7, 2013)
Figure 1: 20 day, 50 day, 200 day Simple Moving Averages (as of March 7, 2013)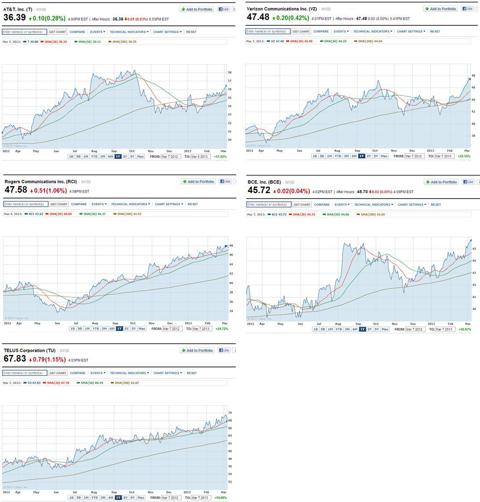 Source: Yahoo Finance
Conclusion
Thus far in this analysis, Verizon has gained a number of advantages and AT&T is not far behind. Although, for the moment there is nothing which sets neither of these contenders apart as they each have some weak points to consider. TELUS for example appears to be "overvalued" at the moment and that its uptrend could reverse soon, although the company's sales, income and EPS growth have been consistently positive. Rogers' sales, income and EPS growth have also been positive, exceeding that of TELUS in some metrics. However, there could be a concern regarding its debt. However, debt appears to be in line with the Rogers Board of Directors policy (click here to read more). AT&T appears to be somewhat "undervalued" at the moment and this may be the result of some decline in the company which occurred several years back (financial crisis anyone?). However, the company has some indication that it is growing again. BCE has not been mentioned a great deal. In most metrics it is neither the best nor the worst, but remains in the middle. This may be the type of company that long-term buyers may appreciate. Up next will be an analysis of the contenders' dividend and its sustainability.
All comments are welcomed as I am continuing to learn and improve my efforts as a new investor.
Disclosure: I am long INTC, JNJ, MCD, OHI, T, CA, CSX, TGH, STX, GE, OTCPK:NTIOF, RCI, VSI, OTCPK:RIOCF, OTCPK:ARESF. I wrote this article myself, and it expresses my own opinions. I am not receiving compensation for it (other than from Seeking Alpha). I have no business relationship with any company whose stock is mentioned in this article.
Additional disclosure: This analysis should not be construed or viewed as a recommendation to purchase any of the stocks mentioned. Each reader is urged to conduct their own research and purchase stocks that fit their risk profile, and their own investment goals.