Below is a look at our trading range chart for the S&P 500 over the last year. The light blue shading represents the index's normal trading range, which is between one standard deviation above and below the 50-day moving average (white line). The red shading represents between one and two standard deviations above the 50-day, while the green shading represents between one and two standard deviations below the 50-day. Moves into and above the red zone are considered overbought, and moves into or below the green zone are considered oversold.
As shown below, the S&P 500 has moved up to the top of the red zone over the last week, putting it right near two standard deviations above its 50-day. The index may have another day or so of gains in it, but usually when it gets this extended, a short-term pull back is in store.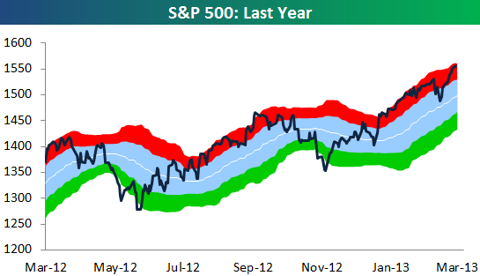 Click to enlarge
Three sectors are currently trading more than two standard deviations above their 50-day moving averages -- Financials, Consumer Discretionary and Technology. As you'll see in the charts below, though, Financials and Consumer Discretionary look a lot different than Technology. And while they're not quite above their red zones, Industrials, Health Care, Consumer Staples, Utilities and Telecom are all very overbought here as well.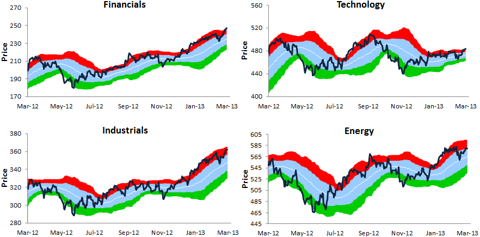 Click to enlarge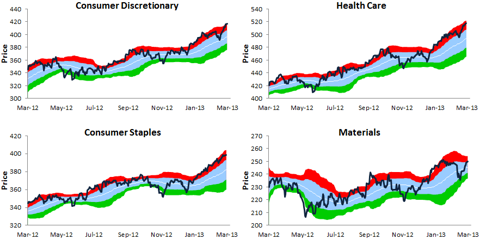 Click to enlarge

Click to enlarge